The Dallas Cowboys had big plans to celebrate the final game at historic Texas Stadium, but the Ravens made some history of their own.
Baltimore upended the home team 33-24 in front of a capacity crowd that featured an estimated 100 Cowboys legends.
Dallas closed to within two points twice in the fourth quarter, and that was when the Ravens inked their names in the permanent ledger.
Running back **Willis McGahee** (eight rushes for 108 yards) busted through the teeth of the Cowboys' defense to sprint 77 yards for a touchdown at the 3:32 mark - he tied a Dallas record for the longest run by an opponent. It came one play after quarterback Tony Romo narrowed the margin to 19-17 with a 7-yard strike to wideout Terrell Owens.
Fullback **Le'Ron McClain** (22 carries for 139 yards) then broke that record with an 82-yard jaunt off right guard **Chris Chester**, basically erasing what damage a Romo-to-Jason Witten touchdown inflicted on the previous drive.
"Our offensive line kept pounding and pounding away, like a hammer to a rock," said head coach **John Harbaugh**. "The rock finally cracked."
It was an emphatic statement that turned the Cowboys' party into a funeral.
"I guess it wasn't a homecoming," McGahee stated. "It was a mock funeral. We spoiled their day."
Throughout the game, Dallas rolled out their former stars in a series of introductions during timeouts. Roger Staubach, Deion Sanders, Tony Dorsett and Michael Irvin were only a few of the greats in attendance.
The Ravens, however, never flinched in the face of some of the very heroes they grew up watching.
"My guys were excited, I think they fed off of it a little bit," said Harbaugh. "I think they were looking forward to coming here to put this place to bed. I think we did it in a very fitting way for the Ravens."
In improving to the fifth 10-win season in franchise history, the 10-5 Ravens solidified their grasp on the final AFC playoff spot with a chance to clinch by beating the Jacksonville Jaguars next weekend at M&T Bank Stadium.
Their fifth road win also erased some of the sour taste of last year's disappointing 5-11 campaign.
"Every year is a different year," explained linebacker Ray Lewis![](/team/roster/ray-lewis/1c6d5ed3-fe49-4a89-a6b5-9e358e906ae7/ "Ray Lewis"), taking umbrage at the perceived idea that Baltimore was handpicked to be the Cowboys' "homecoming" punching bag. "If you're judging us off what we had last year, you're thinking about the wrong team."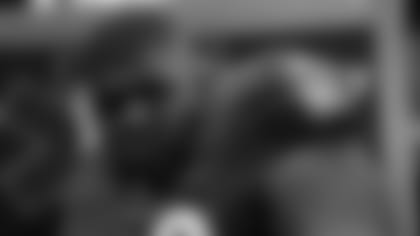 The Ravens showed their grit by fighting through several in-game injuries. Right tackle **Willie Anderson** briefly in the second quarter with an ankle injury only to return for the second half after X-rays turned out to be negative.
And in one of the most courageous efforts of the season, wideout **Derrick Mason** toughed out a shoulder injury that had recently been dislocated. Mason left the game on three different occasions, only to lead the team with six catches for 66 yards and a 13-yard touchdown grab.
On the score, Mason could not pump his arms while running his route, nor lift his hands to haul in any pass thrown his way. But, he still managed to get wide open in the end zone, where Joe Flacco![](/team/roster/joe-flacco/3e20766f-6520-4ca1-9901-44389aaea8b8/ "Joe Flacco") zipped a perfect ball to put the Ravens ahead 16-7 in the third quarter.
"It's hard for me to raise my arm," Mason said afterwards. "It got better at halftime, but it was still hard to run and move my arm. I took some medication. Joe has done an excellent job for me. He's putting the ball right where I don't have to move my hands."
Mason was set up by two standout special teams plays.
Following a 23-yard punt return to Dallas' 37 from safety **Jim Leonhard**, the offense looked it would stall at the 22.
Baltimore then came out for what would have been **Matt Stover's** fourth field goal, but holder Sam Koch![](/team/roster/sam-koch/5db3abab-9670-4b0b-93b7-286dcac1e69c/ "Sam Koch") ran 9 yards through a gaping hole on the left side to convert a perfect fake, earning a critical first down.
"That may have been the play of the game," Harbaugh said. "We planned to run it all along and it's something we've been working on all year. Special teams coordinator] [**Jerry Rosburg** is an aggressive person, and he likes to get things done."
Two snaps later, Mason and Flacco connected.
"It's a credit to Derrick Mason," Harbaugh noted. "He's one of the toughest players I've ever been around."
The Ravens had their share of early troubles. Flacco, who finished 17-of-25 for 149 yards and a 96.9 passer rating, was sacked five times in the first half, losing a fumble on his first drive of the game when he was sack-stripped by defensive end DeMarcus Ware.
Backed up to his own 8-yard line because of an Ed Reed![](/team/roster/ed-reed/89ece203-7de4-4b40-9651-f16f4c3b7699/ "Ed Reed") interception on the game's fourth play, Flacco did not see Ware blow by tackle **Adam Terry** and lost his second fumble this season. The Cowboys used the positive field position to open the scoring on a Tashard Choice touchdown run.
Baltimore reached the red zone two more times in the first half, but only came away with field goals of 26 and 29 yards from Stover.
Stover did give the Ravens their first lead with a 37-yarder two seconds before the halftime whistle, after Reed notched his second interception by running on an underthrown Romo pass to Owens and returning the pick to midfield.
That drive was helped by a 21-yard catch-and-run and a 13-yard rush from McGahee, perhaps setting the table for how the Ravens' backs would eventually break out in the end.
Despite the blinking flashbulbs that dotted the stands all night, the strong feelings of nostalgia for the blue and white star, and the multiple comeback bids from the players wearing Dallas' classic uniform, the night did not go the way most people in Texas Stadium thought.
For the 53 Ravens players, and even more coaches and staff at the game representing purple and black, Saturday's outcome largely went according to plan.