Missed opportunities were the story of Baltimore's 23-20 loss to the Pittsburgh Steelers.
With their playoff hopes potentially on the line at Heinz Field, the Ravens failed to take advantage of several chances to put the game away. And even though Baltimore nearly overcame them all and had a chance to win, quarterback Joe Flacco
fumbled away the Ravens' final possession when he was hit by linebacker LaMarr Woodley and defensive tackle Ziggy Hood recovered.
There was an apparent last whisper of hope, when safety Tom Zbikowski picked off Pittsburgh's Ben Roethlisberger with less than two minutes remaining, but an illegal contact penalty on cornerback Frank Walker quelled that.
The Ravens, who entered the game as the NFL's second-most penalized team, were cited for 11 penalties for 113 yards, which vastly outnumbered Pittsburgh's four for 20 yards. And, the miscues came in the form of turnovers and dropped passes, as well.
At the end of the day, Ravens head coach John Harbaugh did not want to focus on what went wrong, however.
"Listen, you go out there and you fight," he said in an intense post-game press conference. "You go out there and you battle. We competed like crazy to try and win a football game the best we can. You make plays, they make plays; go back and forth, you fight for it. That's what we do. We fight our hearts out. We came up a little bit short."
The outcome could have been dramatically different, considering the way the Ravens held a red-hot Roethlisberger, who was coming off a week where he threw for a franchise-record 503 yards against the Green Bay Packers, to a 75.2 passer rating and Ray Rice's 141 rushing yards ended a 33-game streak of the Steelers not giving up a 100-yard runner.
Two Ravens touchdowns were nullified because of penalties, wideout Derrick Mason dropped a wide-open pass in the end zone, and several other chances were lost because of carelessness.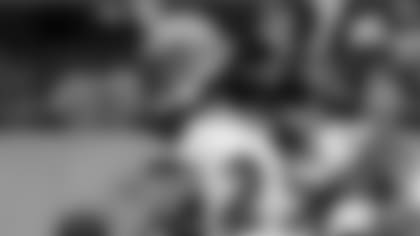 "We played very consistent, but then we'd just have a play where we'd ruin everything," cornerback Chris Carr explained. "It was disappointing, because we feel we're the better team – but if you make mistakes like that you're not going to win the ballgame."
Both teams seemed to answer whatever the other one had early in the game, except the Ravens simply had to work harder for it.
The Ravens turned the ball over on their first series, when Flacco tossed an interception to linebacker James Farrior, which Pittsburgh turned into a 26-yard field goal.
But Baltimore grittily marched down the field to get within range of a 27-yard field goal by kicker Billy Cundiff
, moving the chains with a 16-yard run by Rice, an 11-yard completion to Mason and a 27-yarder to Kelley Washington.
In the second quarter, a pass-interference penalty on Carr, who started for an injured Lardarius Webb
, that moved the ball to the 5-yard line. Pittsburgh running back Rashard Mendenhall then punched it across the goal line for a 4-yard touchdown and a 13-3 Steelers lead.
But, the Ravens responded this time with a 61-yard drive the culminated in a 30-yard scoring pass to tight end Todd Heap.
Baltimore got the ball back when Carr forced a Mendenhall fumble which Ray Lewis
recovered, but Rice lost a fumble on the very next snap.
"It was just tough football," said Rice, who has lost three fumbles this year. "They're a stout defense, they play hard. I don't know my stats, but we look for wins. We didn't get the job done."
The Ravens almost went into the locker room with a three-point deficit after backing the Steelers up to their own 6-yard line at the two-minute warning. Linebacker Terrell Suggs
batted a Roethlisberger pass down at the line of scrimmage, and then running back Mewelde Moore was stuffed at the goal line by Haloti Ngata
.
But, Roethlisberger calmly dropped back and found wideout Mike Wallace for 45 yards out, setting up a 24-yard touchdown pass to Santonio Holmes just before halftime.
Cornerback Domonique Foxworth blitzed Roethlisberger, but "Big Ben" threw a dart to Holmes, who stiff-armed Zbikowski en route to the end zone.
Things seemed to change after the break.
The Ravens came out firing with a 10-play, 64-yard touchdown drive that was capped by a 7-yard score to Heap, his second two-touchdown performance in as many games.
Baltimore's defense then really pinned its ears back, as Roethlisberger was rushed into a poor throw to Holmes that Foxworth intercepted and took to the end zone.
Not so fast. A block in the back by Suggs called it back, and the Ravens had to settle for a 35-yard field goal.
Later in the third quarter, Willis McGahee, who saw only spot time in lieu of the ultra-productive Rice, romped for a 32-yard touchdown, but Washington was flagged for holding, and Baltimore settled for a 35-yard field goal to knot the score at 20.
"That's what you play through in the NFL; it's the ups and downs in the NFL," Heap explained. "Every game, you're going to have situations where you're on a high for one second and then you can turn around for the next second and be on a low. You have to balance those out. You have to erase the lows in your mind and get to the next play and focus on the next play."
Mason, who finished with seven receptions for 77 yards, even dropped a wide-open touchdown pass where Flacco dropped a perfect rainbow over his shoulder with no defender within 3 yards of him.
And then, the Ravens couldn't even salvage a field goal, because right tackle Oniel Cousins' personal foul after the play was over cost 15 yards and moved the line of scrimmage to the 41-yard line.
For his part, Mason simply joined his teammates in wanting to put the loss behind them.
"Forget about this one, it's over and done with," he stated. "We just have to prepare for the next one, that's all that matters… That's our philosophy. I've forgotten about this one, it's done and over with.
"I cannot allow myself to relax in a situation like that, regardless of how open I am," Mason continued. "But, it is what it is. You move on."
The Ravens are not officially out of the playoff race, as several other scenarios played out Sunday evening. The New York Jets (8-7) currently hold the No. 5 seed in the AFC because they have a better record against common opponents than the Ravens, but the 8-7 Ravens hold a tiebreaker over the Denver Broncos, who dropped to 8-7 with a loss to the Philadelphia Eagles.
But, on a day where they could have punched their postseason ticket, the Ravens would have loved to seize control of the situation.
At least, they still control their own fate. A win against the Oakland Raiders next Sunday, and they are in the playoffs.
"I think everyone on our team knows how to respond," Harbaugh said. "They'll go to work and they'll go out there and compete against a good Oakland football team that has had its share of success this year. We have our hands full, but I guarantee we can't wait for the opportunity. We'd play them right now if we could."