We're three days away from the NFL Draft and it's time for predictions to go from pencil to pen.
Garrett Downing and Ryan took a stab at predicting all five Ravens picks in the 2023 NFL Draft, with no trades permitted.
As a reminder, this comes with ZERO insider knowledge from anyone in the Ravens' front office or scouting department. We don't get any clues. This is just two guys making their guesses.
Garrett Downing
Round 1 – Pick 22: WR Zay Flowers, Boston College
The Ravens add another big-time weapon to their receiving corps. Flowers has home-run potential every time he touches the football. He has the 40-yard dash in 4.42 seconds at the Combine, he's incredibly elusive in the open field and he consistently breaks tackles. The only knock on Flowers is his size, but the 5-foot-9, 180-pound receiver plays bigger than he looks. He put up 78 catches for 1,077 yards and 12 touchdowns last year at Boston College. He does a great job tracking the deep ball and can also make tough, contested catches in traffic.
The Ravens already added to the receiver room this offseason with the addition of Odell Beckham Jr. and Nelson Agholor, but they could still look to add another piece to that group. With his ability to play inside or outside, Flowers would be the ideal candidate if he's there at No. 22. Flowers grew up in South Florida, he lit up at the Combine when asked about the possibility of playing alongside Lamar Jackson. "Playing with Lamar, that would be a South Florida connection – two dynamic players going out there to make plays every game," Flowers said.
Round 3, No. 186 – DE Zach Harrison, Ohio State
Harrison is one of the best pure athletes in the draft. The 6-foot-5, 275-pound defender was a top-five recruit coming out of high school, and his potential is off the charts. Harrison likely projects as an outside linebacker in Baltimore's defense, but they could also experiment with him at the defensive end position after parting ways with Calais Campbell. Harrison didn't develop into the game-wrecker at Ohio State that some expected during his recruitment – he had 3.5 sacks and one interception last season – but he stressed in the pre-draft process that his best football is in front of him. Harrison also has a great reputation off the field as a scholar-athlete and team captain.
Round 4, No. 124 – CB Jakorian Bennett, Maryland
Cornerback is one of the biggest needs on the roster going into the draft, and the Ravens look down the road at Maryland to get one of the most athletically gifted corners in the class. Bennett (5-11, 188) is a former track star who blew up the Combine, running the 40 in 4.3 seconds and showing off a vertical jump of 40.5 inches. He has good ball skills, pulling down five interceptions over the last two years.
Round 5, No. 157 – OG Emil Ekiyor Jr., Alabama
The Ravens have a strong track record of drafting quality interior offensive linemen in the mid-to-late rounds (Ben Powers, Bradley Bozeman and Ryan Jensen are a few examples) and Ekiyor fits that mold. The 6-foot-2, 315-pound lineman was a three-year starter for the Crimson Tide, where he won a national championship in 2020. He also has a good pedigree, as his father was an NFL defensive lineman. Ekiyor has been a right guard in his career, but could compete for the Ravens open left guard job.
Round 6, No. 199 – DL DJ Dale, Alabama
The Ravens go back to the well with their final pick. Ozzie Newsome isn't the general manager anymore, but the love for Alabama is still alive and well with Eric DeCosta calling the shots. Dale was also a three-year starter. The 6-foot-1 300-pound lineman could work as a rotational player this year to give the Ravens another young option along their defensive front. Dale had 2.5 sacks and 3.5 tackles for loss last season, and a career-high 14 pressures. Defensive line is a sneaky need for the Ravens after Campbell's departure and with Justin Madubuike and Broderick Washington Jr. entering the final years of their rookie contracts. Dale has held up well in the SEC in his career, and he would immediately compete for playing time.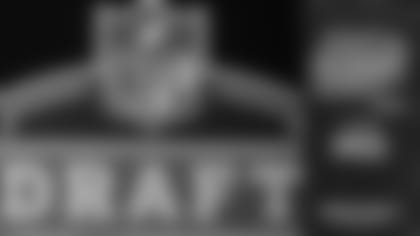 455: Our Seven-Round Mock Drafts
Mink and Garrett make their five picks and explain their reasoning for the Ravens in the 2023 draft.
Ryan Mink
Round 1, No. 22 – CB Deonte Banks, Maryland
Cornerback is the Ravens' biggest need going into the draft and they're in good position with a few projected to come off the board in the back half of the first round. Banks is the kind of player the Ravens love at cornerback. He's physical at the line of scrimmage and everywhere else on the field, has the speed to run with anybody, and versatility to line up outside or inside. Banks put on a show at the NFL Scouting Combine, showing elite athleticism (4.35 40-yard dash, 42-inch vertical) that will allow him to mirror a variety of different receivers.
The player is a great fit, and so is the person. Banks grew up in Baltimore and started his football career in the Parkside Youth Program. He called it a "dream" to play at the University of Maryland, and it would get only sweeter to start his NFL career in his hometown. His teammates and coaches talk about how he set the tone for the Terps' defense. The Ravens need a starting-caliber cornerback and if Banks, Joey Porter Jr. (Penn State) and/or Emmanuel Forbes (Mississippi State) are available at this spot, they would be tough to pass up. Any would be a good fit in Baltimore, but I'm going with a fellow Terp when I have an opportunity to do so.
Round 3, No. 86 – WR Marvin Mims Jr., Oklahoma
If the Ravens don't take a wide receiver in the first round, they'll look for one with an elite trait in the third or fourth round. Mims certainly has that with his speed. He ran the 40-yard dash in 4.38 seconds and was the only receiver in the FBS with at least 45 catches to average more than 20 yards per reception. He led Oklahoma in receiving all three seasons, showing great tracking ability to match his speed. After trading Marquise "Hollywood" Brown during last year's draft, the Ravens tried to bring in a field stretcher with veteran DeSean Jackson. Mims could bring a similar skillset to his Oklahoma predecessor.
Round 4, No. 124 – DL Kobie Turner, Wake Forest
Turner could provide strong interior pass rush for the Ravens, as he registered 18 sacks over his college career, which started at Richmond. He's explosive off the snap and plays with a high motor. He's a bit undersized, but plays with plenty of physicality. Madubuike and Washington are heading into the final year of their contracts and the Ravens could use another defensive lineman to add to the mix following Campbell's departure.
Round 5, No. 157 – G McClendon Curtis, UT-Chattanooga
Last year, the Patriots made Chattanooga interior offensive lineman Cole Strange a first-round pick. Curtis is next in line. Though not as polished as Strange, Curtis has good tools to develop. He has great size at 6-foot-5, 324 pounds, plenty of core power, strong character (and a 4.0 GPA), and positional flexibility after 38 career starts at three different positions. He could be groomed to become a flexible reserve lineman with the potential for more down the line.
Round 6, No. 199 – QB Stetson Bennett, Georgia
The connection here is clear with Bennett winning two national championships with new Ravens Offensive Coordinator Todd Monken. As Monken installs his scheme in Baltimore, there's no better fit than Bennett, who at least speaks the same language. While Tyler Huntley is expected to sign his restricted free-agent tender and return, the Ravens could use another quarterback in the mix. Bennett is a proven winner, smart, accurate, and mobile. He could continue to develop under Monken and be a solid backup early in his career.