With defensive tackle Dwan Edwards lost to Injured Reserve this week, the Ravens sent an undisclosed 2009 draft pick and a conditional 2010 pick to the Tampa Bay Buccaneers for eight-year veteran Marques Douglas.
It will be a homecoming of sorts for the talented defensive end, as Douglas played in Baltimore from 2001-04.
"We're really happy to get a quality player who is also a quality person back to our team, especially this time of year," said Ravens general manager Ozzie Newsome.
Douglas, 31, immediately adds a spark to the Ravens' pass rush and stout run defense, playing behind four-time Pro Bowler Trevor Pryce.
In the past five years, the 6-foot-2, 292-pounder has played in every game, starting all but two. During that span, Douglas totaled 17 sacks and a whopping 417 tackles for the Ravens and San Francisco 49ers.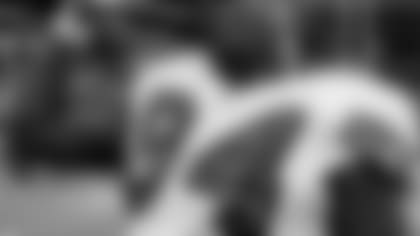 Douglas actually joined Baltimore's practice squad in 1999 as a rookie free agent out of Howard, but spent the next season on Injured Reserve with the New Orleans Saints because of a knee injury.
The Ravens then signed Douglas to their active roster in 2001, biding his time for two years before becoming a key starter in a unit that only allowed 281.0 total yards in 2003 (third-best in the NFL) and 300.2 in 2004 (sixth).
Baltimore also led the league with 86 sacks over that two-year period.
"I've known him for 10 years, and he's a guy that knows how to play," said defensive coordinator Rex Ryan. "He's familiar with our system and fits right in. He'll make plays for us.
"Marques has been a productive player in this league for a while now, so for us, we said, 'Shoot, let's go get him.'"
When former Ravens defensive coordinator Mike Nolan left to coach San Francisco in 2005, Douglas was one of his prime free-agent signings. Douglas was a 49ers defensive captain last season, when he tallied a career-best 100 tackles.
The Greensboro, N.C. native signed a lucrative four-year contract with Tampa Bay this offseason.
Recent injuries to defensive linemen Kelly Gregg (knee) and Haloti Ngata (sprained medial collateral ligament), coupled with Edwards' designation on IR with a back ailment, have emphasized the Ravens' need for depth along their defensive line.
Ngata only recently returned to practice and is still being closely monitored by Baltimore's training staff. Gregg hurt his knee in training camp and is not expected to play until the season opener Sept. 7 against the Cincinnati Bengals.
According to Ryan, Douglas will take the field Thursday to face the Atlanta Falcons.
"We're just going to throw him out there," Ryan said. "We want to see what he remembers."
Baltimore now features one of the NFL's most talented fronts with Ngata and Gregg nearing full-health, Pryce, Justin Bannan, and Douglas. The Ravens currently own a streak of 19 consecutive contests without giving up a 100-yard rusher, tops in the league ahead of Seattle's run of 11 games.
The Ravens released outside linebacker Dan Cody, who is battling back from a foot injury sustained in training camp, to make room on the roster for Douglas.
The former second-round draft pick has only played in two games since he was selected out of the University of Oklahoma in 2005 because of various knee injuries.