The Ravens talked all week about not looking past the lowly Cleveland Browns and avoiding a surprise defeat in a game where they were heavily favored.
But it was the Browns that remained true to their reputation.
Cleveland rarely challenged in the Ravens' 34-3 victory Sunday at M&T Bank Stadium.  In front of an announced crowd of 70,950, the Browns were consistently beaten on both sides of the football.
Both Browns quarterbacks, Brady Quinn and Derek Anderson, combined for four interceptions, three of which led to touchdowns. Cleveland's offense amassed only 186 total yards, and it seemed that Joe Flacco
and the Ravens' offense could march up and down the field whenever they pleased.
The only hiccup was a 29-yard field goal from kicker Billy Cundiff, but that was aided by a 25-yard pass interference penalty on Ravens safety Ed Reed
.
"We always play together and get team victories," Flacco said.  "Any time the defense is getting turnovers, then it's our job to put the ball in the end zone.  We converted [the turnovers] into a pretty good amount of points today.  That's what you have to do in order to win games."
The yards and points came at the hands of many contributors.
Wideout Derrick Mason, who finished with four grabs for 46 yards, reached the 800-reception mark, becoming the 23rd player in NFL history to reach that mark.
Running back Ray Rice
scored his first career touchdown with a 9-yard rush off the right edge.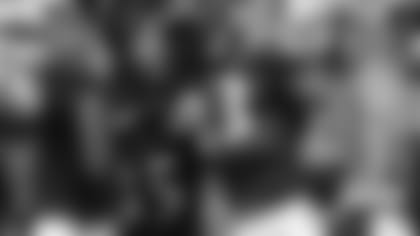 Flacco even set a personal record by throwing for 342 yards, completing 25 of 35 attempts. He also posted a 111.8 passer rating and logged a 72-yard touchdown throw to Mason.
"We came in and just executed our game plan from the beginning of the week," said running back Willis McGahee, whose two touchdowns gave him six total on the season (five rushing).  "We were really looking forward to this game.  We didn't really read into what the newspapers were saying.  We just played regular football."
That brand of football meant a truly complete effort in which the offense and defense benefitted each other.  Even the special teams units kept dangerous return man Joshua Cribbs in check.
"I'm really proud of our team," head coach John Harbaugh said.  "I think our team took care of business in a way that they had to take care of in this particular game.  They understood this game for what it was and they did it right out of the gate."
The Browns did seem overmatched from the beginning.
Flacco was given the football early in the first quarter after Baltimore cornerback Domonique Foxworth intercepted Quinn five plays into the game.  The second-year signal-caller went in at Cleveland's 31-yard line and set up a 7-yard touchdown run by McGahee.
McGahee crossed the goal line again in the second quarter following two Steve Hauschka field goals (36 and 33 yards). Taking over at the 2:31 mark, Flacco engineered an eight-play, 80-yard drive that was capped by a 15-yard touchdown sprint by McGahee, his sixth touchdown of the year (fifth rushing).
Meanwhile, the Ravens harassed Quinn throughout the first half.  With pressure generated from Baltimore's front four, Quinn completed six of eight passes for only 34 yards and Foxworth's interception.
Quinn was pulled in favor of Anderson in the second half, but the former Raven did not fare much better.  Following a rare Ravens punt on their opening series, Anderson targeted receiver Mike Furrey on the right sideline.  Linebacker Brendon Ayanbadejo
was step-for-step with Furrey and simply jumped in front of the Browns wideout for the pick.
The Ravens answered with a 34-yard run by McGahee that led to Rice's historic moment.
As if to underscore the one-sided aspect of the contest, McGahee did not have one defender even tag him en route to the end zone, and neither did Rice.
"That right there shows you what the line is doing up front," McGahee said regarding two scores.  "The whole line and the receivers.  I said to myself, 'I've got to score because nobody's touching me, so I've got to get to the end zone.'"
The Ravens officially sealed the victory by intercepting Anderson twice more – one from Dawan Landry and one by Reed – and taking the long shot to Mason.
After Landry's pick, which he ran under like a center fielder, Flacco calmly dropped back and unleashed a bomb to Mason that the veteran receiver doubled back to catch.  When Mason, whose five grabs for 118 yards led all receivers, did haul it in, he side-stepped a Cleveland cornerback and outran the defense to the end zone.
The Ravens improved to a perfect 3-0 and took an early lead in the AFC North.  And considering how convincingly they did it, the Ravens furthered their reputation as a serious contender in the league.
"We'll let [opponents] read that message however they want," said tight end Todd Heap.  "They know we're coming to play.  We've just got to come into every game with that attitude. With this group of guys, I think we'll go a long way."