James Proche II bought a mini basketball hoop for the Ravens locker room. He's telling people it's his best purchase of the offseason.
Alley-oop dunk contests. Horse. You name it, the wide receivers are competing.
Baltimore has a young and unproven cast of wide receivers that has left some pointing to it as the team's weakness. The Ravens wideouts are competing with each other, competing to show the front office it doesn't need to add a veteran, and competing with the doubters.
"I just want to know why us? There's like rookie receivers everywhere going crazy, and everybody is talking about us," Rashod Bateman said. "But, we embrace it. It's a challenge."
"It's just noise," Proche said. "Just noise."
Proche is the oldest wide receiver in the room at 25 years old. Entering his third NFL season, he's looking to establish himself as a consistent offensive threat for the first time in his career.
Fellow third-year wideout Devin Duvernay is looking to become a starter following the trade of Marquise "Hollywood" Brown to the Cardinals.
Bateman will be the top wide receiver, an ultra-talented first-round pick looking to prove he's a No. 1 in his second season.
Fellow second-year wide receiver Tylan Wallace is the only other "lock" to make the team. He's a fourth-round pick who made two catches last year.
But what they lack in experience, the Ravens wide receivers make up for in moxie. They're coming together, all with the same mission.
"The guys do have a chip on their shoulder, and they want to go out and prove that they're ready for their opportunity," Wide Receivers Coach Tee Martin said. "When we don't draft a wide receiver, what the organization is saying to you is, 'We brought you here for a reason, and it's your time.'"
Over the years, the Ravens have often signed a veteran wide receiver to help lead the group. This offseason, Head Coach John Harbaugh said, at some point, you have to trust young players to develop and not "cling to the known, the names."
That's a definite show of faith, and one the Ravens wide receivers are running with. During minicamp, Bateman had a few long catches from Lamar Jackson, showing his potential to be more of a deep-ball target after averaging 11.2 yards per grab as a rookie.
Asked if downfield catches are an underrated part of his game, Bateman just smiled and said, "We'll see."
Proche had a flurry of catches in 11-on-11 drills, showing his ability to be a chain-moving force that can make tough grabs in traffic. He's not the biggest guy at 5-foot-11, 200 pounds, but Proche's competitiveness makes him play bigger than his size.
"Me and 'Bate' talk about this all the time. I just love football," Proche said. "I love my job. I love what I do. This is my nine-to-five, plus some overtime."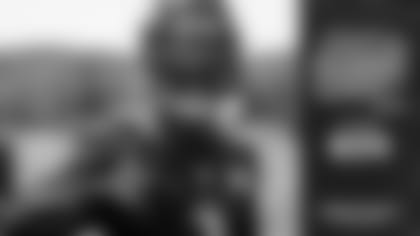 374: James Proche II Joins The Lounge
Ravens third-year wide receiver James Proche II talks about the opportunity he and the other young wide receivers have and the competitive drive that pushes him.
Duvernay showed his talent with the ball in his hands last season, making the Pro Bowl as a special teams returner. Now he's in line to get many more targets his way. Martin said Duvernay has improved across the board this offseason.
"The route running, releases – just about every facet of his game," Martin said. "I wanted to see improvement in every area, because I knew that going into the next year, in Year 3, that's usually, for wide receivers, the year that you're going to be counted on. And so, he took his route running to the next level; he's always had good hands; he's always been a dependable receiver, as far as catching the ball for us; he took the running after the catch to the next level."
The bond forming between the young receivers is easy to see. Bateman and Proche decided to have a joint press conference Thursday. While Duvernay and Proche have different personalities, their shared competitiveness and competition with each other has brought them very close.
The Ravens stockpiled a room of young receivers to grow with quarterback Lamar Jackson and it's clear to see that chemistry is forming.
"We just really mess with each other. If we were all police officers, if we were all reporters, we would have been hanging out, kicking it," Proche said. "Those draft choices are a blessing. We got lucky. We have a group of guys who really mess with each other like outside of football. So, that's just a plus."
Time will tell whether the Ravens do add another receiver to the mix. It seems every day, there is another big-name free-agent wide receiver that pundits speculate could land in Baltimore – whether it be Deebo Samuel, DK Metcalf, or Terry McLaurin.
Baltimore's wide receivers, and the coaches in charge of developing their young talent, hear it.
"It's added motivation to what's already a motivated room," Martin said.
"Every day, when you wake up, as a coach or a player in the National Football League, you know you've got to bring it. And so, having been a former player in the league, and now back as a coach, it just comes with the territory. No one is going to be harder on us than us, and no one is going to expect more out of us than us. And so, yes, you hear it; it just adds fuel to the fire."