Cary Williams had a rough start the last time he faced the Steelers.
On the first play from scrimmage, the Steelers heaved a deep pass down the sideline for wide receiver Mike Wallace, who ran right by Williams. The pass fell incomplete, but Williams was flagged for a 42-yard pass interference penalty. Two plays later, the Steelers were in the end zone.
The miscue put the Ravens in an early hole, but Williams would respond. He did not get beat again, shutting down Pro Bowler Wallace, who didn't even register 25 receiving yards on the night.
In many ways, that game was a microcosm of Williams' season.
He's been beat up at times, but he keeps finding a way to end up on top.
"I've always been resilient," Williams said. "I've always been a hard worker. I've always had this never-say-die mentality, even when things seem bleak and dim. I was always able to find a light at the end of the tunnel."
That mentality has helped Williams get through the ups and downs of what has been a trying season at times.
The fifth-year cornerback has started every game for the Ravens the last two years and currently leads the team with four interceptions. He's leading a group of cornerbacks that has been decimated with injuries, and he's earning recognition around the NFL as the top AFC cornerback in Pro Bowl voting.
Getting to that point didn't come easy.
Williams had to overcome offseason hip surgery, beat out first-round pick Jimmy Smith for a starting job, deal with criticism from fans and play through the potential distraction of upcoming contract negotiations.
"It has its ups and downs. It has it's ins and outs. That's just like life," Williams said. "You go through those trials and tribulations every day. It's life. You just have to continue to roll with the punches and continue to get better."
Williams won a starting job out of training camp, but that was just the first hurdle to climb. In some ways, the pressure and expectations only intensified.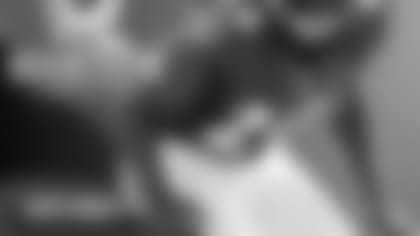 ](http://www.baltimoreravens.com/ravenstown/pro-bowl-ballot-2013.html)He got beat in the preseason by elite receivers Calvin Johnson and Julio Jones. Then in Week 3 of the regular season, Patriots quarterback Tom Brady completed 10 passes in Williams' direction, totaling 121 yards.
"Those struggles, those things that you go through, competitions, it's part of the game," Williams said. "It makes me stronger. It makes me a better person, a better player and I relish those competitions."
With his back against the wall, Williams responded in a big way.
Just four days after getting torched by Brady, Williams made arguably the biggest play of his career in the Week 4 game against the Browns. He picked off a pass from quarterback Brandon Weeden in the fourth quarter – the first interception of his career – and returned it 63 yards for a touchdown. The touchdown was the difference in the game, and the Ravens went on to win 23-16.
The interception was a turning point in Williams' season, as he notched three more in the next four games.
"For Cary, he put his nose down and he was grinding," safety Bernard Pollard said. "Every day he's bringing his lunch pail and he's working. He's doing everything he can to get better."
The improvement has shown.
The Ravens have won four straight games and the defense that came under fire earlier in the season has been markedly better. Despite losing cornerbacks Smith and Lardarius Webb to injury, Williams has held together the unit and the Ravens allowed the fewest points (14.5) in the NFL in the month of November.
"He's just more consistent," Defensive Coordinator Dean Pees said. "He works hard during the week and prepares himself."
That consistency has come with maturity for Williams. He's learned how to harness his emotion and to focus on his craft. Williams has leaned on veteran players like Pollard and Ed Reed to get a better grasp on the game and the nuances of watching film. 
Pollard has noticed a difference.
Williams recently texted Pollard one evening after the players finished meetings and practice. Williams wanted to talk film. He was studying game tape on his own and texted Pollard about what he noticed. 
"To see him do that, it's really neat," Pollard said. "I didn't see it last year. I see it this year."
The development has come at the right time for Williams, whose contract expires at the end of the season. He turned down a three-year, $15 million extension in the offseason, deciding instead to play out his contract and hope for a bigger offer after the season. He's playing this year on a restricted free agent tender worth $1.972 million.
"He made a choice and it was risky, and he's playing it out, and he's playing really good ball," Pollard said. "He's setting himself up."
Williams insists he's not thought much about the contract since he opted to turn down the extension.
"If I was thinking about it I would let you know," he said with a laugh. "I haven't really thought about it and that's what's kept me level-headed to a degree."
Williams knows that he could have the opportunity to set up his young family with financial stability for the rest of their lives if he gets a big payday at the end of the season, but right now his focus is solely on football.
"It's great, but I still feel like there's work to be done," Williams said. "I still need to continue to work. I haven't arrived or anything like that.
"I don't ever want to cheat my teammates or cheat myself by thinking about something so selfishly. I want to help our team win. I couldn't* *care less about a contract. I want to win a Super Bowl."