Joe Flacco is anything but an average quarterback.
But he definitely has an Average Joe personality that people outside of Baltimore are getting to see.
Last week, Flacco showed that becoming the highest-paid player in NFL history isn't going to change his blue-collar personality. And it's really quite endearing.
Hours after signing his record six-year, $120.6-million contract, Flacco hit up a McDonald's drive thru in Aberdeen, Md., for a 10-piece McNuggets meal with fries and unsweetened ice tea.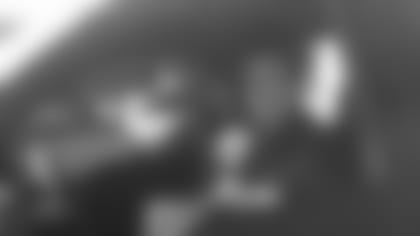 His big plans for that evening were to go out with his family to dinner. He was at family pizza night at his uncle's house when news broke that his agent and the Ravens agreed to terms.
On Friday, Yardbarker's Terez Owens posted a photo of Flacco and his high school sweetheart and wife, Dana, riding a free airport bus. I've ridden those busses, and I'll tell you they aren't as nice as limos.
What I especially like is how Flacco is cheesing for the camera in both pictures. He's never been somebody who seeks out the limelight, but he still seems quite comfortable in his own skin.
This isn't the first time people in Baltimore have seen this side of Flacco.
Flacco has always had a simple, goofy side to him. He seems like your buddy from across the street.
Now he's just a much wealthier buddy, but still the same guy.