Veteran outside linebacker Tyus Bowser will begin the regular season on the NFI list, requiring him to sit out the first four games.
Bowser hasn't practiced this offseason while dealing with a knee issue and has been limited to doing some work on a side field during the early portion of practices.
In his last full season in 2021, Bowser had a career year with seven sacks, 59 tackles and 15 quarterback hits as a versatile three-down linebacker who also excelled in pass coverage. However, Bowser suffered a torn Achilles during the final game of that season and began last season on the PUP list. Bowser returned to play nine games and had two sacks, 13 tackles, four quarterback hits and a forced fumble.
The Ravens signed defensive end Jadeveon Clowney last week to anchor the pass rush that will also feature talented young outside linebackers Odafe Oweh, David Ojabo and Malik Hamm, who made the 53-man roster as undrafted rookie.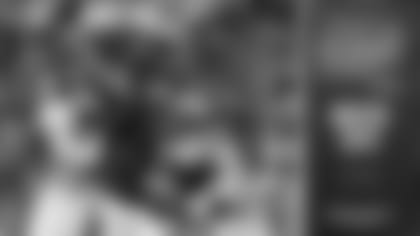 505: Reaction to Ravens Roster Cuts
Our insiders, Mink and Garrett, talk about the biggest surprises, best stories, and potential upcoming moves as the Ravens got down to 53 players Tuesday.
Ronald Darby Is Confident After Fast Recovery From Last Year's Knee Injury
Less than 10 months after suffering a torn ACL, Ronald Darby is one of the newest Ravens, confident he can make an immediate contribution at a key position that has been hit hard by injuries.
Baltimore signed Darby on Aug. 18 after his speedy recovery from a knee injury he suffered last year playing for the Denver Broncos. Darby attacked rehab with the same focus he uses to defend wide receivers. He feels healthy and ready to play as many snaps as he's asked, as the Ravens prepare for their Sept. 10 season opener against the Texans.
"I was busting my [butt] rehabbing and running," Darby said. "I was having like two-a-days all through the week, so I made sure I put the load on my body. Knowing that I wasn't in OTAs, [and] I wasn't in the first half of camp, I made sure I did more so I could be ready and have confidence on it. That's what it's mainly about, having confidence on your knee.
"I'm ready. That's what I'm out here doing. I'm getting myself back into football shape. If I get called on, I'm going to go out there and give my all. I don't feel any doubt or anything, or I wouldn't be out there getting the reps that I'm getting."
Darby could start or see significant action in the cornerback rotation, especially if All-Pro cornerback Marlon Humphrey does not return from foot surgery in time for Week 1. Darby has eight years of NFL experience, has made 88 career starts, and has played in a variety of defenses.
Darby says he's picking up Defensive Coordinator Mike MacDonald's system quickly, and practice reps against the Ravens' receiving corps that includes Odell Beckham Jr., Zay Flowers, Rashod Bateman, and Nelson Agholor has sharpened Darby.
"This is a very talented wide receiver group," Darby said. "There were some other teams reaching out to my agent, but it's a great fit here. I'm really impressed by the defense – how they communicate; how driven they are; how each day they come out ready to work. I came later in [training] camp, and they gave me first-week energy once I first got out here. The guys were flying around on both sides of the ball. I like that."
Left Guard Competition Helped John Simpson Raise His Game
After winning the left guard competition over rookie, John Simpson is focused on keeping the starting job and continuing to improve. Simpson said his battle his play was elevated by his training camp battle with rookie Sala Aumavae-Laulu to become the starter.
"I'm a competitor," Simpson said. "Anybody that's a competitor wants to compete, and I think that gave me a little juice. I mean, it did. It gave me a little juice, and I feel like it helped me throughout camp, and it gave me something to look forward to every day. [I'm] not saying that I won't have that same mindset, but it definitely did play a part in how I competed in camp." 
Simpson says he's much more confident than when he signed with the Ravens late last season after being released by the Raiders. He started every game for the Raiders in 2021 and plans to capitalize on his second opportunity.
"Mistakes are going to happen," Simpson said. "I know that. I just try to overcome them and just go to the next play or whatever's next, just try to go through that. That's kind of how I helped build my own confidence."
Sala Aumavae-Laulu, Daniel Faalele Have Their Main Roles Defined
The Ravens gave several of their young offensive lineman snaps at different positions during training camp in the preseason. However, with the regular season approaching Harbaugh said roles would be more clearly defined.
"Sala will be focusing interior at guard, and Faalele will be focusing outside at tackle," Harbaugh said. "But we'll also work those guys from time to time in the different spots just because you have to all the time."
Harbaugh said he was impressed by Faalele's reps at left tackle in just his second NFL season after playing guard in college.
"He didn't get tons of reps there, but he did fine when he was in there," Harbaugh said.