There were few, if any, players on the current roster who embodied a Raven more than Orlando Brown Jr. He was tough as hell and gave the same to his adversaries. He had his father's purple blood pumping through his veins.
The Ravens would have liked Brown to be in Baltimore for a long time. They at least would have liked him to be a Raven for one more year.
But not all fairytales, as Brown's 2018 arrival and ascension to a two-time Pro Bowler in Baltimore was, have a fairytale ending. Here we are, with Brown traded to the Kansas City Chiefs.
However, given the circumstances, it wouldn't be surprising if all parties involved are raising a glass Friday evening, toasting what ended up as a win-win-win for the Ravens, Chiefs and Brown.
This is how trades are supposed to work. They're a little tough, but overall beneficial, for everyone.
Here's how each side "won" this deal:
Ravens: Good value on return
At the 2019 Pro Bowl, it became obvious that the Ravens had a good problem on their hands. They had a pair of Pro Bowl offensive tackles in Brown and Ronnie Stanley. It was always going to be tough to pay them both, and Baltimore made its decision on Oct. 30 last year when it signed Stanley to a five-year extension reportedly worth nearly $100 million.
In Brown's mind, that probably was the beginning of the end of his time in Baltimore. Brown shifted to left tackle, proved he could play there at a high level, and cemented his belief that he was a left – not right – tackle. Then, in January, he tweeted, "I'm a LEFT tackle," making his trade request clear. The Ravens were going to lose their young Pro Bowler, no matter what, after next season.
Given that Baltimore's only leverage was that it was in no hurry to trade such a talented player, General Manager Eric DeCosta's reported trade return is impressive.
Essentially, Baltimore traded one year of high-level play from Brown and a sixth-round pick in 2022 to move up 27 spots in this year's draft (from No. 58 to No. 31), third- and fourth-round picks this year and a fifth-round pick next year.
When calculating out the value of the reported picks exchanged, according to the often-used Jimmy Johnson trade chart, the Ravens received what was essentially a 45th-overall pick (early-ish second round). That's not a true first-round pick – which was a high bar – but it's a lot of value. The Ravens got even more value according to other trade charts, such as the Chase Stuart model.
The Ravens could have waited, let Brown sign a mega-deal elsewhere, and gotten a third-round compensatory pick, but there are a lot of "ifs" in that scenario. Brown would have to stay healthy, get that huge deal, do well with his new team, etc. A third-rounder isn't a guarantee. Plus, it means the Ravens have to guard that pick when it comes to 2022 free-agency decisions.
Instead, Baltimore gets two additional picks this year to bring its total to nine and give DeCosta the ammunition to move around the draft and find value as he loves to do. Next year, Baltimore is already set to cash-in with at least three compensatory picks (Matthew Judon, Yannick Ngakoue, David Culley), so this balances the haul.
The Ravens know they are going to need to stockpile cheaper, young talent to offset the expense of Lamar Jackson's contract extension. Adding picks, especially a second first-round selection, offers that opportunity. Baltimore can draft Brown's long-term replacement and have him for four years on a rookie contract compared to one more relatively affordable year of Brown. Mathematically, it works better for Baltimore's long-term viability while offering short-term flexibility.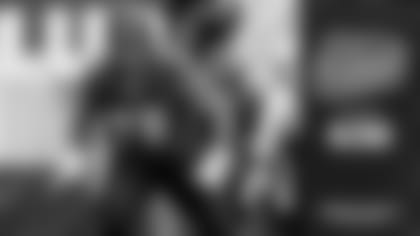 Orlando Brown Jr. Reaction and Joe Hortiz
Mink and Garrett react to the big trade news, talk about how it could shift the Ravens' draft strategy and talk with Director of Player Personnel Joe Hortiz about some top prospects.
Chiefs: Protection for the star
The Chiefs saw Patrick Mahomes under constant duress in Super Bowl LV behind a patchwork offensive line. They went about reshaping that line this offseason by signing free-agent guard Joe Thuney (five years, $80 million) and luring former Pro Bowl guard Kyle Long out of retirement. However, they still needed to fill the most critical spot of left tackle and it was going to be tough to find a plug-and-play starter they would trust enough to protect Mahomes at No. 31 in the draft.
Brown is known best for being a mauler in the run game. That's what he loves to do. But according to Pro Football Focus, he also didn't allow a single sack or hit in 389 pass-blocking snaps last year. He instantly fills a glaring hole and brings another level of nasty. Plus, the Chiefs took away a Pro Bowler from an AFC rival.
While Brown doesn't have a ton of experience at left tackle in the NFL, he has played there virtually his entire life outside of his first two seasons as a Raven. He's also left-handed, so it naturally suits him better. Brown is naturally driven to be the best, but he also has incentive to have a strong first season in Kansas City and earn the lucrative contract extension he deserves.
Brown: A chance to chase dreams
During Brown's freshman year of high school at DeMatha Catholic High School just outside Washington, D.C., his father told the coach that if his son wasn't good enough to play left tackle, they should just put him at defensive tackle. That's how deeply the pride of playing left tackle was ingrained in Brown.
It was Brown's dream to play in Baltimore, where he used to attend games and practices to watch his dad. But in that dream, he was at left tackle – not right. Now Brown gets to prove to himself, and to his late father, that he's ready to take the next step in his career. He'll have a lot more pass-blocking snaps in Kansas City than he did in Baltimore's heavy rushing attack, which will test that aspect of his game. Brown often talks about his desire to be the best offensive lineman ever. At right tackle, he would never be considered that. Now, Brown has the path to chase his ultimate lofty goals.
Brown goes from blocking for one NFL MVP (Lamar Jackson) to another (Mahomes). The Chiefs figure to be in Super Bowl contention for a long time with Mahomes at the helm, and Brown will probably get many more chances to suit up in M&T Bank Stadium against his friends. Thus, there will still be many great battles to come in this fairytale.