Joe Flacco's absence was the big story from Wednesday's practice.
The veteran quarterback is dealing with an injury to his throwing shoulder, but the Ravens are optimistic about his ability to play this week against the New York Jets.
**Several Key Starting Veterans Miss Practice
The Ravens have a number of other key veterans nursing injuries.
Outside linebackers Terrell Suggs (biceps) and Elvis Dumervil (foot), wide receiver Steve Smith Sr. (ankle), right guard Marshal Yanda (shoulder), inside linebacker C.J. Mosley (thigh) and returner Devin Hester (thigh) all didn't practice.
Suggs is the only new addition to that list, as all of the others missed last week's game. Suggs tore his biceps making a sack on quarterback Eli Manning last week, and he wasn't able to return.
He plans to play through the injury rather than undergo season-ending surgery, just like he did with a similar injury in 2012, but it appears unlikely that he will be ready to play against the Jets.
"I'm not so optimistic on [Suggs playing this week]," Head Coach John Harbaugh said. "Last time he did it, he played the game after the first game, but if he comes up and says he can play then we'll him out there. He's not a long-term deal either."
The other player who seems unlikely to play this week is Yanda. He also missed last week's game and has not practiced the last two weeks.
"Marshal Yanda will be a stretch [to play] with his situation," Harbaugh said. "So we'll see how that one goes."
Harbaugh didn't provide specific updates on the other players missing from practice, but only said they are not long-term concerns.
Both Starting Tackles Practice
Starting left tackle Ronnie Stanley (foot) and right tackle Rick Wagner (thigh) were both at practice as full participants. Wagner wasn't even listed on the injury report.
Stanley has missed three games with the foot issue. Wagner was active last week,but James Hurst started in his place.
Stanley has said since getting hurt that he has felt like he could try to play through the injury, but Head Coach John Harbaugh makes the final call.
"I for sure think it's a precautionary reason because they know I could go out and fight through it, and the decision is totally left up to Coach Harbaugh," Stanley said. "All I know is I just have to be ready if my number is called upon. That's where I am with it right now."
Stanley didn't give any hints about whether he'll suit up Sunday for the first time since Week 3, again deferring to the head coach.
"He's got the last word, last decision," Stanley said. "We really just play it day-by-day."
Jimmy Smith Practices As Limited Participant, Secondary Banged Up
A concussion ended cornerback Jimmy Smith's day against the Giants, and the performance of the secondary completely changed when he exited the game. Wide receiver Odell Beckham Jr. went off for 211 yards and a pair of touchdowns after Smith went down.
The good news for the Ravens was that Smith was back at practice Wednesday as a limited participant. Smith wore a red non-contact jersey, indicating that he has not yet been cleared for full contact.
He will need to be fully cleared to play against the Jets.
Smith isn't the only injury concern in the secondary, as cornerbacks Jerraud Powers (thigh) and Shareece Wright (thigh) both didn't practice. Powers left last week's game with the injury and didn't return, but Wright finished that matchup.
If the injuries to Power and Wright linger, the Ravens would be very short-handed going into the weekend.
Mike Wallace, Breshad Perriman Both Wear Non-Contact Jerseys [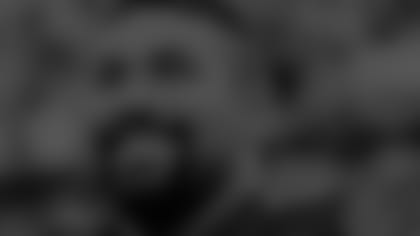 ](https://itunes.apple.com/us/podcast/baltimore-ravens-the-lounge/id1142013759 "Subscribe To The Lounge Podcast")
Baltimore's speedy receivers were both wearing non-contact jerseys Wednesday.
Breshad Perriman fell hard to the turf trying to haul in a deep pass against the Giants, but he didn't indicate much concern over the injury.
"I feel good," Perriman told reporters.
Mike Wallace was also limited in practice last week because of a chest injury, but he still played and took on a full workload Sunday.
Lorenzo Taliaferro Returns To Practice
Running back Lorenzo Taliaferro practiced for the first time in months.
The third-year running back spent training camp and the first six weeks of the season on the physically unable to perform list working to overcome a foot injury that has hindered him the last two years.
Taliaferro has three weeks to practice before the team has to decide whether to put him on the 53-man roster. The Ravens also have the option of moving him to the active roster as early as this week.
"Three weeks, that's a good amount of time for me to get out there and do some ball handling with the quarterbacks, learn the protection stuff, play good on special teams," Taliaferro said. "I'm preparing because that could be three weeks, or it could be this Sunday."
Jets Have Six Players Miss Practice
The Jets are nursing some injuries of their own.
They had six players miss practice, including offensive tackle Ryan Clady (shoulder), defensive lineman Muhammad Wilkerson (ankle), center Nick Mangold (knee), linebacker Darron Lee (ankle), cornerback Buster Skrine (non-injury related) and right tackle Brent Qvale (neck).
Starting running back Matt Forte (knee) was also a limited participant.