Baltimore Ravens What Happened To That Guy Podcast Player Bios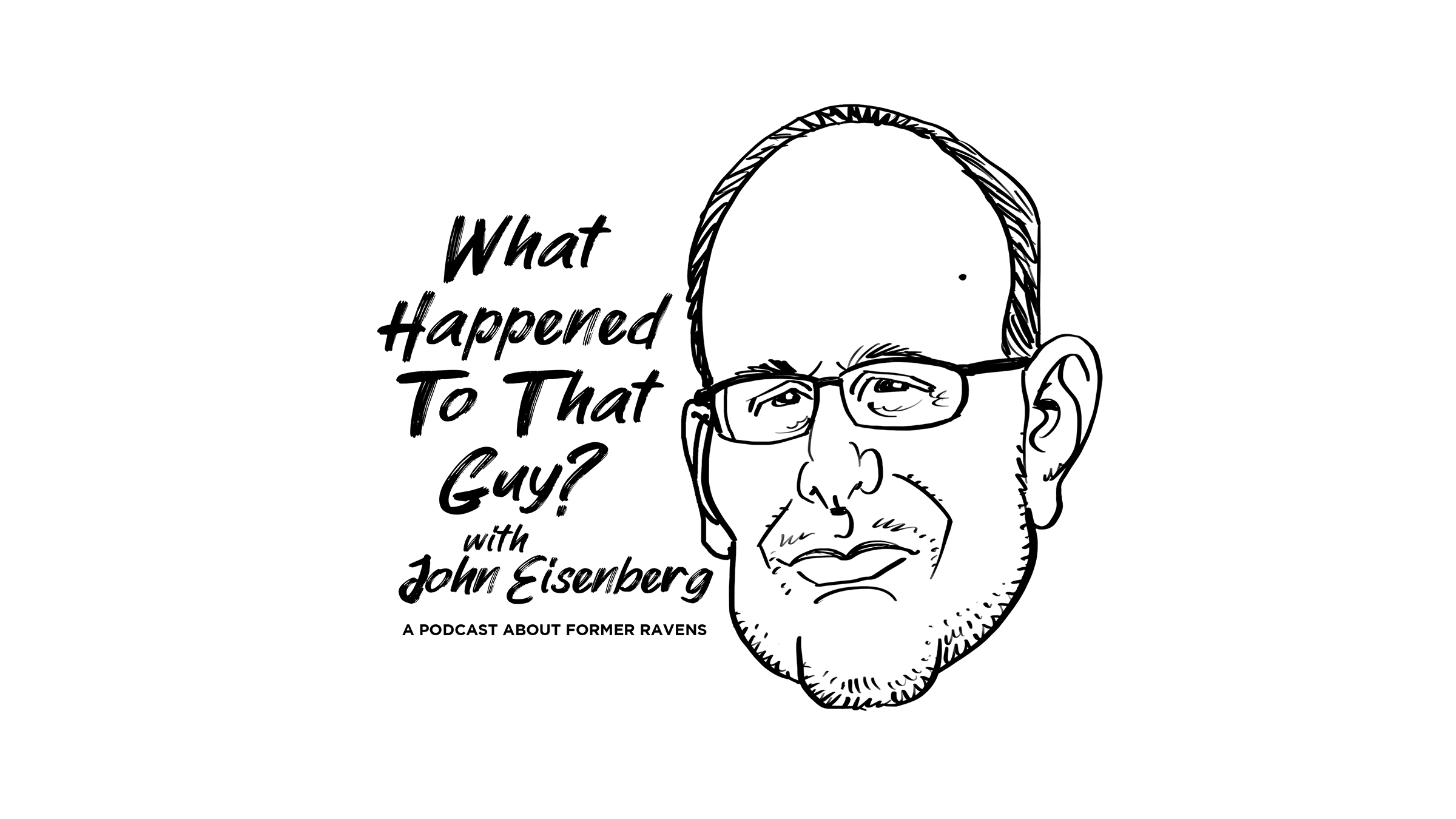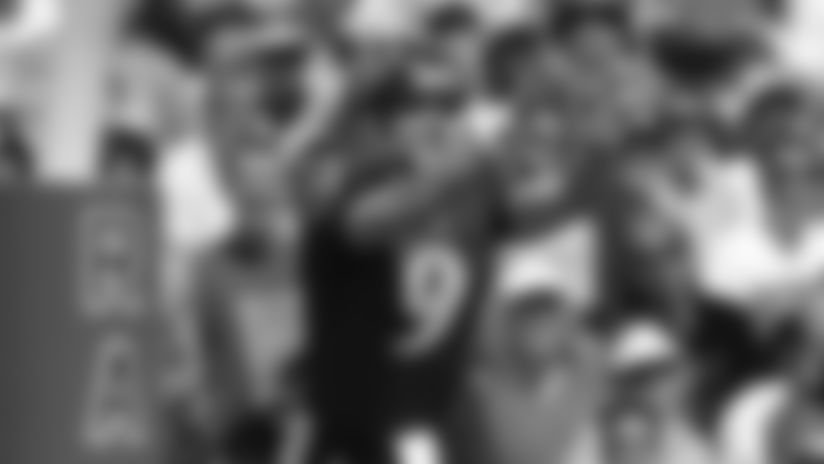 Episode 7: Greg Montgomery
Played linebacker at Red Bank (N.J.) Regional High School until a back injury forced him to abandon contact in all sports and become a punter.
Began his college career at Penn State before transferring to Michigan State, where he twice earned All-American honors.
One of the highest-drafted punters in NFL history as a third-round selection (No. 72 overall) of the Houston Oilers in 1988.
While with the Oilers, led the NFL in average yards per punt in 1990, 1992 and 1993, earning All-Pro honors in 1993.
Played one season with the Detroit Lions (1994) and two with the Ravens (1996, 1997) before retiring from football.
Revealed that he had been diagnosed with bipolar disorder while playing with the Ravens in 1997.
Worked with numerous mental health organizations on raising awareness and fighting the stigma surrounding mental illness.
Tutored young punters at LSU, Alabama, Michigan State and elsewhere during nearly two decades as a private punting coach. Top client was NFL veteran Donnie Jones.
Family now oversees Gregory Hugh Montgomery Jr. Foundation for Ultimate Growth at ultimategrowthfoundation.org.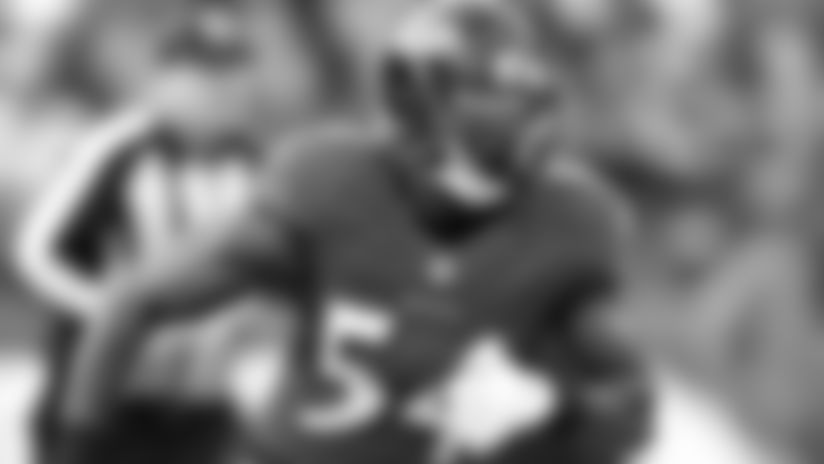 Episode 6: Zach Orr
Earned all-state honors as a junior linebacker at DeSoto High School in DeSoto, Texas.
At University of North Texas, alma mater of Pro Football Hall of Famer "Mean Joe" Greene, Orr led the defense in tackles for three straight years.
Signed with the Ravens as an undrafted rookie in 2014 and made the roster ahead of John Simon, a 2013 fourth-round pick, who was traded.
Finished second on the Ravens with seven tackles on special teams as a rookie in 2014.
Became a starter in 2016 and made second-team All-Pro after leading the Ravens with 132 tackles.
Suffered a season-ending neck injury late in the 2016 season and retired from football weeks later when doctors discovered he had lived with a rare spinal condition since birth.
Now works for the Ravens as a coaching analyst and also helps with the inside linebackers.
Was praised by Defensive Coordinator Wink Martindale for doing "a great job" preparing the linebackers for a game in November 2020 after many at the position were unable to practice all week due to COVID-19 protocols.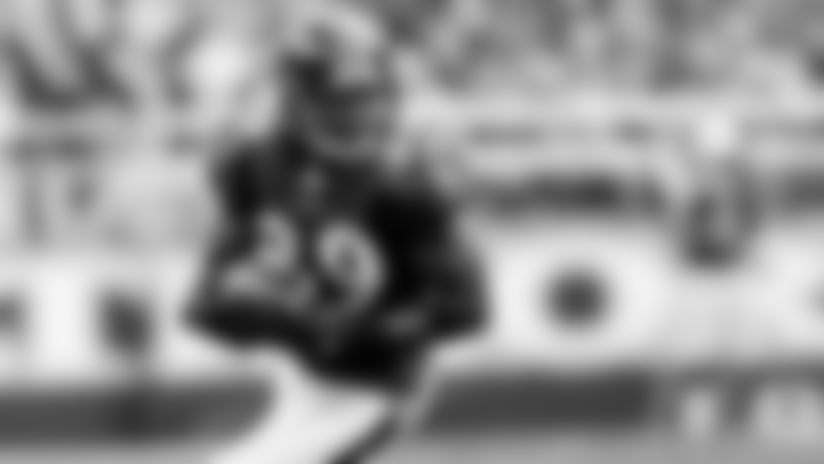 Episode 5: Mark Clayton
Played quarterback on the junior varsity as a junior at Sam Houston High School in Arlington, Texas, before switching to wide receiver and becoming a top college recruit.
Caught 83 passes, 15 for touchdowns, and earned All-American honors as a junior at the University of Oklahoma. His quarterback, Jason White, won the Heisman Trophy.
The Ravens drafted him No. 22 overall in 2005. He was the fifth wide receiver selected that year, after Braylon Edwards, Troy Williamson, Mike Williams and Matt Jones.
Put together his most productive pro season as a second-year player in 2006, catching 67 passes (on 113 targets) for 939 yards and five touchdowns as Baltimore went 13-3.
Enjoyed a career day against the Cincinnati Bengals in 2008. Threw a 32-yard touchdown pass to Derrick Mason, caught a 70-yard touchdown pass from rookie Joe Flacco and finished with five catches for 164 yards.
Before the 2010 season, the Ravens traded him and a seventh-round draft pick to the St. Louis Rams, receiving in return a sixth-round pick that was used to select quarterback Tyrod Taylor.
Suffered a major knee injury in his fifth game with the Rams in 2010, effectively ending his NFL career. Caught one pass in 2011.
Now living in Texas, he owns a headphones company and also has investments in digital currency, cannabis, real estate and professional flag football.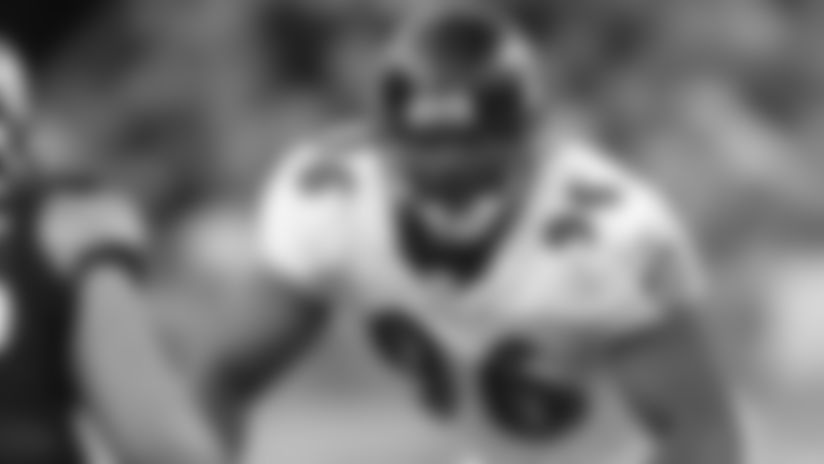 Episode 4: Adalius Thomas
At Central Coosa High School in Rockford, Alabama, led the basketball team to a state title as a senior and Class 4A player of the year. Also made all-state in football.
As a defensive end at Southern Mississippi, twice was selected Conference USA Defensive Player of the Year. Also played power forward on the school's basketball team.
Selected by the Ravens in the sixth round of the 2000 NFL Draft as the No. 186 overall pick.
Made the AFC Pro Bowl team in 2003 for his strong performance on Baltimore special teams, which included 23 tackles in 15 games.
Became a starting linebacker as a fifth-year player in 2004 and also occasionally lined up at other positions such as defensive back and cornerback.
Earned All-Pro honors in his final season with the Ravens in 2006 after posting 106 tackles, 11 sacks, seven passes defended, one interception and one fumble recovery returned for a touchdown.
Signed with the New England Patriots as a free agent in 2007. Played three seasons for them before being cut at age 32. Never played in the NFL again.
Now lives in Atlanta and owns multiple restaurants in North Carolina and Maryland. Also owns a logistics company and valve distribution business.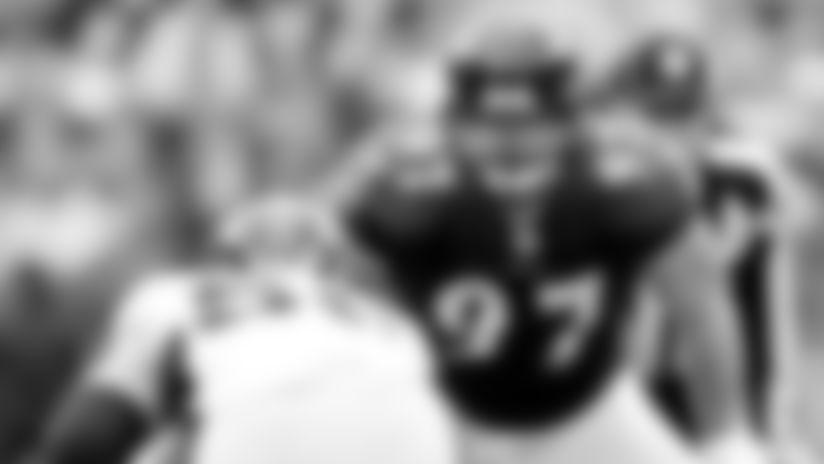 Episode 3: Kelly Gregg
At Edmond North High School in Oklahoma, was a three-time state champion wrester (heavyweight division) and twice earned all-state honors in football.
In 1998, recorded nine sacks and 117 tackles as a University of Oklahoma senior. His stat of 24 tackles for loss that season still stands as a school record.
Spent most of his NFL rookie season in 1999 on the Bengals' practice squad. The Ravens signed him to their practice squad in 2000 after the Eagles waived him.
Experienced an infamous moment in 2001 when he tackled Jamal Lewis in training camp and Lewis suffered a season-ending knee injury.
Became the Ravens' starting nose tackle in 2002 after Tony Siragusa retired. Held the job through 2010 except for missing the 2008 season due to injury.
Registered career-high 63 solo tackles in 2003. Posted career-high 3.5 sacks in 2006 for rugged Baltimore defense that led NFL in fewest yards allowed.
Signed a four-year, $20.3 contract extension with the Ravens in 2007. Retired after playing one season for the Kansas City Chiefs in 2011.
Now co-hosts an afternoon show on 107.7 The Franchise, Oklahoma City's leading sports-talk radio station.
Episode 2: Matt Stover
Earned All-District honors as a wide receiver for the Wildcats of Lake Highlands High School in Dallas, Texas, in 1985. But also kicked a 53-yard field goal.
Became a full-time kicker and punter at Louisiana Tech, where he converted 64 of 88 field goal attempts over four seasons and once punted 16 times in a game.
Selected by the New York Giants in the 12th round of the 1990 NFL Draft, as the No. 329 overall selection. Spent his rookie year on injured reserve.
Joined the Cleveland Browns in 1991 and spent five years as their kicker. Converted 72 percent of his field goal attempts in his first three years but then missed just six of 61 attempts in his last two seasons in Cleveland.
Moved with the franchise to Baltimore in 1996 and continued to kick for the Ravens through the 2008 season. Made 84.7 percent of 418 field goal attempts during those 13 years.
Enjoyed his best season in 2000, earning Pro Bowl honors for making 35 of 39 field goal attempts during the Ravens' first Super Bowl-winning season. Nailed a 47-yard field goal to give the Ravens a 10-0 lead in the Super Bowl.
After a final season with the Indianapolis Colts, retired after the 2009 season as the fourth-highest scorer in NFL history with 2,004 career points. Still ranks No. 6 in all-time scoring as of 2020.
Now lives in Baltimore and operates the Players Philanthropy Fund, a nonprofit he started that helps athletes with their charitable giving.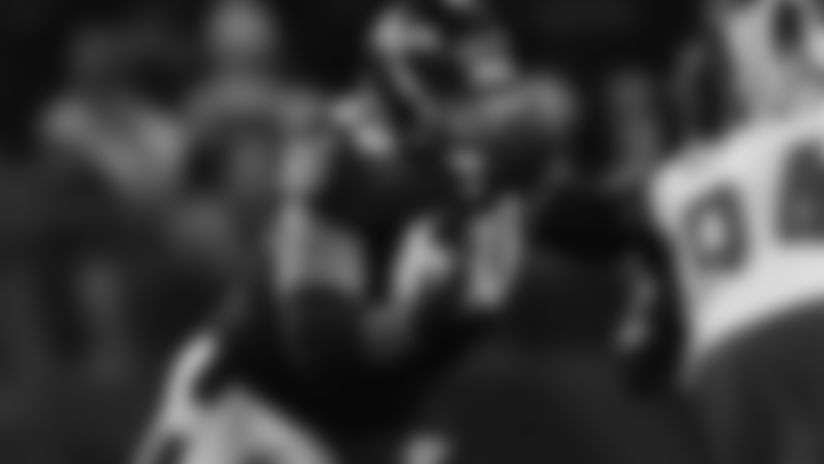 Episode 1: Jason Brown
Played offensive tackle as a freshman at North Carolina and switched to center for his last three seasons. Earned all-Atlantic Coast Conference honors as a senior.
Projected to go in the third round of the 2005 NFL Draft and went to the Ravens as the No. 124 overall selection (fourth round).
Backed up starting Baltimore center Mike Flynn in his first two seasons, then started 16 games at guard in 2007.
Switched to center in 2008 and started every game for a Ravens team that reached the AFC title game under first-year Head Coach John Harbaugh.
Signed a free agent contract with the St. Louis Rams in 2009. Five-year deal included $20 million guaranteed.
After being cut by the Rams in 2012, walked away from the NFL to become a farmer in North Carolina despite fielding lucrative offers from the Ravens, San Francisco 49ers and Carolina Panthers to continue playing.
Now operates First Fruits Farm in Louisburg, North Carolina, as part of his Wisdom For Life ministry, which he started when he played for the Ravens.
Since 2012, his farm has donated more than a million pounds of sweet potatoes and other staples to food pantries, churches and other aid organizations.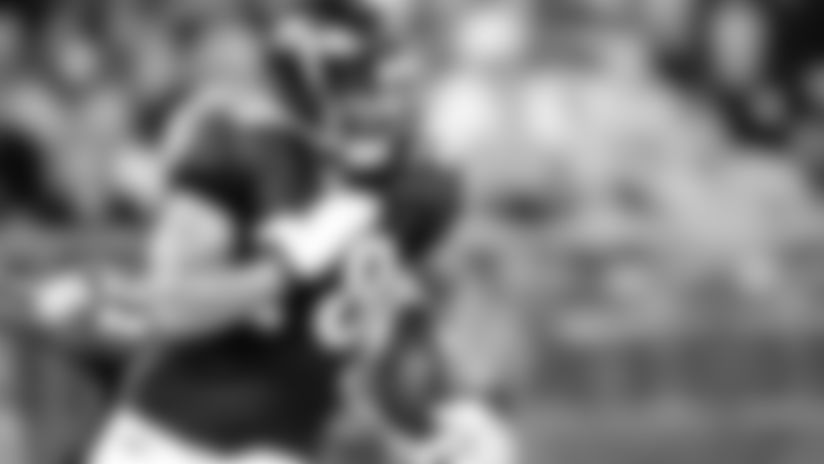 Episode 8: Tom Zbikowski
Chicago-area native rushed for 2,357 yards and 32 touchdowns and also played defensive back at Buffalo Grove High School.
Excelled as a defensive back and punt returner at Notre Dame from 2003 through 2007. Scored seven touchdowns over four seasons -- two on interception returns, two on fumble returns and three on punt returns.
Made his professional boxing debut on June 10, 2006, at Madison Square Garden in New York. Defeated Robert Bell by technical knockout in less than a minute.
Joined the Ravens in 2008 as a third-round draft pick. Played mostly special teams as a rookie, then made four starts and intercepted two passes as a second-year player in 2009.
Replaced injured Ed Reed as a starter for the first six games in 2010. Suffered a rib injury in Week 6 and saw his playing time diminish when he returned.
Returned to boxing during the offseason between the 2010 and 2011 NFL seasons. Won three matches in six weeks before joining the Ravens for OTA practices and training camp.
Played with the Indianapolis Colts in 2012, then retired from the NFL after the Chicago Bears released him before the 2013 season.
Spent two years as a Chicago fireman.
Currently training to make a boxing comeback. Sports an 8-0 career record as a pro. Most recent bout was October 7, 2017.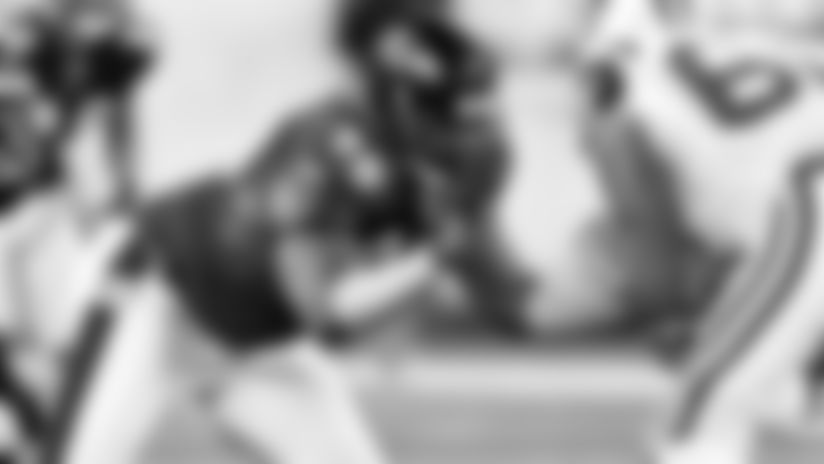 Episode 7: Trevor Pryce
Standout defensive lineman played two years at Michigan and one year at Clemson before turning pro in 1997.
In nine years with the Denver Broncos, he earned four Pro Bowl invitations, played on two Super Bowl-winning teams and collected 64 sacks.
Though no longer with the Broncos, he was named to the franchise's 50th anniversary team in 2009.
Joined the Ravens in 2006 as a free agent and had a monster first season with 13 sacks and 23 quarterback hits on a 13-3 team.
After an injury limited him to two starts in 2007, he started every game in 2008 and totaled 4.5 sacks for a team that reached the AFC title game.
After the Ravens cut Pryce in September 2010, he signed with the New York Jets, who reached the AFC title game that season.
Writer and creator of Kulipari, an animated series on Netflix about superhero frogs battling evil scorpions in Australia.
Today owns and operates OVFX, an animation studio on the campus of Maryland Institute College of Art in Baltimore.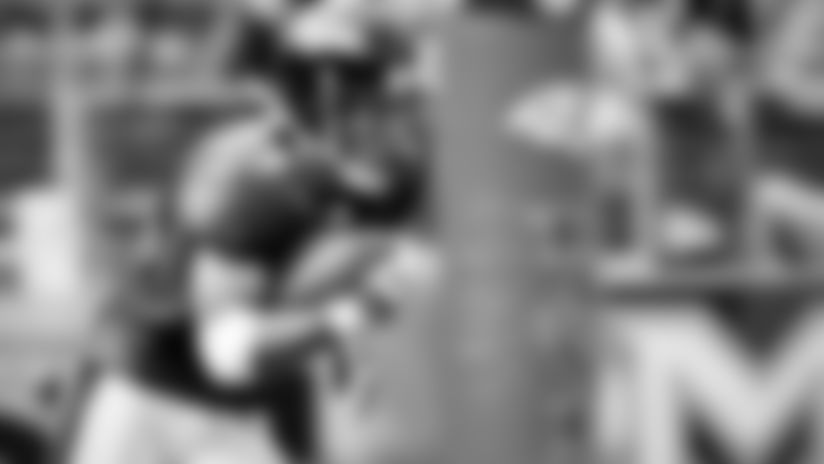 Episode 6: Chris Carr
Starred as a running back for Robert McQueen High School in Reno, Nevada. Rushed for 1,944 yards and 34 touchdowns as a senior.
Switched to defensive back at Boise State. Lettered all four years and finished his career as the NCAA's all-time leader in average yards per punt return (19.8).
Made the Oakland Raiders' roster as an undrafted rookie in 2005. Led the NFL in kickoff return yardage in each of his first two seasons. Also scored a touchdown on a 100-yard interception return in 2006.
Joined the Ravens in 2009 and had a solid season. Played in all 16 games, started four, intercepted two passes and made 38 solo tackles. Intercepted a pass in the Ravens' playoff win over the New England Patriots.
Enjoyed his best season as a pro with the Ravens in 2010. Started all 16 games, intercepted two passes and forced three fumbles.
Went from 16 starts to one in 2011 because of an injury and was released after the season.
Retired from the NFL after playing for the New Orleans Saints in 2013. Overall, played in 125 games for five teams during a nine-year pro career.
Enrolled at George Washington University Law School in 2014. Now works at Zeman and Petterson, a law firm in Northern Virginia.
Episode 5: Matt Birk
Native of St. Paul, Minnesota, was all-state in football and basketball at Cretin-Derham Hall High School.
Earned all-Ivy League honors as an offensive lineman for Harvard. Graduated from the school in 1998 with an economics degree.
His hometown Minnesota Vikings selected Birk in the sixth round of the 1998 NFL Draft.
After two years as a backup, he became the Viking' starting center in 2000. That year, he started 16 games, made the first of his six Pro Bowl appearances and earned All-Pro honors.
Also played for the NFC in the Pro Bowl in 2001, 2003, 2004, 2006 and 2007. (Missed the 2005 season with a hip injury.)
Signed a three-year contract with the Ravens as a free agent on March 4, 2009. Signed another three-year deal with team before the 2012 season but only played one year before retiring at age 36, shortly after the Ravens won Super Bowl 47.
Never missed a game as the Ravens' center, making 64 straight starts over four seasons.
While with the Ravens, won the NFL's Walter Payton Man of the Year Award in 2011. His Hike Foundation worked to improve literacy among at-risk youth in Baltimore.
Co-founded Unity High School, a Catholic school in the Twin Cities. It opened in the fall of 2019.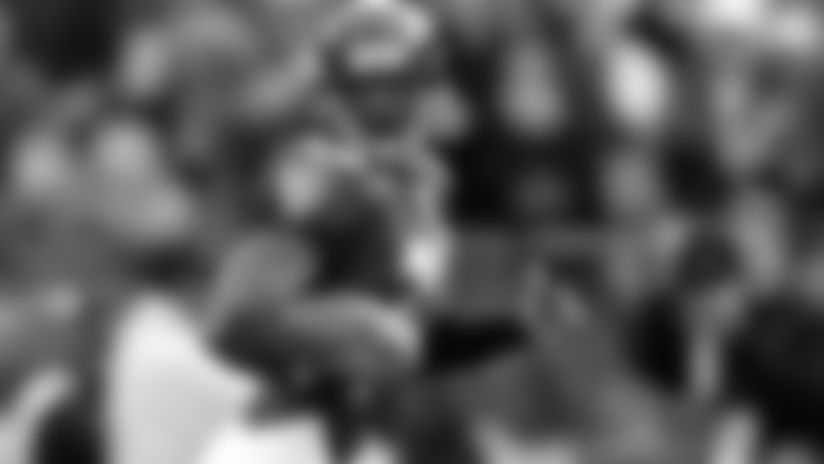 Episode 4: Gary Baxter
Earned all-state honors in 1997 as a senior defensive back for the powerhouse Lions of John Tyler High School in Tyler, Texas.
In college, started on Baylor teams that never won more than two games in a season, but Baxter amassed six interceptions and 202 tackles.
Three months after winning Super Bowl 35, the Ravens took Baxter with the No. 62 overall selection, a second-round pick, in the 2001 Draft. Todd Heap was the team's first-round pick that year.
Started 14 games at cornerback in his second season in Baltimore (2002) and started all 16 games in 2003 and 2004.
Intercepted three passes in 2003 and finished second on the team in solo tackles in 2004, trailing only Ray Lewis.
Best known for a hit that injured Pittsburgh quarterback Tommy Maddox in 2004, prompting Steelers to give then-rookie Ben Roethlisberger a shot.
Signed a six-year, $30 million contract with the Cleveland Browns during free agency in 2005. Deal included a $10.5 million signing bonus. Only played eight games for Cleveland before injuries ended his career.
Now CEO and co-founder of Project Rose Research Institute for Sports Science. His business partner is Hall of Fame running back Earl Campbell.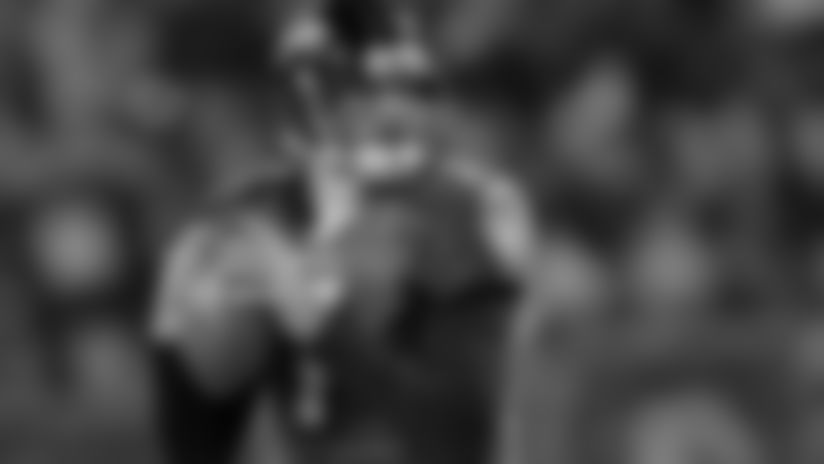 Episode 3: Kyle Boller
Set California high school records by passing for 4,838 yards and 59 touchdowns as a senior at William S. Hart High School near Los Angeles. PrepStar recruiting service ranked him the nation's top quarterback prospect.
Threw more interceptions (38) than touchdowns (36) in his first three seasons at Cal-Berkeley, but excelled as a senior in 2002, passing for 2,815 yards and 28 touchdowns.
After being selected No. 19 overall by the Ravens in the 2003 NFL Draft, Boller opened his rookie season as the team's starting quarterback. Baltimore had a 5-3 record when Boller suffered a season-ending thigh injury in Week 9.
Started every game in 2004 for a Ravens team that went 9-7 and just missed the playoffs. Completed 55.6 percent of his passes and had more touchdowns (13) than interceptions (11).
Although his playing time was limited by injuries in 2005, he tossed six touchdown passes in back-to-back prime-time home victories over Green Bay and Minnesota. The Ravens traded for Steve McNair in 2006.
Ranks No. 2 behind Joe Flacco for most all-time completions and passing yardage in Ravens history. Ranks No. 3 for most all-time touchdown passes behind Flacco and Vinny Testaverde.
Threw 45 touchdowns and 44 interceptions during six seasons in Baltimore. Went 20-22 as a starter, according to Pro Football Reference.
Played for the St. Louis Rams in 2009 and Oakland Raiders in 2010 and 2011. Retired from the NFL during training camp with the San Diego Chargers in 2012.
Episode 2: Peter Boulware
Turned pro after leading the nation with 19 sacks as a junior at Florida State in 1996. The Ravens made him the No. 4 overall pick in the 1997 draft. He never played for another NFL team.
Selected as NFL Defensive Rookie of the Year in 1997 and went to the Pro Bowl in 1998, 1999, 2002 and 2003.
Set the franchise record for most sacks in a season with 15 in 2001. His record stood until Elvis Dumervil recorded 17 in 2014.
Still co-holds the franchise's individual record for most sacks in a game. He had four against the Minnesota Vikings on Jan. 7, 2002. (Michael McCrary also had four against the Oakland Raiders on Nov. 8, 1998.)
After sitting out the 2004 season with a knee injury, he was a reserve in 2005 and retired before the 2006 season.
Enshrined in the Ravens' Ring of Honor in the fall of 2006, less than a year after his retirement.
Retired as the Ravens' all-time leader in sacks with 70. Terrell Suggs broke his record in 2011.
In 2009 co-founded (with his wife) the Community Leadership Academy, a private school in Tallahassee, Florida.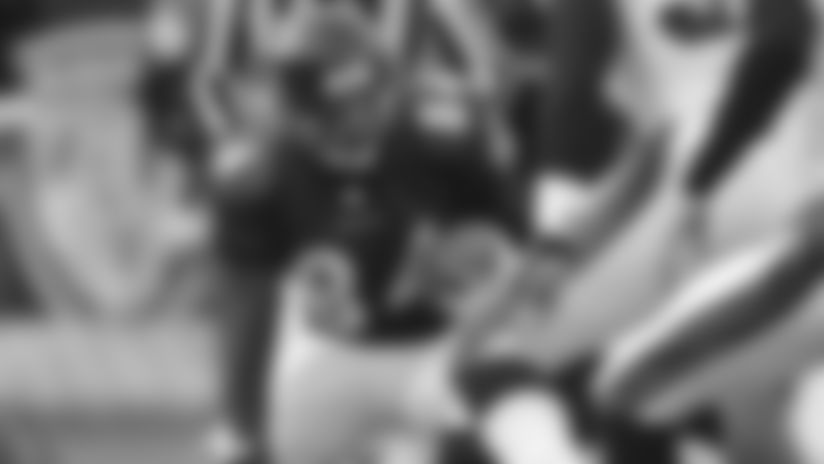 Episode 1: Jermaine Lewis
Joined the Ravens as a fifth-round pick in their original draft – the same 1996 draft that produced Ray Lewis and Jonathan Ogden.
A native of Prince George's County, he started as a receiver for the Maryland Terrapins for four years, leaving with the Atlantic Coast Conference record for career pass receptions (193).
He also was a track star in college, competing in the 100-meter and 200-meter sprint events for the Terps.
In six years with the Ravens, he caught 143 passes, returned 370 punts and kickoffs, and scored 23 touchdowns. He was a Pro Bowl selection in 1998 and 2001, each time as a punt returner.
In 1997 and 2000, he led the NFL in average yards per punt return. In 2001, he led the league in total punt return yardage.
He still holds most of the Ravens records involving punt returns, such as most career yards (2,730), most career touchdowns (6) and highest career average (11.8).
His career with the Ravens ended when they left him unprotected in a 2002 expansion draft for the Houston Texans. After one year with the Texans, he played for the Jacksonville Jaguars in 2003 and 2004, then retired from the NFL.