What's up Ravens fans? This is Daniel Wilcox, coming back to you from Ravens training camp in the Best Western in Westminster. We're almost finished here at camp, and I still haven't been able to practice because of my toe. I'm almost there, though.
The situation is that when I'm running, once I get warmed up, a lot of the pain seems to go away unless I make a certain move where it triggers the pain to come back. Overall, the pain kind of leaves when I get the adrenaline flowing. The more I run, the more it goes away. But after I finish running, it flares up pretty bad and I'm in a lot of pain in the late afternoons and that night. Last week after I put together that whole week of two-a-days of running and running and running, by Wednesday, it would flare up pretty bad. It was rough trying to sleep through that night. I was in so much pain that I kept waking up.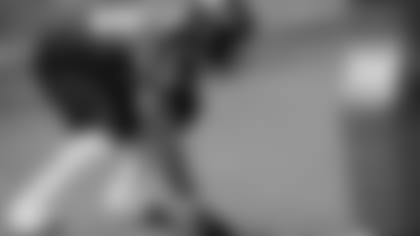 But, it's coming along. I haven't been able to run this fast since the surgery, so I feel like I'm back up to about 90% running. I don't know if I could really block anybody right now, to put that kind of pressure on it. Right now I'm about 245 [pounds] and walking around I'm fine, but when I start to run and I start putting that real stress on it, 245 multiplies up to probably about 1,500 lbs. when you start to think about how hard we dig and how hard we run. It's been a tough transition from the surgery to getting back on the field. I'm trying to work through it the best I can. Right now I've got a bone stimulator on there to try to help strengthen the bone and make the stuff in the blood cells in the bone heal faster.
I'm also trying to be smart with it this time. This time last year, I'd have been back out there already and I'd have just dealt with the pain. When it got really sore, I would have tried to just fight through it as best I could, but now I've learned my lesson. Plus, I just had the surgery, so that makes it even more dangerous for me to try to get out there. I probably could go out there and run some plays right now but I don't know how long that would last. I'm trying to get my legs back in running shape and cutting shape and my hamstrings prepared to take that kind of punishment. My back and my shoulders, all that stuff.
My goal, of course, is to be back on the field by the Cincinnati game. I'm not trying to do anything any faster than that, but at the same time, if I can get out there, I would love to get out there with the guys. I feel like I'm missing half the battle right now just sitting out watching. It's pretty stressful.
My roommate through most of camp was Justin Green, who got released this week. I feel bad for him, but we had some good conversations when he was here. My boy J.G. is about to be a daddy for the first time in his life. The only thing I could tell Justin – because I know what kind of guy he is – is to savor every single second; to take full advantage of being able to have a wife and being able to have your child in the home with you.
Before you know it, he's crawling and then he's walking and he's saying his first word, and then he starts calling you Daddy. There isn't any greater feeling than to hear that little kid say "Daddy! Daddy!" and he's talking about you, and that's the first time anybody calls you Daddy for real. One of the greatest feelings to me is the last four or five years I've been starting here with the Ravens and I catch a ball and I get up to spin it after a touchdown, and my son sees me doing that. Now he's three years old, and at two, he would get so excited to see me spin that ball like a top. And he would say "Spin that tang, Daddy! Spin that tang!" He can't even pronounce "thing" yet. And he would go get the ball and throw it back to me and I would spin it. He would get really loud, and I'd just keep spinning it. The excitement that brings me is something that you can't ever replace, because you could think about it a million times. You could be on the football field and see somebody spin a ball and the first thing you hear in your mind is "Spin that tang, Daddy!" That's what you're thinking about on the football field, so it's a great accomplishment to be a father.
You may remember that I got married a few weeks ago. It's been tough being away from her. I remember last year during training camp, we were newly engaged. I had proposed to her the month before training camp. Right after the proposal, she and her family left and traveled to Belize to visit other family during the first two weeks of training camp, and I remember just being sick, like 'Man, I can't wait until she gets back. I can't wait to see her.' And right now she's in New York with her family. She just took our godchildren back up the road. They came down to visit us for a whole week and she is up in New York right now for their birthday party and all that kind of stuff. So, it's hard living in this hotel every single night after you've spent the last four years being able to go home to her even during training camp. With the new coaching staff, we have to stay here in the hotel. It's definitely a change. I'm adapting to how things used to be before I came to Baltimore. It's kind of a tough adaptation.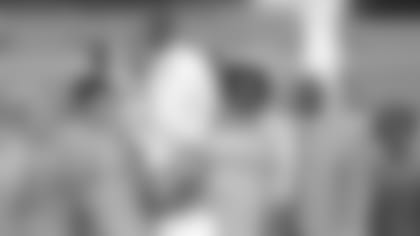 This whole training camp, whenever I've had any bit of free time, the first thing I do is come straight from meetings to my room and text or call my wife. We've had numerous conversations about what's going on with my foot and what's going on around here, my mental aspect, my physical aspect, what she's got going on. I probably spend every single free minute communicating with her in some way. If not, then I'm right here on my laptop listening to my music, going through stuff. Me and Justin watched a couple of movies. The TV has actually only been on the last two days. We probably didn't even turn the TV on the whole time we've been in camp until a few days ago when the Olympics started.
Here's a quick movie recommendation. Me and Justin watched 21 the other night. It was awesome. I definitely would recommend anybody to see it. Jumper *is definitely a hit, too. If you get a chance to see *Jumper, it's amazing. Just the graphics and what goes on in the whole movie is just off the chain. But 21 is an absolute hit.
Now, here's a quick music recommendation: I've been really into the video mode lately. I need some visual stuff, so I've been downloading a lot of videos. Actually, I've got one by Young Jeezy, "Put On," that's really been my theme song through the whole training camp. It's kind of political, but it still represents Atlanta. And you know anytime something represents Atlanta, it brings me back to my home. Definitely gets me hyped up too. It's really just about representing the city. He's talking about how he puts on for his city, he represents for his city.
A lot of people think that when you get to this level, you forget where you're from. And this is just saying that he's never going to forget where he's from. He's always from Atlanta, born and raised. I've bounced around from the New York Jets to the Tampa Bay Buccaneers to NFL Europe to now being in Baltimore for the last five years and I've never forgotten where I'm from. Even though I do so much here in the community in Baltimore, I've been constantly trying to take things back to my hometown. You constantly see everything that's going on around you, and it's kind of easy to leave sometime, but it's hard to forget. I have to come back to Baltimore every year with preparations for the season to get my mind right, knowing that I'm not going to be home for seven or eight months out of the year, but I still love the opportunity to go home and to do things at home with the foundation and my family. Of course my son is there as well. I always try to represent Atlanta to the fullest no matter what.
I have to give a shout-out to the Olympic basketball team. They played against Yao Ming this week and absolutely annihilated China. Yao Ming was playing in his city. He's putting on for his city. He's putting on for his whole country of China, and of course the United States is representing our whole country as well, so they're putting on at a larger scale.
Yao came out on fire, and they came out playing really hard at first and jumped up on top of the USA. But we battled back and blew them out by about 30 points at the end. I feel like we represented to the fullest.
Now, we get a chance to represent for the City of Baltimore, playing for the Baltimore Ravens, but the men's basketball team represents all of us. It's just like the army going somewhere and fighting another country. They're representing and that's what it's always about when it comes down to it."
That's about it from me. To everybody out there reading the Wilcox 83 Degrees blog, you all know I got married July 28. I'm now a married man. It's interesting being in the realm of the married guys circle. I've heard a lot about the married man thing for a long time and asked many questions, but now I'm here. My wedding was the most beautiful event. Probably the classiest and nicest wedding that I've ever been to, and I 'm glad to say that I was the one that was being married there.
I appreciate the fans that take time out of their busy schedules to read the 83 Degreez blog. If you all have any advice for me in the married world, hit me up on BaltimoreRavens.com. I'm working on a website for the Empowerment M.I.N.D.S. Center and the 83 Degree Foundation. Hopefully, it will be attached to the Ravens' web site as well. You all stay tuned to the next blog. Hopefully we get something new to you guys within another two weeks. We're going to keep it going as much as possible.