Dressed in their best purple, 4,500 Ravens fans flocked to M&T Bank Stadium last night for the team's sold out 10th annual women's event, *A Purple Evening. *The event is a highly-touted night that members of the Ravens Purple club anticipate all season long, and if you have had the chance to attend it, you will quickly understand all the hype.
The women in attendance receive custom Ravens' giveaways, VIP locker room tours, Covergirl makeovers, photo opportunities with the Vince Lombardi Trophies, on-field football instruction and the chance to interact with 25 Ravens players, including fan favorite, **Steve Smith Sr./b>.
While the Purple club takes over M&T Bank Stadium, staff members of the Baltimore Ravens orchestrate the arrival times and event schedules of the players attending the event in order to maximize fan experience. Each player is assigned an escort and given a slip of paper that tells them where they need to be and at what time.
5:45 PM – Steve Smith Sr. Arrival
Smith Sr. arrived at the stadium excited for the night ahead of him.
"The women look forward to this event and so do I," Smith Sr. said. "It is something special where we as players are able to interact and be personable with our fans. They see us from afar all year long, so that makes this fun, and hopefully I am able to make somebody's night special here at Purple Evening."
6:00 PM – Steve Smith Sr. – Main Stage – Family Feud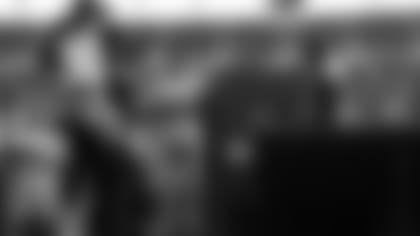 First on the schedule was a Family Feud battle against his Ravens teammate Kyle Juszczyk. Smith Sr. greeted fans who would play on his team, and told them that he loved game shows, but hated losing, so he expected them to come out on top. Unfortunately, Smith Sr.'s team came up short and gameshow host Sage Steele crowned Juszczyk's team the winners.
6: 28 PM – Steve Smith Sr. – Impromptu On-field Dance Break
When the song "Apache – Jump On It" by The Sugarhill Gang comes on in M&T Bank Stadium, you grab your friends and you dance. At least that is what Steve Smith Sr. does.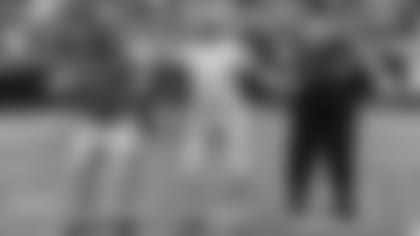 After the dance break, we had only a few minutes to get Smith Sr. from the field to make it on time for his autograph session. Our team mapped out the quickest route to get him there, but in true Steve Smith Sr. fashion, he shot us a grin that told us the quick route was not going to be the one we take. He ran up into the stands to the crowd of cheering fans and took selfies with everyone he could as he made his way to the autograph session.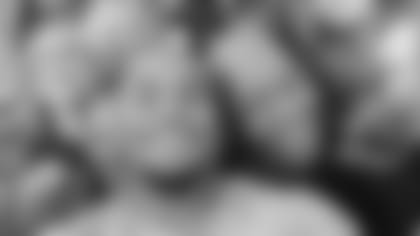 En route, Smith Sr. met Sallie (pictured above), and asked her if they could put their bald heads together and take a photo.
"This is my first time at Purple Evening and I am loving it," Sallie Marrow said. "I am here with co-workers and I told them that I was going to go off and explore and I am glad I did, because I just met Steve Smith. He asked if we could put our bald heads together and take a photo, one 'baldie' to another, so he took his hat off and we took a selfie. I will forever be a Steve Smith fan."
*6:30 PM – Steve Smith Sr. Autograph Session – Section 107 *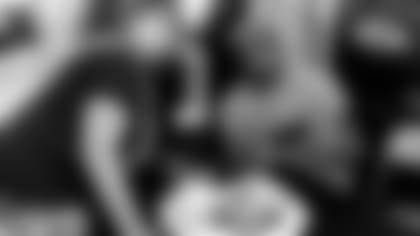 "It's the month of October, which is Breast Cancer Awareness Month, and for a lot of these women this event is a reprieve for them," explained Smith Sr. "You see survivors, you see some who are battling the disease, and you can see that they have been through a lot. So, for me to take this time, this is more than just an autograph and a picture session. This a moment that they can identify with us and we get to identify with them, and that's what this is all about."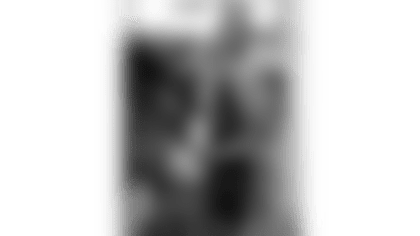 After his autograph session, Smith Sr. asked to take the long route to his next appearance so he could interact with fans along the way. With a gathering of fans closely in tow, he stopped to take photos and checked in at the Covergirl booth to see how some makeovers were coming along.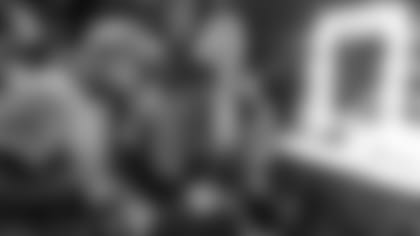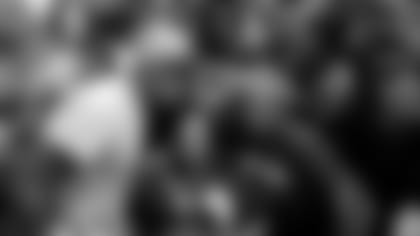 "I didn't even expect to see him," said an excited Kris Keatts, who attended her first A Purple Evening with a group of friends. "We were standing over there and we saw the crowd and wondered what free stuff they were giving away, and then we got up closer and I saw Steve Smith. I thought, 'Oh, this is better than free stuff, can he fit in my bag?!'"
7:45PM – House of Ruth Booth
Smith Sr.'s last stop of the evening was at the House of Ruth booth, where he went live on the House of Ruth Facebook page to speak on ways to end intimate partner violence, and help promote the third annual Man Up fundraising event that he will attend on Tuesday, October 18. On his way out, he stopped at both the One Love and American Cancer Society booths to support their causes and chat with volunteers.
"That was a lot of fun, but I'm tired," stated Smith Sr., after a hard day's work on what is technically the players' day off. "I think everyone enjoyed themselves tonight at A Purple Evening, and I think I took over 1,000 selfies. The fans tonight preferred selfies over autographs and I appreciate that."
So remember, when you meet Steve Smith Sr. at the next event, introduce yourself, shake his hand, forget the autograph and ask him to take a selfie. See you next year at another A Purple Evening! **