The last time Michael Campanaro caught a touchdown pass was in 2014 during a barrage of five first-half Joe Flacco touchdown passes in Tampa, Fla. Despite his 5-foot-9 size, Campanaro elevated over a Buccaneers defender to haul in a highlight-reel 19-yard score.
"That feels like a long time ago," Campanaro said with a smile this week.
Injuries are a two-way street. They knock players out, stripping them of their ability to show their talent, and they also grant opportunities to others.
For three years, Campanaro was on the wrong end of that equation.
A seventh-round pick in 2014, the local River Hill High School product played in just 11 games his first three years because of hamstring, calf, thigh and back injuries. A toe injury sidelined him for a chunk of training camp.
So far this year (knock on wood) Campanaro has stayed healthy. And now that other Ravens wide receivers are dealing with injuries, he may get his shot to show he can be an offensive playmaker.
Breshad Perriman (concussion) hasn't practiced this week and Jeremy Maclin (shoulder), Chris Matthews (thigh) and Mike Wallace (back) were both limited in practice this week. That could open the door for Campanaro, and/or Chris Moore.
Campanaro flashed some signs last week. He had one costly drop when he was wide open for a first-down catch, but he also caught three passes for 24 yards.
His biggest play was a 77-yard punt return for a touchdown that led to overtime, in which Campanaro took the perfect route and beat the Vikings to the edge before racing up the Ravens sideline.
Campanaro said making big plays gives him a boost of confidence, but the biggest thing is just reps.
"You try to get into a rhythm," he said. "You're used to playing all the time in college, and you get to the pros and you're fighting to get out there. Then with injuries, I play a few games and then I'm out. Now I'm starting to find a rhythm."
Other than staying healthy, Campanaro has made strides in learning different techniques against slot cornerbacks. After practicing against Tavon Young and savvy veteran Lardarius Webb, Campanaro has a better understanding of what routes he should be running off what coverage.
"It's understanding what slot defenders are trying to do to me," he said. "Every day I go out there and I'm playing against some of the best corners."
Moore is another wide receiver looking to get a chance. The 2016 fourth-round pick caught seven passes for 46 yards last year. In his first action of this season Sunday against the Bears, he caught three passes for 44 yards.
Like Campanaro, however, he also had a key drop last week, although Moore's proved to be more costly as it was returned for a touchdown. Moore said he learned from it and that he needs to extend his hands out better.
He spent a lot of time on the JUGGS machine this week, and said it was easy to shake off since he was more focused on getting reps with Flacco.
"The big thing for me is knowing the playbook and the details of it," Moore said. "Last year, I was out there feeling like I was running around like a chicken with my head cut off. This year, I know the offense and I know the plays. When I go out there, I have confidence now. That's a big thing."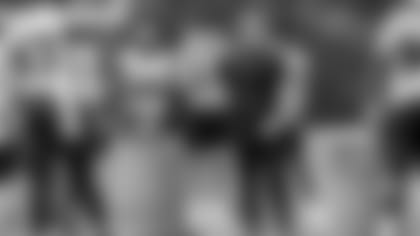 news
10 Questions: What Changes Will Mike Macdonald Make to Defense?
As part of our pre-training camp down time, we debate some of the biggest topics facing the Ravens as they enter the 2022 season. We've hit the slow time of the NFL calendar, the time when there's a whole lot more debate than news. Thus, over the next two weeks, we will debate some of the most pressing issues facing the Ravens as they enter the 2022 season.