BaltimoreRavens.com is running a feature series on all 20 Ravens coaches this summer. Stay tuned for more in the coming months.
Andy Moeller was a defensive guy.
He grew up the son of a coach who spent most of his time on defense, played linebacker at the University of Michigan and entered the coaching profession with halting opponents on his mind.
So when former Army Head Coach Jim Young called Moeller into his office, sat him down and asked him if he wanted to coach the team's offensive line, Moeller was baffled.
"I said, 'What!?!?'" Moeller recalls. "'I don't know anything about that.'"
Fast forward 22 years, and Moeller stands as the Ravens' Offensive Line Coach, a position he was promoted to this offseason after spending three years as an assistant.
It's a testament to Moeller's passion for the game and his abilities as a coach – not only to learn and teach the game, but to earn the trust of his players.
"In order to teach something well, you have to understand it really thoroughly," Ravens Head Coach John Harbaugh said. "To me, that's a feather in his cap. He's got that broad understanding and it really helps."
'LOVING THE GAME WAS CONTAGEOUS'
Harbaugh and Moeller had similar football-filled childhoods growing up in Michigan.
They even played in the same youth football league. Moeller was on the Junior Wolverines and Harbaugh, and brother Jim, were on the Junior Packers.
"I remind him regularly," Harbaugh says, "the Junior Wolverines, when we were playing, I don't think once beat the Junior Packers."
Both are also sons of college football coaches. They spent their free time watching practice, hauling equipment and serving as ball boys on Saturday afternoons.
Moeller's father, Gary, coached football for 37 years, starting at Miami of Ohio in 1967 and finishing in 2003 with the Chicago Bears. He spent eight seasons in the NFL.
Most of Gary's time was at Michigan, where he coached with Jack Harbaugh for three years. When legendary head coach Bo Schembechler stepped down after the 1989 season, Gary took over.
Andy sometimes watched film with his father, what stood out most was his passion for the game.
"He loved it. That really oozed out of him," Andy said. "Learning and loving the game was contagious."
But Andy's passion for football was playing it. Back then, he wasn't thinking about being a coach someday like his dad.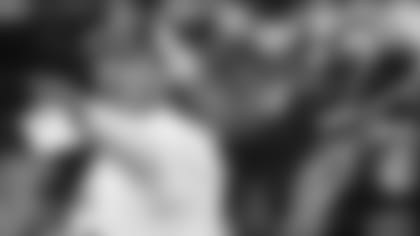 Moeller played linebacker at Michigan, with Gary as his defensive coordinator and position coach, creating a unique bond between the two. Gary said his son overcame a lot to be a good college football player.
"He was a person that was probably a little undersized and could run, but wasn't the fastest guy in the world," Gary said with a chuckle. "He anticipated well. He always knew where the football was going. He studied the game, and that tells you whether they're going to be a decent coach if they want to."
One day sticks out Gary's mind.
Every summer when practices started, the entire Michigan team trotted to the track for a timed mile-and-a-half run.
Andy was entering his senior year, and according to Michigan football standards, it was time for him to be a leader. There was another player looking to prove himself too. It was Jim Harbaugh, the team's starting quarterback.
"Jim and Andy ran neck and neck leading the pack the whole way around," Gary recalls. "They finished at almost exactly the same time."
Players cheered as they came down the final stretch. After that display, they voted Andy and Jim co-captains.
"It was a real proud moment for him," Gary recalls. "It showed the dedication and the emphasis and importance of football for him."
'IT WAS A GREAT MOVE'
Andy has a theory about how coaches get into the profession.
"Coaches are guys that wanted to keep playing," he says. "They just weren't good enough to keep doing it."
That's why Andy, an economics major, took his first coaching job as a graduate assistant at Indiana under esteemed head coach Bill Mallory. He went to Army the following year, serving under Young, the man who converted him to the offensive line.
Moeller accepted the switch to offense right away, but called his father not long after walking out of Young's office to get his advice on coaching an entirely new position.
While playing linebacker in college, Moeller had battled offensive linemen. But he didn't know much about the other side of the line of scrimmage.
"I said, 'Andy, whatever you do in coaching, you should be flexible enough to coach [just] about any position,'" Gary remembers. "'The more you can coach on both sides of the ball, the better. Football is football. You go over there and learn it.'"
In addition to his regular work, Andy spent four nights a week with Young during the offseason learning the intricacies of offensive line play.
Cutting his teeth on Army's wishbone, triple-option offense, it didn't take long before Andy began to gain an appreciation for the O-line.
"Offensive line is coached very much like a linebacker – the discipline, the physicality, the aggressiveness," Moeller said. "For defense you teach pursuit. Offensive line, you teach to pursue the pursuit."
He particularly likes the unity of five linemen working together – the way they have to communicate and mesh with one another.
"I think he can communicate with players," Gary said. "I always felt like if the players know that you know what you're talking about, they're going to follow you. If you don't, they're going to find you [out].
"Andy knows the game and he teaches it well. If you help make a guy better, he's going to follow you anywhere. His players follow him."
After another brief cameo on defense, Andy continued coaching the offensive line at Missouri, then oversaw the tackles and tight ends for eight years back at his alma mater. He molded future Miami Dolphins first-overall draft pick Jake Long, who is now perhaps the best tackle in the game.
Jim Harbaugh tried to hire Andy to his staff at Stanford in 2007, but couldn't pry him away from Michigan. When longtime Michigan Head Coach Lloyd Carr retired following the season, Andy called the other Harbaugh brother, John, looking for a job.
"He was very, very qualified," John said. "I knew people really respected him.
"He's always had a great relationship with the players. Players really like him and really respect him. That's a tough thing to do sometimes. As a position coach, it's something you have to be able to accomplish and he does a great job of that."
Now Andy stands ready for the season to start with what he calls "not just a great group of football players, but a great group of guys."
There are many reasons why Moeller has made it to this place, from his upbringing as a coaches' son, to the passion he gained as a player. But he wouldn't be there if he hadn't been willing to shift positions.
"It was a great move. I love offensive line play, and I would have never known it," Andy said.
"Any time it's something new or out of your comfort zone, there's a challenge there and that's what makes it fun. It really broadened my horizons and it makes you better learning both sides of the football."