How does an NFL coach get his team from here (the preseason) to there (the Super Bowl)?
That question was posed to Ravens head coach John Harbaugh recently, and he answered it as honestly and simply as he could.
"That's easy," Harbaugh commented. "It's just hard work."
While that may simplify things a little bit, the message rings true. If a team wants to be great, it takes each part - from players to coaches to scouts to staff members - working hard to achieve the common goal.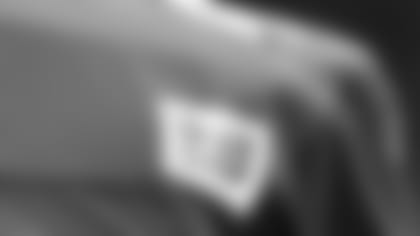 Harbaugh wanted to pay tribute to the Ravens who put in extra effort at team headquarters this spring and summer with a badge featuring a strong arm clenching a hammer in its fist.
Forty players had the patch sewn on the upper right corner of their practice jerseys for attending 85 percent of the offseason workouts, lifting weights and running through the Ravens' strength and conditioning program.
"The idea was just to credit the guys that do the hard stuff," said Harbaugh. "It's basically that blue-collar mindset. They came to work every day, and we wanted to recognize them with something that is lasting."
As a player develops within the organization and continues his commitment to Baltimore's conditioning plan, those patches will accumulate over the years.
"Like a decoration on an army uniform, that decoration will stay on there for as long as they're a Raven," the coach stated. "When they retire, they'll take that jersey and it will still be on there."
Tight end Todd Heap, tackle Adam Terry and quarterbacks Troy Smith and Kyle Boller are just a few of the names that received their first badge.
A "hard work" theme was also behind the blue, button-down shirts with each player's name stitched on the chest. To close out the offseason, players and coaches wore the shirts and took part in a strongman-like event, which included flipping monster truck tires, pulling a weighted sled for 50 yards and carrying kettle bells as far as they could.
And even though 40 players is quite an impressive number of participants in close to the full program, Harbaugh hopes to expand the turnout. Those that chose not to remain at Ravens headquarters had various reasons, whether it was to take college classes or simply follow their own offseason training routine.
Still, 40 players sporting the arm and hammer could inspire others to sign on in the future.
"For the first year we've done this, I was happy with it," he said. "Every coach wants every guy in for the entirety of it, so that's what we're eventually shooting for."