We remind our players often that fans don't just remember their accomplishments on the football field, but also what they've done off it. And when the day comes to finally hang up the cleats, the connections and relationships forged in the community will last a lifetime.
Former Ravens linebacker Bart Scott is a great example.
Currently living in New Jersey, Scott can be seen and heard weekly on CBS's pregame show, "The NFL Today," podcasts and radio shows. A father of three, he is also the defensive coordinator for his son's football team and is a financial consultant for Morgan Stanley in the global sports entertainment division. He travels the country to provide financial literacy consulting for athletes at the collegiate and professional levels.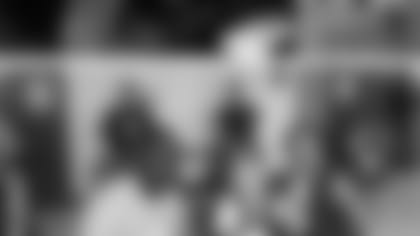 Yet Scott continues to find the time to board a train and make it back to Baltimore. As a co-host for "Ravens Report," Scott can be found at the team's Under Armour Performance Center each week during the season, and while he is here, still makes time to get out into the Baltimore community.
"When I start something, I finish it," Scott said.
Scott went on to explain, "Just because I am no longer playing here, that doesn't mean I won't commit to it and be consistent. Investment, especially with our children is important. I don't want these kids to think that the only reason I did what I did was just because I was here. I want them to see that I still come back for them."
I had the pleasure of joining Scott at his last event of the holiday season, where he hosted 57 kids from Belmont Elementary School at Hot Skates, a roller rink in Baltimore. Scott adopted the school when he was a Raven and continues to provide them with the holiday tradition. The event had pizza, cake, roller skating and a wrapped present for every child in attendance. For the past 10 years, even as the seasons have come and gone since his playing days in Baltimore, he has made the commitment to these kids and continues to show up.
Earlier this season he also hosted the 10th annual holiday dinner at the Helping Up Mission in Baltimore for 350 men who live at and visit the shelter. Both events stay true to his charitable giving's main focuses, which are children, men of addiction, the elderly and handicapped.
When Scott hosts his events, he also reaches out to current Ravens players and asks them to join him. There is always a group of players that will show up in support.
"It just shows you the power of the Ravens organization." Scott explained. "I don't know any other place where someone will come out and support a player that they didn't play with."
Some of the advice Scott provides to players today is, "What do you want your legacy to be? When people mention your name, what are the first words they will use to describe you? What are the first words you would use to describe yourself? It shouldn't be just that I am a football player."
Scott added, "Instead, use that platform, that voice, to speak and encourage. Success in the league is one thing, but impact is another. How can you impact someone's life and give them the power to impact others? Inspire to inspire others."
Scott is one example of our alumni who keep coming back to Baltimore. He is joined by the likes of Ray Lewis, Ed Reed, Jameel McClain, Jonathan Ogden – and the list goes on. When asked why he thinks players continue to make the effort to give back to this community, Scott said, "Once a Raven, always a Raven. This is home."