It's been a big year for Ravens linebacker Bart Scott. As the 2007 NFL season came to a close, Scott's offseason started out with the birth of his daughter in early January.
The next month, he was inducted to the Southern Illinois Hall of Fame. Then, Scott participated in a "V Day" panel to raise awareness for domestic abuse on April 11. That event was followed by the retirement of his high school jersey last week.
"Now, if I can just add a Defensive MVP, a Pro Bowl and a little taste of the playoffs, it's going to be even better," said a thankful Scott during a stop at Ravens headquarters Wednesday. "I'm ready to play the lottery to keep this luck going."
But with Scott, life isn't about luck, or at least undeserved luck. Judging by his dedication to performance on the field and investment in the lives of others off it, the 27-year-old creates his own good fortune.
No matter how big the honor – such as his first Pro Bowl in 2006 – or small – like seeing his jersey from Southeastern High School in Detroit hanging on the wall – Scott always seems amazed when people take the time to recognize him.
It is pride in himself, pride in his family and pride in his roots that have fueled his rise from inner-city reclamation project to NFL and community star.
Growing up in a rough area of the Motor City, Scott made a name for himself on the gridiron.
A two-time All-Conference selection, he was a standout for Southeastern High School, where he posted 76 tackles and led the team in rushing with 635 yards as a senior.
Still, his jersey retirement was more of a lifetime achievement award rather than being solely based on football exploits.
Nearly every year, Scott returns to his high school to speak with students and sits on the steps of his childhood home, only 10 blocks from campus. He likes to offer a positive message that will inspire teenagers who are going through the same experiences he did. He challenges them to aspire for more in life.
"Sitting on the porch of that house is where I dreamed," he said. "Going back and seeing my family still there allows me to keep my edge and never forget where I'm from.
"I think it's good for kids to know that I grew up at that house and see me come back to it. On most blocks, people leave and don't come back. I want them to think, 'Somebody that did something special lived right here, so why can't I?'"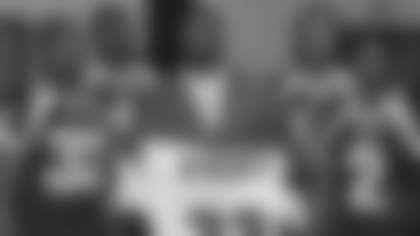 Scott also makes sure he leaves the football team in better shape each time he visits.
In 2005, he outfitted the Jungaleers with brand new Under Armour uniforms and equipment. Last year, Scott drastically upgraded the weight room.
"They had the same leg press that they had when I was there, and it was broken then," Scott noted. "Guess how it was when I came back last year? You can imagine how advanced weight rooms have gotten from 1998 to now, so I had to do something."
"A lot of the things he's done for our school weren't requests," said current Southeastern head coach Donshell English. "This is out of the goodness of his heart. He just kept calling. I didn't want to ask for anything, but the reality was that we needed new uniforms pretty bad. Bart did everything on his own – almost making us take his donations."
His message of hope, coupled with his commitment to his former team, have already prompted success. Southeastern won its division three straight years before a 5-4 finish in 2007 after moving to a bigger league.
In addition, English said that five seniors have earned college scholarships for the fall, including two to Big Ten powerhouse Michigan State.
"Bart is an important asset and role model for our kids here," English explained. "He lets them know that no matter what their circumstances are, they can accomplish great things with a little bit of effort. That's all we need from these guys to realize some of their dreams.
"We take them on different trips to college campuses to let them know that there is more out there than just what they see every day. Bart represents the tangible side of that. He came from where these kids come from, and look where he is now."
The ceremony, held last week, was emotional for Scott, as he celebrated with members of his family and former teachers and coaches who still live in the area. He was also joined by his cousin, Jeffrey Pippin, who became a paraplegic after being hit by a stray bullet sitting at a local bar.
Pippin was the reason Scott started his "A Son Never Forgets" foundation to benefit paraplegics. Scott also credited Pippin and his older brother for keeping him out of trouble as a teen.
"They never let me get involved in that stuff," said Scott. "Once people realized that I was really trying to do something, trying to succeed, there was so much support for me on my block."
Such support carried him to the next level, where he shined at Southern Illinois. During his senior year, Scott led the team with 127 tackles and 5.5 sacks, earning first-team All-Gateway conference honors for the Salukis.
His ascension into their Hall of Fame came quicker this time, as he became a first-ballot member.
"It really put things into perspective for me, going in on the first ballot, because there was another guy there that had been waiting more than 30 years for the honor," he said, speaking of Scott Waltemate, a baseball pitcher at Southern Illinois from 1971-74.
The former Ravens undrafted rookie free agent has seen the fruits of his personal accomplishments, as well.
After baby Gisele was born Jan. 1 (he and wife Darnesha also have a son, Bartholomew, 3), Scott decided to get involved with the 10th anniversary of V Day, an event that fights to end violence against women.
Whether it was his mother, three sisters, wife or daughter, Scott felt he could offer a male perspective about the issue.
He traveled to New Orleans for a two-day celebration with other prominent women's rights activists and was a featured speaker.
"A lot of times, athletes are involved in domestic violence, and I wanted to show that we are sympathetic to the problem," Scott said. "At the end of the day, we all have mothers, daughters, sisters and cousins, and I thought it was a tremendous opportunity to offer a voice from the NFL and young athletes.
"We need to be part of the solution and not the problem. Whenever you need a solution, it takes both parties. Just women can't stop domestic violence. It's going to take men to stand up and say they know it's wrong, too."
In a way, he was recognized in New Orleans, as well. Scott said that after his talk, many women personally thanked him for supporting their cause.
For the burly linebacker, such gratitude is just as rewarding as seeing his jersey hang from rafters or his name on a plaque.
And after such a blessed start to the 2008 campaign, who knows how many more accolades could round out Scott's year?