To grab headlines as a tight end entering the NFL Draft nowadays, it seems a prospect must display an ability to stretch the field and make dynamic plays in the receiving game.
Missouri's Chase Coffman, whom many have ranked as the second-best tight end of this year's class, has those very talents.
Why is he No. 2 in the eyes of draft analysts?
Blocking has a lot to do with it.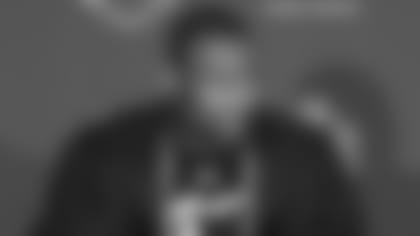 The tight end atop most boards is Brandon Pettigrew of Oklahoma State, a mauling monster that is even more effective erasing defenders than he is at catching footballs.
On the first day of the annual NFL Scouting Combine in Indianapolis, tight ends took the stage in the bustling media center at Lucas Oil Field.
The most-asked question of those players was regarding their blocking prowess. Most replied with a desire to keep working on that part of their game when they get to the professional level.
Checking in at the Combine at just under 6-foot-6 and 263 pounds, Pettigrew feels that his blocking skills set him apart from the pack.
"I think I blocked well at the college level, but I know I'm going to have to pick it up to play in this league," Pettigrew said. "I want to be as complete a player as possible."
Scouts, Inc. thinks Pettigrew is nearly there.
The scouting service offered this assessment of the former Cowboy: "Is able to anchor at the point of attack when he stays low. Displays good upper-body power for the position and flashes a mean streak. Does a good job with his first step. He is a more effective blocker in-line than he is in space, though. He needs to be more consistent with his technique in space, rather than looking to bury the defender with his initial pop."
Coffman is from the new-school mold of a tight end. At 6-foot-6, 252 pounds, he has the rare combination of route-running and soft hands to be a quarterback's dream up the seam.
The 2008 Mackey Award winner, an honor given to the NCAA's best tight end, caught 90 balls for 987 yards and 10 touchdowns, all career bests.
But playing primarily out of Mizzou's high-powered spread offense, Coffman believes he still has something to prove to the scouts and coaches at the Combine.
"They're definitely wondering about it," said Coffman, who is coming off a broken left foot the he suffered on the final offensive snap of the 2008 Alamo Bowl. "A lot of them have seen me on film doing open-field blocking and see that can possibly transition well to being aggressive and blocking on the line of scrimmage.
"Very rarely did we get in a three-point stance, but I'm definitely willing to learn, willing to
do whatever it takes to be the best in-line blocker down with my hand in the dirt, doing whatever I can."
It may be even more of a challenge for South Carolina tight end Jared Cook, who is also believed to be a first-day selection.
Entering school as a lanky 205-pound freshman, Cook was asked by Gamecocks head coach Steve Spurrier to bulk up for the sake of the team.
Cook hit the weight room and protein shakes, and four years later - after a redshirt freshman campaign in 2005 - he emerged as a 245-pound receiving threat.
Just because he had the weight, however, didn't mean Cook would be a reliable blocker.
Admittedly, it is a skill he is still looking to develop.
"It was tough," Cook stated. "Coach Spurrier wanted me to be a complete player as a tight end and a receiver. I know I have some work to do. They were bigger than me at the time, because I was a receiver, but I learned to put my hand in the dirt."
The Ravens could be looking for a tight end to get dirty for them in April's draft.
Daniel Wilcox spent much of last season fighting injuries, and he is scheduled to hit free agency next week. Quinn Sypniewski tore ligaments in his knee during the preseason and was finished before training camp even began.
With Todd Heap as the only reliable tight end every Sunday, the Ravens employed various creative offensive line formations, including an unbalanced group that had 330-pound Adam Terry check in as an eligible receiver.
"When Quinn went down, we didn't have that sledgehammer at the point of attack, and you saw how we dealt with it using Lorenzo Neal and Le'Ron McClain a lot," Ravens director off player personnel Eric DeCosta said.
To him, today's top-flight tight ends need not only to be the sticky-handed sprinters that have come out of the college ranks of late.
Blocking is just as much of an emphasis - if not more.