Brandon Williams had what many college students would consider a dream job.
He played football and hauled around beer for Miller.
But when somebody at Contractors Equipment, a company that rents, delivers and cleans port-a-pottys, said they had a job opening, Williams responded with, "What do I need to do?
There's no job too small for Williams. That's the result of modest St. Louis roots, growing up homeless at one point, and playing football at Division II Missouri Southern State.
Now there's no job too big for the Ravens' burly third round defensive tackle.
"I'm in a Baltimore jersey right now playing with all you guys – D-I's, wherever you're from – and I'm going to play as hard as you, play better than you, and I'm here to stay,'" Williams boldly said after his first NFL practice.
Football practice smells like sweet roses for Williams.
He spent three summers working for Contractors Equipment, starting his days after morning football workouts. His eight-hour days sometimes stretched to 12 hours until it was dark. His wage had climbed to $12.50 an hour by the time he quit, just eight months before the NFL draft.
Williams would get to work at about 8 a.m., get his port-a-potty delivery assignment, and load 'em up. A single-person port-a-potty weighs about 170 pounds. An average worker would push it to the side of the truck, pick up one end to rest on the trailer, then push it up from the other side.
"Hell, Brandon would pick it up and just throw it up on the trailer. It was crazy," recalls Contractors Equipment Manager Mark Shallenburger. "We saw him handle the handicap units, which were twice as big, and he would just toss it around."
Williams saw it as just an extension of his football training. Picking up port-a-potties that took three or four other workers to lift were like doing power cleans.
"It's kind of folklore up here," Missouri Southern State Head Coach Daryl Daye said. "It became a joke that he's crap house strong."
Williams also got the honor of cleaning the units, which meant sticking a hose into the toilet to suck out the you know what. He told his mom it was like walking into a football locker room – except with the occasional splash back.
"You get poop on you sometimes," Williams said. "Hey, it wasn't so bad."
Williams gained his humble outlook from his mother, Shelly. She raised Williams and his older brother, Bradley, while working various minimum-wage or slightly above jobs. Shelly worked brake presses, assembled air conditioners and drove busses.
But ends didn't always meet.
In 2003, Brandon's freshman year of high school, the family had to pack up its belongings into Shelly's Pontiac Bonneville. They were officially homeless, bouncing around between staying with Shelly's parents, sister and cousin.
Brandon, who was going through a major growth spurt at the time, would stay with football teammates' families. They would let Brandon spend the night and feed him until Shelly had enough money to pay her bills and buy groceries.
"He literally was eating us out of house and home," Shelly said with a laugh.
Brandon remembers being dropped off at school and other kids seeing his car piled with stuff. The Williams family didn't unpack the car, just taking out enough for a few days or a week's stay at a time.
Shelly did as much as she could to hide the family's troubles from her sons. She scrapped to stay in the same school district, to continue letting them have a release through sports and through their friends. Eventually, they settled into a two-bedroom apartment in Kirkwood, MO.
"Mom sold her soul to the devil, I think a billion times over, to make sure they didn't miss out on a lot of things," Shelly said. "I tried to keep it as normal so it wasn't a big eyesore for him. I didn't want to throw any pity party."
But of course, Brandon knew what his mom was going through.
"I saw my mom struggle, saw her work and saw her go without some days," Williams said. "Even though we were going through tough times, my mom would keep us together. She was the rock. It kept me grounded, kept me humble. I think it made me a better man."
When it came to football, Williams was a late bloomer, a kid who thought he was more a basketball player than football. But hehad a rare combination of size, quickness and strength. Shelly would bring his birth certificates to games just to prove he wasn't too old for the competition.
Williams found football came naturally to him. He excelled in high school, and said there was interest from powerhouse Ohio State, but they wanted him to redshirt a year.
Williams just wanted to get an education and play football, and didn't care much where it was. He visited Missouri Southern State, who wanted him badly, on a Friday and was enrolled by Monday.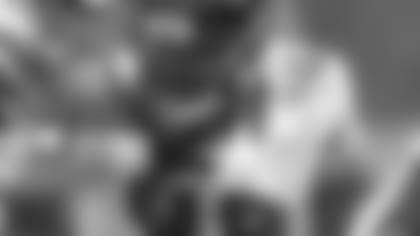 When he first stepped onto the football field, Coach Daye was a bit concerned that Williams' gentle personality wouldn't provide the necessary grittiness to excel in trench battles.
"He was just a young, big butterball coming in here – all nice and happy and friendly," Daye said.
There was another side on the field, however, and it didn't take long for Williams to take off.
After a back injury kept him out of the 2009 season, Williams logged nine sacks and a career-best 17 tackles for loss on his way to being named a consensus All-American. He was an All-American again as a junior. But was he good enough for the NFL?
"I told him before his senior year, 'You've played well over the years, but you have to dominate. There can be no question,'" Daye said. "I think he removed all the doubt."
As a senior, Williams had 16.5 tackles for loss, 8.5 sacks and five forced fumbles. He broke the school's sack record, was named the MIAA Defensive Player of the Year and earned an unheard of third All-American distinction.
"I don't know that you can do any more at any level," Daye said.
NFL teams swarmed small-school Missouri Southern State. ESPN draftnik Mel Kiper tweeted that Williams was a prospect to watch, and projected him as a possible second-round pick.
Williams excelled at the combine, bench pressing 225 pounds 38 times, tied for the most of any prospect. He was disappointed with the results, feeling he could have done more. Williams can bench 525 pounds.
Daye said he has so much explosion that he's seen him leap and get two elbows above a basketball rim. Video of Williams walking on his hands has blown up on YouTube.
"He's a definite specimen," Daye said. "He has ridiculous explosion. People are going to have a hard time moving him, and they're not going to knock him back."
Williams excelled in his first rookie minicamp. He ate up blockers, made hits, flashed his potential – all indicating that making the leap from Division II to the NFL shouldn't be a problem. Upon seeing him in purple and black for the first time, Ravens scouts already think he could have a bright future.
After one practice, Williams showed the other side of himself. He offered to help those who set up practice (the pads, the sleds, etc.) clean up and carry the stuff inside. It's that attitude, springing from his modest roots, that makes Williams a true Raven.
"No job is too big or too small," Williams said. "It's just work. If you have a job, work it. Don't say, 'I'm too big for this or too good for this.' By any means necessary, get the job done."