One Of The Best In NFL History: Ed Reed
There is a cold side to the business of football. It's big money, and players are paid a lot for participating in the NFL. What's rarely seen by the fans is the human side of the game – the sacrifices, the training, the physical wear and tear – and how important winning is for some players.
Above all else, Ed Reed was about winning when he played his 11 seasons for the Ravens. Arguably one of the three best safeties in the history of the NFL, Ed was always about helping his team win. It drove him. It possessed him.
After we earned the trip to Super Bowl XLVII by beating the Patriots, 28-13, in Foxboro, we asked Reed to meet with the media. Ed waited in a long narrow hallway outside of the interview room while Joe Flacco was being questioned by a horde of reporters.
I would look down that hallway every now and then to make sure Ed was still there and indicate to him that he'd be up soon. Just as Joe was wrapping up, I looked down that hall, and Reed was gone. "Come on, Ed," I thought to myself, "don't make this hard."
Walking down that hallway, I heard someone crying. I turned the corner into a dark hallway, and there was Ed, sitting on the floor with the tears flowing. "You OK?" "I'm just so happy, man, so happy. We did it," Reed said.
(By the way, it was revealed before that game that Tom Brady wore a wristband with key reminders for himself. One of those was  *"FIND 20 ON EVERY PLAY" *which the Patriots' QB said was his way to "keep aware of Ed Reed on every play.")
Reed finished his career with more interception yards than any player in league annals. He owns the NFL's two longest interceptions (106 and 107 yards), and his 61 picks is a Ravens record.
As voted by our fans, Reed was selected as one of the 10 best Ravens as we celebrate our 20th season. He will be inducted into our Ring of Honor at halftime of this Sunday's game against the Rams. We asked each of our Ravens greats to answer 20 questions, and here are Ed's responses:
Here are a couple of quick things to get started; Say the first thing that comes to your mind when you hear:
Lateralling the ball: (Laughing) "Just trying to win."
2004 NFL Defensive Player of the Year: "Back-to-back with Ray Lewis … and honored."
Most interception yards in NFL history: (Laughing) "I should come back and add more."
Brady and No. 20 on his wristband: "Oh, man, that's respect. That's really something."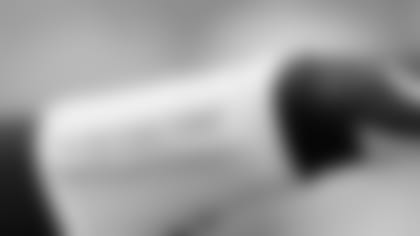 "Ray [Lewis] and I were movie gurus. We watched a lot of movies together, and one of them was 'Harlem Nights.' One of the characters in there was 'Quick,' and Ray said that was the way I played, so he started calling me 'Quick,' and it stuck for those guys on the team. I was never the fastest guy, but I was always quick. It definitely fit me perfectly."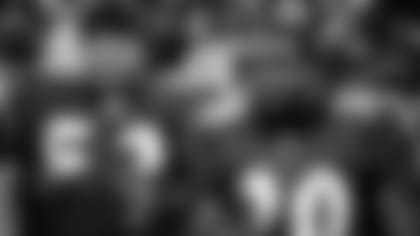 "Big brother. My big brother for life."
Your son [Edward Reed III]:
"He's my world. He means everything to me."
"Legend, father figure. Oh man, I have so much respect for Mr. Modell. I miss seeing him."
"Boss man." *(Laughing) *"Cool shark. He's really cool, the coolest cat I know. Good, good man."
"Two Tickets to Paradise"
"2012. What a ride. What a season. Loved singing that song."
Winning the Super Bowl in your hometown:
"A blessing. A dream come true. That wasn't even a dream. That was a blessing right there."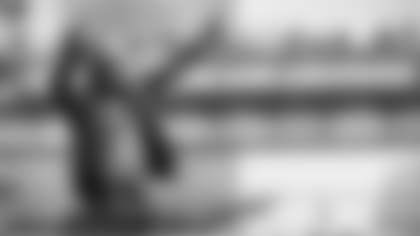 "Woo, we should do it again. We need to have another parade like that one. Man, the meeting in the locker room before we got on the buses and went to City Hall. People everywhere, the looks of joy on their faces. Walking the Lombardi Trophy down the street, letting the fans touch it. Even a dog touched it when I was carrying it. Getting back to the stadium, and it was like watching a scene from 'The Walking Dead.' People climbing the walls trying to get in. Watching the team and fans enjoy it. It was the best time ever."
"That was fun and is fun. I enjoyed working with the [Inside the NFL] guys, I've been watching those guys a long time. The show is legendary. We all grew up watching it, and then I was on it. Never thought I'd have a chance to be part of something like that."
Coach Ed Reed – ever happen?
"Coming soon. It will definitely happen. I love the game, love sharing what I know. Yes, there will be a Coach Reed in the future."
Most memorable Ravens game…
"Most memorable would be the AFC championship loss at New England [in 2011]. That lingers. We could have had back-to-back Super Bowls. My favorite game was coming back there the next year and beating New England to go to the Super Bowl."
Best player you ever faced…
"You come up with tough questions. Make me think. There were so many players. I've got to go with Tom Brady and Philip Rivers. Chad Johnson, too. He was a handful."
Team you most loved to beat…
"Come on, do I really have to answer that? (Laughing) You know which one. You could answer. The Pittsburgh Steelers! Every game was special. They played just like us. It was like looking in the mirror. It was great. … And when we won over there, even better."
"The best. I'll be forever connected with them. They were very good to me and my teammates."
Two longest interception returns in NFL history…
"Should be the three longest. [I] had one for 103 yards against the Jets, but they called a penalty on Will Demps. The other two came against Philly and Cleveland. Cleveland was 108, but they changed it to 107, and 106 against the Eagles. I can visualize those plays as we talk. It was fun."
Ed Reed could have played quarterback in the NFL…
"Absolutely … NOT. *(Laughing) *Only in 'Wildcat" situations. I switched from quarterback in high school for a reason."
What scared you as a kid and what now?
"What scared me as a kid was the dark. What scares me now, hmmmm. Being afraid to take action on some ideas I have."
What's a perfect day for Ed Reed?
"Oh my God, lots come to my mind. Making a birdie and having my son hit a straight ball off the tee box. He hit one like 105 yards, straight, on a 122-yard par three. The ball was just off the green. Really, doing something with my little man is the best."
What does it mean to be a Raven?
"It means a lot. Definitely means a lot. It's professionalism. It's a tradition of playing tough, hard-nosed, smart football. It's about respect for the game, for opponents and the fans. It's teamwork and preparation. Hard work. It's about love for each other. It's special."
We'll have the opportunity to show our respect and how special he was to us when we induct Ed into the Ravens Ring of Honor this Sunday.
Let's make the celebration even better with a win. Let's beat the Rams.