Joe Flacco Talks About Winning A Car, Big Families And Beating The Steelers
Joe Flacco's first road game as a Raven came in Week 3 of the 2008 season. It was at Heinz Field against the archrival Steelers, whose defense included a large contingent of Pro Bowl and elite players. Heck, their linebackers featured James Farrior, James Harrison, Lawrence Timmons and LaMarr Woodley. Casey Hampton, Brett Keisel and Aaron Smith were on the defensive line. And, the secondary had Troy Polamalu and Ryan Clark flying around.
Oh, and it was a Monday night with a national audience watching.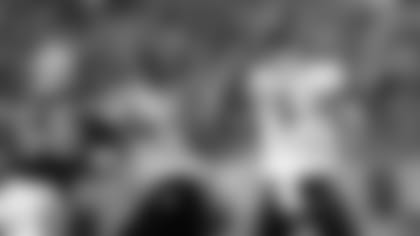 And, by the way, that Steelers team went on to win the Super Bowl that season, which included a victory over the Ravens in the AFC championship. 
I watched Joe, then 23 years old, closely that weekend. He was as cool as could be. At the production meeting with the Monday night TV crew the night before the game, he shrugged his shoulders when they mentioned, "Heck of place to play your first NFL road game."
Joe responded: "I think I have to play here every year. They are in our division. Have to play them sometime."
In pre-game warmups, Flacco flipped effortless 50- and 60-yard bombs to Todd Heap and Derrick Mason. The game started, and it was clear to all of us, this event – a game that would make many players a little shaky – was not too big for our rookie signal-caller.
The Ravens took a 13-3 first-half lead that included a Flacco-to-tight end Daniel Wilcox touchdown. Then, trailing 20-13 late in the fourth quarter, Joe took us right down the field like a veteran, hitting three consecutive passes to Mason to set up the game-tying (20-20) touchdown dive by fullback Le'Ron McClain. We lost, 23-20, in overtime. But, it was clear to all of us, that nothing was going to be too big for our cool, calm quarterback.
Rightly so, Joe was selected as one of the 10 best players in our history by our season ticket holders. This is all part of the celebration of our 20th season. We've asked each of these elite players 20 questions. Here are Joe's answers:
Winning the Super Bowl XLVII MVP award and a new car?
(Laughing) "It was a childhood dream to win a Super Bowl. It was unbelievable. It's what you live for in this sport. As a kid, you remember guys winning cars, but it didn't even dawn on me at that time that I got a car … that they were still doing that kind of thing? It was just funny. That's why I had the reaction I had."
Watching the Ravens on TV?
"It's pretty tough. I wasn't sure how I was going to feel about it. You see your guys out there, and you're not part of it, it's not fun. It's definitely not easy to do. I'm rooting like crazy, but I can't help, and I want to."
Special Olympics Maryland?
"When I got hurt, Marisol [Renner, Ravens PR staff member] sent me a bunch of e-mails from those guys. The cool thing that I know from working with this group is that it's coming from the heart, because they don't lie. They're genuine people, man. Everything they say is the truth. They are an awesome group of athletes."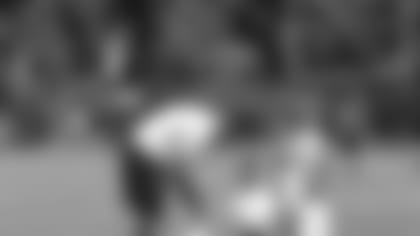 "They're awesome. I grew up in one and just had a blast. [My wife Dana and I have] started our own now, and [raising three young sons] is a lot of tough work. You realize that that's part of it, but you see how much fun they have with each other. And, you hope they have a close bond. You couldn't ask for anything more."
What makes Joe Flacco smile?
"A lot of things do. I have a great time around our facility, being with the guys. But, when we have a tough day at the office and come home to a lovely wife and three awesome children, that puts a big smile on my face. … A perfect day is winning a home game played at 1 o'clock and then going back to the house and just relax and enjoy the family."
What was the last thing you DVR'd?
"Probably 'Paw Patrol.' It's a little kid show." (Laughing)
What irritates Joe Flacco?
"Seeing guys in the league who have a lot of talent and don't use it. Seems like some guys are not tough enough to get through the hard times. You see guys who don't put the work in to becoming as good as they can be. Some guys lose track of what it takes. I wish I could knock them over the head and tell them how to do it."
Do you talk to yourself and about what?
"I definitely talk to myself. I tell myself to be confident. 'You can do it,' because you constantly need that reminder. I ask myself to have the courage, the confidence, poise, toughness to do whatever is needed to be done. I remind myself to be level-headed and to help others get through what we're going through."
"That's funny. I try to stay even-keeled and lead my team the right way. Believe me, I'm just as motivated and excited as everyone else out there. There are a lot of things that go through my mind and body on gamedays. We all have different ways we stay in control so we can play our best. That's my way of dealing with the competition."
"It's about being consistent. That's what leadership is all about. It's about, 'Hey, I'm doing my job, do yours, and let's win together.' It's about motivating the guys around you to do their jobs, no matter how tough the circumstances. If you do your job and help others do theirs, that's where the leadership comes. That's when guys come to you and look for answers. You can't be a leader if you don't do your job first."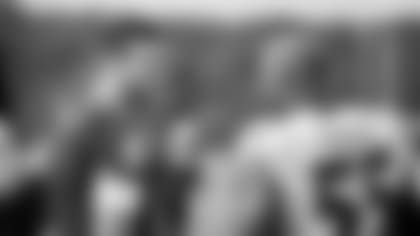 Terrell Suggs calling you Shane Falco?
(Laughing) "I think of the movie, Shane Falco in 'The Replacements.' And, of course, I think of Terrell Suggs. It did make me laugh."
"I feel so fortunate that I got to be part of them for five years. He motivated people. Ray has a knack for speaking from the heart and getting his message across to everybody. It's not an easy thing to do, to get up in front and motivate a bunch of professional athletes and lay it all on the line, but that's what he did. Whatever he said on any given day, it came from his heart, and we all believed it."
"Oh man, he's the toughest guy I've ever played with. He wants to be there every week for his teammates. You can tell that everything matters to him. He does everything he can to help us win and continue to fight. He's just one of the toughest guys I've ever had the honor to play with. He plays when he's battered, beat up, and he keeps on plugging."
"We've been in it since we came together on Day 1. It has been awesome to see his growth as a head coach and how his confidence has come with that. He's unbelievable at getting in front of the team and saying the right things. Saying the things that are hard and getting them across to all of us in a great way. He's a great motivator, great leader, and we can see all of that. He's just very comfortable with who he is and who we are as a football team. It comes across and gives us all a lot of confidence."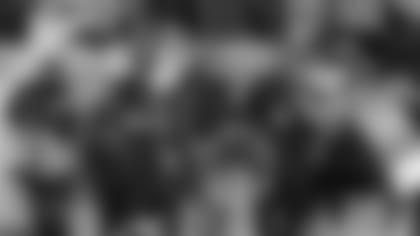 "I think my body has goosebumps as soon as I think back to that game, because it was so cold. Obviously, I think of Jacoby Jones. If we hadn't gotten that play, we're not in the Super Bowl, and we don't become champions. A lot of times, teams have signature plays that catapult them, and I think that was the one for us. Once we hit that play, I think everybody kind of said, 'Man, we're doing this thing. We're going to win it.' It gave us confidence. It ended up being our signature play and gave us an opportunity to go win the Super Bowl."
Your favorite Ravens memory?
"Really, there are two from the first two times we won up in Pittsburgh: T.J. [Houshmandzadeh] catching the touchdown pass at the end of the game. And then, the next year, Torrey [Smith] catching the touchdown pass to win it. Those were memorable. We love winning there."
Your most embarrassing football moment?
"Shoot, I probably have a lot. I've done some odd things and bad things. Last season (vs. Cincinnati in Baltimore), I was embarrassed because there were eight seconds left in the half, and we didn't have any timeouts. I ran around and ran the whole clock out, rather than throwing the ball away and letting us kick a field goal – which I was supposed to do. That was a total brain fart. That was embarrassing. I didn't want to go back and watch the film on that one."
What does it mean to be a Raven?
"It means that you're a tough S.O.B., and you're relentless. You're not going to stop until your goal is accomplished. It's about going out there and being able to play hard enough so that you can look yourself in the mirror, be able to look your teammates in the face and say, 'Man, I did all I could to help us win.' We're about playing for each other. We run to the ball every play. We finish every play, no matter the circumstance."
Team you most love to beat?
"Probably Cincinnati. They've had our number some, and I don't like losing to them. Of course, the best place to win on the road is Pittsburgh. It's wild over there."
Where will Joe Flacco be in five years? 10 years?
"In five years, I'll be right here in Baltimore playing for the Ravens. In 10 years, hopefully the same, ready to go out [of football] on a high note. If I get healthy and stay healthy, it can definitely be done. That's definitely a goal of mine, to play as long as I can."
What we see every day from Joe is how much he loves football. All aspects of it: the games, the practice, the locker room, the camaraderie, the competition, the weight room. Joe doesn't need a lot of prodding. The day before he had his knee surgery in Florida, he was here working out with his teammates. The day he flew back, he came right to the facility and worked with the trainers all day. That's the kind of dedication you get with a franchise quarterback who is a team leader.
We won't have Joe this Sunday when we host the Chiefs, a team fighting for the playoffs and winners of seven in a row. Not many prognosticators believe we can win. Hey, we're depleted, but we're fighting. I think we'll be fine. Let's beat the Chiefs!