Ravens Ring of Honor member Peter Boulware seemed like two people when he played for Baltimore from 1997 through 2005. There was the relentless linebacker you watched become the second-leading sacker in team history … a four-time Pro Bowler who won the NFL's Defensive Rookie of the Year Award and produced a then-team-record 15 sacks in 2001.
Off the field, Peter is a humble, gentle, intelligent soul dedicated to his wife, Kensy, and their five children.
"Peter was a true gentleman and professional off the field. On the field, he had this crazy obsessiveness, desire and passion to get the quarterback. I think he led the league one season in late hits on quarterbacks. I loved playing with him and having him crashing from the other side," fellow Ring of Honor member Michael McCrary said.
I remember a game at Indianapolis where it looked like we had Peyton Manning and the Colts beaten. Manning threw a pass to the sideline to former Raven Qadry Ismail on a third-and-long situation late in the fourth quarter. The officials called pass interference on our Gary Baxter. It appeared to be a bad call. Boulware went nuts, including chasing the referee off the field at the end of the game screaming: "You cheated. That's a bad call. You gave them the game. You're a cheater." (Typical of Boulware, there was no profanity involved).
As part of our 20th season celebration, Peter was selected by our PSL holders as one the 10 best Ravens ever. Each of these 10 is serving as our "Legend of the Game" at our 10 home games at M&T Bank Stadium this season. Peter is this Sunday's legend. We're also presenting 20 questions to these Ravens' giants. Here are Boulware's answers:
You're a kind and gentle person, except when you played football?
(Laughing) "You know my family will read this. I wanted to be kind, and I wanted to be gentle off the field. But, once I got inside those lines, I shed that skin and became something I wasn't normally. I did the exact opposite of what I was when I played."
Do you remember chasing a referee?
"I knew you'd bring that up. I paid a price for that one. The league fined me. It was one of those times when I flipped the switch and went 100 miles per hour to find a way to win. Manning threw an uncatchable ball, and they made that call. It was third- or fourth-and-long. It just crushed me. It broke my heart. I wanted the officials to know how much that hurt. (Chuckling) They saw my frustrations."
"That's how I made my living. As a pass rusher, that was my No. 1 goal. Getting to the quarterback ran through my veins."
"Our kids and my wife, Kensy. Anything I do now is just focused on that. We have five kids, so my life is dedicated to and focused on those guys. When they come back with a good report card, or when they do well on the athletic field, or when they're just being good kids, I love it. That brings me joy. That's what I like doing: being with our kids and seeing them have success."
*What's a perfect day for you? *
"A perfect day is a Saturday when we can all get up a little later and let the day come to us. It will include watching some football, watching my 'Noles [Florida State] and seeing those guys win. It would be taking the kids out on the property, on the pond, doing a little fishing."
"My Mom and my Dad; they were great to me. They taught me a lot and made sure I did the right things. I can truly say that I'm here today, and I had the success I had on and off the field because I had two mentors – my parents – who cared enough to train and discipline me. They are my heroes."
"Don't really have an all-time favorite. I read all the Dan Brown books. Those are page turners, kept my attention."
Favorite movie of all time?
"I'm old fashioned. The Star Wars movies are my favorites. I'm pretty excited about the new one coming out in December. I like those futuristic, action movies."
"Most special group of guys I ever played with. … We had great talent, but, more importantly, we had great chemistry. We had leaders at every position, some of the most unselfish players. Everybody had a role and knew their responsibility. It wasn't about individual glory or stats. It was about being the best defense ever and winning the World Championship that season."
Your best Super Bowl memory?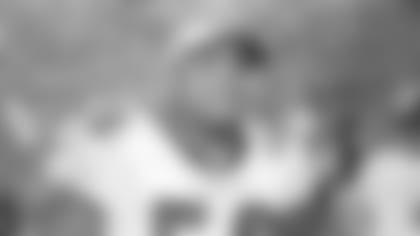 "Had to be at the end when the clock ran down, and we knew we were World Champions. They put the stage out on the field, the confetti came down, and the Lombardi trophy was handed to us. I remember thinking to myself, 'A lot of little kids think about this, I actually won one.' That was a special moment, knowing I would be a World Champion the rest of my life."
Your most memorable teammate?
"There are probably two of them. Obviously Ray Lewis – just being able to play with him, see his passion every day, be next to his locker. It was very special. I tell my friends and kids about Ray and his passion and love for the game. The other is [Tony] Siragusa. He was always a party, had lots of jokes. You could never predict what was going to come out of his mouth. Goose always kept things lively."
What scared you as a kid and what scares you now?
"Not being successful in life. I didn't want to be one of those high school kids with good parents, but made poor decisions. I didn't want to be with the wrong crowd that could take me somewhere where I would disappoint myself. Today, I think it goes back to my kids. I just want to make sure I'm preparing, I'm teaching, training our kids the right way. Spending enough time with them, giving them enough tools for them to go be successful and happy. That's a scare now."
The Republican Presidential Race? (Peter was the Republican candidate for the Florida House of Representatives for his district in 2008. He is currently on the Florida Board of Education.)
"Very confusing to me. We've got a lot of candidates trying to figure out who they are and what they represent. There are good candidates out there. Let's buckle our seatbelts and see what happens. … Donald Trump is an interesting guy, very entertaining. I'm not going to say he won't make a good president, but I would like to see him get in the weeds and be specific on how he will fix some of these problems. We're facing some pretty serious, tough issues right now. We need a person – republican or democrat – who knows how to move the world in the right direction."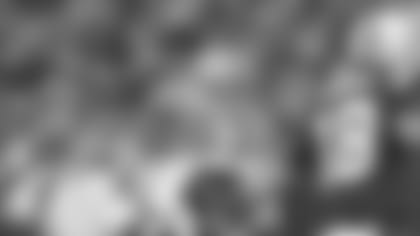 Best player you ever faced?
"Peyton Manning, he was the field general for the Colts. As a defense, we tried to disguise and show different things, but he would know it. He's a great competitor, great player, and more importantly, a gentleman off the field, very classy. He represents the NFL well."
What does it mean to be a Raven?
"Classy. That's what the organization is from top to bottom, starting with Art Modell and then extending to Steve Bisciotti. Everything is done the right way. They never cut corners: head coaches, owners, staff, trainers. Being part of that made me want to play harder for the Ravens."
Team you most loved to beat?
"The Steelers, all day long. I live in Tallahassee, so we hate the Florida Gators. But, there's one team I hate more – the Steelers. I respect them, another good organization. Bill Cowher, a great coach and Mike Tomlin continues that. I love the rivalry we have with them. We are a lot alike."
Best place to win on the road?
"Going down to Tennessee and winning our division – when they were in our division. Great, great crowd and fans down there. We made an incredible run to win the Super Bowl, and we had to run through Tennessee – and we did. It was awesome."
What was your, "This is the NFL moment?"
"My first preseason game as a rookie. I had a big holdout, five or six weeks. It was intense, and when I signed, I thought everyone was looking at me to see if I was worth the money. I didn't want to be a bust. It was at Memorial Stadium against the Bills. I had to play to get ready for the regular season. I had a pretty good game, a couple of tackles and two sacks. I hoped I showed I was worth the wait and that my teammates would embrace me."
Where will Peter Boulware be in five years? 10 years?
"I don't see any radical changes. We'll be raising our children. Our oldest daughter will be looking at colleges. We'll be busy. … In 10 years, I'll be 50 years old, and maybe I'll be a granddad. I'll play with the grandkids and give them back when I get tired. We'll get to travel around. I'll be embellishing my career and making my grandkids believe that I was a super star."
Have them ask us, Peter. We'll let them know how good you were – one of the 10 best players in our history.
Let the 2015 Ravens be good on Sunday when Jacksonville comes to M&T Bank Stadium. Let's beat the Jaguars!