I was born in downtown Cleveland and was raised a fan of the Browns. When I was a kid, we knew Christmas was close because the Browns were either in the hunt to be in the playoffs or had already clinched a spot. We were spoiled fans.
(We also knew the holidays were coming because it's really cold and windy in Cleveland – and it snows – a lot.)
My immediate family – brothers, sister, cousins, etc. – are hardcore Browns fans. They wear brown and orange and defend Cleveland to the max. Heck, even when I've gotten pre-game sideline passes for Ravens games in Cleveland for my sister Eileen, who is an intelligent, energetic good person who teaches our nation's young, she shows up in all Browns gear.
When I say to my sister, "Do you have any relatives who make their living from the Browns? Do they pay anyone, like your big brother, money? Don't you want to root for the team that employs your brother – one who can make a little more money if his Ravens win more games and make the playoffs?"
My sister will smile and say: "I hope the Ravens win 14 games every season." (We play 16 regular season games in the NFL, and we play the Browns, an AFC North division opponent, twice each year.)
So much for blood being thicker.
Right now, my family's Browns are 4-10. My Ravens are 10-4 and have already clinched a playoff spot. A year ago, the Browns finished 5-11, duplicating the same record they produced in 2009, which is one game better than the 4-12 mark they earned in 2008.
2008 was the year we started our current four consecutive seasons streak of making the playoffs. And, if the Eagles don't earn the postseason in the next two weeks – and they're a real long shot to do that – the Ravens will be the only team in the NFL to make the postseason each of the last four seasons. (We are the only team to go to the playoffs and win a game in each of the last three years.)
Before we got blasted last Sunday night in San Diego, we made the playoffs. There was no parade, no fanfare and no pats on the back. Heck, it was barely reported by the media covering the Ravens. That's okay. Our aspirations are higher than "just getting in."
(And what a weird Sunday in the NFL last weekend … Three of the top four AFC teams – the Ravens, Steelers and Texans – lost. Plus, Green Bay, fighting for an undefeated season, got beat at Kansas City. Competing in the NFL is very humbling.)
But, our goals are in reach. The first landmark was to find a way into the postseason dance. The second is to win the AFC North, and we have a shot at that. The next goal is to get a home playoff game. That's within our reach. Finally, our ultimate goal this season is to go to and win the Super Bowl. We're in the mix there, according to almost every national NFL reporter.
It was a miserable 24 hours after our loss in San Diego. After a delay on the tarmac, the cross country flight back to Baltimore was forever. Our players didn't return to their homes until after 7:00 on Monday morning. The coaches and many other staff went directly to our Owings Mills complex to begin preparations for tomorrow's game against the Browns.
We were all in a foul mood … but we were in the playoffs.
Early the next day (Tuesday), I said to one of our players: "We have to bounce back."
"We will. Harbs' letter helped," the player responded.
Harbs' letter? Hadn't heard about that.
Yes, sometime Monday afternoon, each player received on his playbook iPad an e-mail from Coach Harbaugh. The gist of the letter was that the Ravens had earned the playoffs, and the real journey for this season is just beginning. John acknowledged the disappointment and emotions of the tough loss the night before. And, he also saluted the hard work and consistency that pushed us to the current 10-4 record and a spot in the playoffs.
"We take responsibility for the loss. We know each of us can be better. And, we will do something about it," Harbs wrote to the players. "We will get up, brush ourselves off – hold our heads high and get better. I am proud of this team. We cannot wait until tomorrow."
The final line of John's note quoted Muhammad Ali: "Champions are made from something deep inside them – the will must be stronger than the skills."
Good start, Coach, to what we hope will be a winning week.
DID WE MENTION HOW MUCH WE LIKE RAY RICE?
Each week reporters who cover the team we're playing ask to talk with one of our players on a conference call. Cleveland reporters talked with Ray Rice this week. They poked and prodded Ray about him being in the last year of his contract. The reporters were doing this as juxtaposition to the Browns' Peyton Hillis, who is also in the last year of his contract.
Hillis' contract has been an issue in Cleveland this season. After missing a game earlier this year with strep throat, Hillis' agent told reporters that he told the player not to play. Peyton then missed five more games with a hamstring issue, and you can figure out the rest.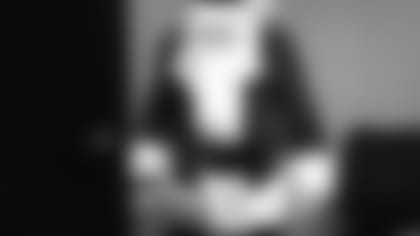 Here's what Mike McClain of the Warren (Ohio) Tribune wrote after the conference call with Rice:
"In what is rare for a modern-day athlete, Rice actually believes a contract is a binding clause that shouldn't be broken until it has expired: 'I'm still under contract. Why would I complain about something I'm not up for? My contract doesn't expire until the end of this season. I've chosen a route. I want to be a guy where my play speaks when it's time to negotiate.'"
Classy way to handle the situation, Ray.
Art Modell delights in telling the story of "Frenchy" Fuqua, a top notch running back for the Steelers in the early 70s. After producing what he thought was a very good season, "Frenchy" went to see the "Chief," Steelers owner Art Rooney, to ask for more money. According to Art, Fuqua explained to the "Chief" that he deserved more money because he had played so well that season. Mr. Rooney responded: "Mr. Fuqua, we didn't pay you to have a bad season." And, that was the end of the discussion.
Let's get this Christmas weekend off to a rousing start. Let's beat those Browns.
(Merry Christmas! Vonta Leach spread some Christmas spirit at this morning's meetings.)
*Kevin Byrne, a Ravens senior vice president, has worked in the NFL for 32 years. Byrne has been with the Ravens since the start of the franchise in 1996. Earlier in his career, Byrne was the sports information director at Marquette University, his alma mater, when they won the 1977 NCAA basketball championship under coach Al McGuire.
*