Behind The Scenes This Week With The Ravens
Advancing to the divisional round of the playoffs once again. And, this after beating the archrival Steelers at THEIR PLACE.
What could make a cold, cold winter's week in Baltimore any better?
How about holding Pittsburgh, the NFL's No. 2-ranked offense, to zero touchdowns in the first three quarters of last Saturday's victory? How sweet was that?
Then to have a game-clinching play by the "Thighmaster" catch by none other than "Big Ben" and Tom Brady's favorite player, Terrell Suggs.
Did I mention this is a lot of fun?
Come with me behind the scenes and see how we reacted to the Heinz Field victory and how quickly the attention turned to beating the Patriots at their home. Tough task no doubt. But, hey, why not?
First, it was startling during the national anthem in Pittsburgh to hear such a loud "O!" indicating how many fans made the trek over there. Historically, not many of us go to Heinz Field for games at the confluence of those rivers. It is not visitor-team friendly. Yet, there were considerable Ravens fans there, and they were sporting the purple and black. Outstanding show of faith by you guys! Thanks.
Stunningly, the Steelers did not play their trademark "Renegade" in the third quarter. We have heard that song every game since we've played there in the last decade. They had the perfect spot with 7:38 left in the third quarter. Ravens were leading 13-9, our offense was about to take the field, and there was a TV timeout. "Here it comes," I thought. … Nothing.
There's such relief when you win a game in the NFL. When you win a playoff game, it's better. When you win a postseason game on the road against the Steelers, it's outstanding. Few things in life can top that feeling of accomplishing something together – as a team – and John Harbaugh is excellent at letting us all share in the joy.
After more hugs than a family reunion in our locker room, Harbs asked everyone to "take a knee." When he was about to start the "Our Father," a prayer we say after every game, a few people let him know that Suggs was not in the room. "Sizzle" was still on the field completing a pair of interviews we asked him to do.
When Suggs arrived, his teammates cheered and clapped. My sense is that this was not simply for his key interception, but rather a salute for the work Suggs has done on the field to be a dominating player, and his efforts off of it to lead and help keep us loose.  You could see by his big smile that he appreciated the outpouring.
If you haven't seen the video, here it is, and if you have, enjoy it again. Harbs, shouting that Suggs' interception was "the greatest in the history of football," flipped "Sizzle" a game ball, and the big man dropped it. It brought a big laugh.
(Coach Harbaugh was "mic'd" for NFL Films in the game. After Suggs made his interception, John was yelling out to Suggs "the greatest interception in the history of football!" When Terrell arrived at the sideline, Harbs greeted him enthusiastically, and you could hear Suggs say, "Thanks!" He then gave Harbs a shot to the chest that lifted the head coach backward. The open-hand push landed near the "mic" hidden under John's jacket. It sounded like an explosion. Harbs laughed, Suggs laughed and continued the celebration. But, I'm telling you, most of us would have gone down. I made a note to myself to never congratulate Suggs after a big play.)
There is no better bus ride in all of sports than the one to the airport after a road victory. After a playoff win at Heinz Field, it was the best. Harbs and Ozzie Newsome sat in the first row across from each other, two rows in front of me. They immediately talked about the big plays made by Joe Flacco, Suggs, Steve Smith Sr., Owen Daniels, Haloti Ngata and the secondary. I heard Oz say: "Nothing's too big for us."
There was a family member of one of our top executives on the bus, and she exclaimed: "Hey, there is a grandmother out there who just gave us the finger." Harbs said: "There'll be more. Isn't this great?"
Our short plane ride back to Baltimore was quiet, with most players and coaches catching a quick nap. We landed just after 2 a.m. Sunday, and some of the coaches went directly to our Under Armour Performance Center to start the preparation for the Patriots. Truth be told, some of the coaches were doing that at our hotel in Pittsburgh during the day on Saturday.
Our players were off the rest of Sunday, but Harbs and the coaches worked a full day on the Patriots' study. The Ravens' brain trust completed the New England game plan on Monday, which was the scheduled off day for the players. (The players are part of a union, and they are required to have one day off per week, even in the playoffs.) I was surprised to see so many of our players come in that day to lift weights and see the assistant coaches. A check with security indicated 42 of our players checked in on Monday. Not sure what that says about the team, but I know it's good.
One of the conversations I had Monday was with one of our offensive assistants, who gave this assessment of the Patriots defense: "Very sound. Unlike Pittsburgh, they don't do a lot of different things. The corners are very good. Their pass rushers are better than we've seen from them in the past. One thing we have to be aware of is our weaknesses, because that's what the Patriots do. Bill [Belichick] attacks weakness. And, he'll keep doing that if you can't handle it."
Ran into our Defensive Coordinator Dean Pees, who spent six seasons with Coach Belichick and the Patriots – the last four as defensive coordinator. "How about this Dean, back to Foxborough?" Dean smiled: "Wouldn't want it any other way."
On Tuesday, the full-team preparation to play the Patriots began. The facility was buzzing. Over 60 reporters, with crews from the NFL Network, ESPN, FOX-TV and a handful from Boston. It's exciting … and fun. Our players handled it, keeping an eye on the task at hand: win this game.
They responded to the same questions over and over all week: "What do you owe your road playoff success to in the last seven years?" Flacco had the best answer: "Because we've played so many on the road. We'd rather play at home, but we haven't won enough. Look, if we had won a couple of close games this year, and in previous seasons, we'd play at home. But, we're good too. There's not much difference between most teams in the league. It's not like we're taking a bad team to New England."
Here's my take. As a team, we are relentless. Ozzie and Co. seek smart, tough players who have good character. They train well and don't wither in tough situations. Harbs is a true leader who stresses not only one game at a time, but puts emphasis on practice to practice, hour to hour, even minute to minute. The signs around the building shout out: "W.I.N." What's Important Now!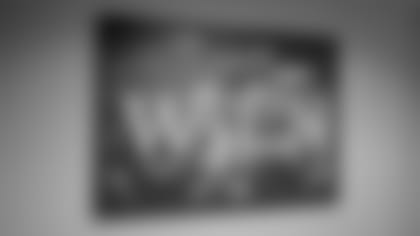 We're on the road. It's against the No. 1 seed. It will be ice cold against a rested team with a Hall of Fame quarterback and one of the winningest coaches of all time. We'll be there on time. Let's beat the Patriots.