Scoreboard Watching And Kindness
My gut tells me that we will play well in Cincinnati on Sunday, and the Bengals will get the best the 2013 Ravens can offer. What we all know is that this may not be enough to get the Ravens to the playoffs for an NFL-best sixth season in a row. 
C'mon Rex Ryan! Get your Jets fired up and beat those Dolphins! That could have us all smiling by about 4:15 on Sunday. Like you, I'm not very confident the Chiefs, whose head coach said he would rest some starters, can beat the host Chargers later that afternoon. If we do reach that scenario, one thing going for us is that San Diego would have been eliminated from the playoffs if the Dolphins beat the Jets. 
There's hope. And, of course, it all starts with us taking care of business against the AFC North champs, the Bengals, who are undefeated at Paul Brown Stadium this season. Let's do it! 
In this season of giving, kindness surrounds us. Gifts are exchanged, good tidings are extended, and grudges are forgiven. I'm proud to be part of a team that does take the extra step when it comes to lending a hand. It's inspiring to see. Humbling to bask in the glow. 
Cornerback Jimmy Smith is from a family of 11, and some Christmases of his youth weren't the best. There were times when the family couldn't afford a Christmas tree, and his parents would simply hang lights on the wall in the shape of a tree. 
"Jimmy shared with me his family's story and said he wanted to find a Baltimore family he could help make a better Christmas," Heather Darney, the Ravens' director of community relations, said. Darney did some research and found a family with a single mother and seven children. 
Jimmy took the next steps. Not only did he buy the tree for the family; he bought the trimmings and presents for each member of the household. Then he took one more step. He delivered the tree and gifts and helped with the decorating and presented the wrapped gifts. "That was a blessing for me. I felt privileged to be there and to be able to offer some help," Smith said humbly yesterday.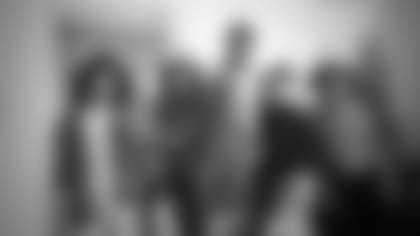 Many of you have gotten to know Baltimore's Erika Brannock, the Towson preschool teacher who lost one of her legs and had the other severely damaged at the Boston Marathon bombing. Erika was there to watch her mother complete the run. 
We found out that Erika is a huge Ravens' fan. A few days after the incident, members of our CR staff and mascot Poe visited the school where Erika taught. They helped prepare a video from the students and a Ravens' care package that was sent to the injured Brannock. 
When she was able, Erika visited the Ravens. It was a hot training camp day. She was the star of the day. Players hustled to meet her after a three-hour practice, and you could see how excited she was to be at the Under Armour Performance Center. John Harbaugh crouched next to her as she sat in a wheel chair. I kept indicating to him that he had places to be and people to see. He ignored me and stayed in that crouch, face-to-face with Erika for a long time as they talked about coming back and moving forward. 
Last Sunday, Erika was our guest at the game against the Patriots. She mentioned that Dennis Pitta was a huge inspiration to her. She noted that after Dennis dislocated his hip in camp, he said "You have to trust the process." 
"He became a source of inspiration for me as he came back from his serious hip surgery," Brannock said. "I read an article where he described the pain, and I could completely relate. Seeing how hard he pushed himself and never accepted defeat, made me push myself harder each day and get up and walk even though it hurt and was hard." 
Wow! Erika has also added a tattoo, partly inspired by a note from her sister. It reads: "Trust the Process."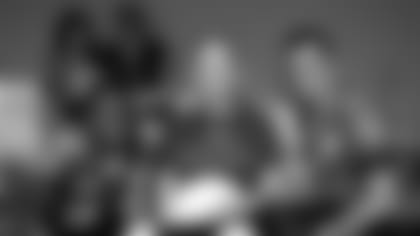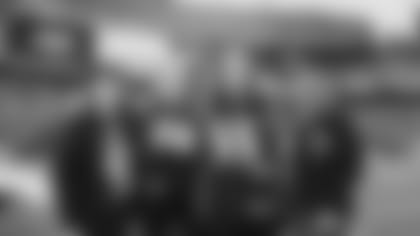 Jacoby Jones came to us during training camp and said he wanted to have some kids who couldn't afford Ravens games to be his guests at M&T Bank Stadium. Darney turned to the Bridges Program at St Paul's School. "Bridges" is an academic and cultural enrichment program for youth in the city and is one of our charity partners. For each Ravens home game, Jacoby would buy six tickets, five for students and one for a chaperone. Students were rewarded for current excellence and grade point averages. 
But, Jacoby wanted to do more. Last Friday, he hosted a pizza party for the Bridges students. And, he did it in his unique style. "We had an area set up for him, and you could see all the students ready with phones and cameras to take his picture as he came into the room," Darney explained. "He tricked them all by coming in a back door, surprised them, and the laughter continued the whole night." 
Jacoby talked to the students about the struggles in his life and reminded them to learn from mistakes and to take advantage of opportunities they see. "Don't shy away from it," Jones said. "Sometimes the window of opportunity to be great is very small." 
Rob Paymer, the executive director of Bridges, talked about Jacoby's impact: "For the students who earned a ticket and then dinner with Jacoby, they see that hard work brings opportunities. For the 120 who did not, they're figuring ways to boost their performance so they can be a part of this next year."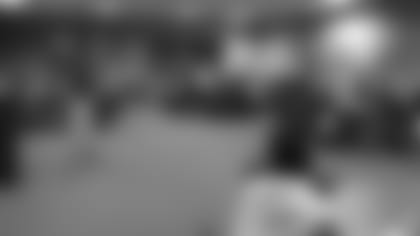 Lt. Colonel Russell Cote' 
Our website did a terrific job telling the story of Lt. Colonel Russel Cote' surprising his sons at the Ravens' practice facility with a visit back to Baltimore. Cote's two sons (Jonathan and Ryan) came here believing their mother (Annmarie) had won a contest to tour our place. They are huge fans. 
Lt. Colonel Cote', who is stationed in Honduras, sent us a note asking if we could help him surprise his family. He was not scheduled to be back in the states until next year. At the end of a practice, we hid the father in the back of our team huddle, shielded from his sons, who were brought out to meet the team. Coach Harbaugh welcomed them and said: "We do have a surprise for you." With that, the players parted, and the father walked out to the amazement and tears of joy to his sons. 
Coach Harbaugh, who constantly does good things for people in the military, recognized this special moment and said to the team and guests: "When you go home tonight, whoever is there – your wife, your kids – make them feel like the most important thing in the world. Give them a big hug, a big kiss, and make them know that the place they live is a safe place and a safe haven."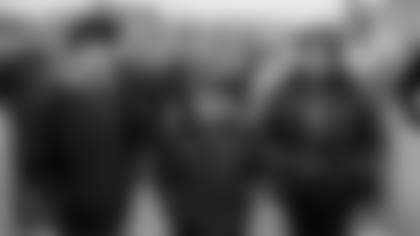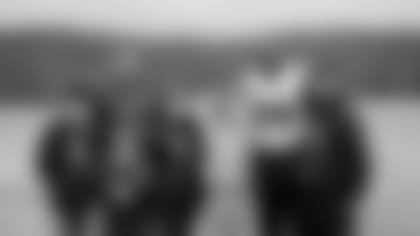 There will be respect, but little kindness shown when we face off with the Bengals on Sunday at 1. Cincinnati will get the best of us. Let's beat the Bengals. And, go Jets and Chiefs! We all want to be smiling Sunday night and preparing for a playoff game. 
P.S. We receive many e-mails telling us how the Ravens impact people's lives. We received this one the other day. Thought you would enjoy reading it.