Ever see the movie "Moonstruck" starring Cher and Nicholas Cage? There's a great scene in it where Cher slaps Cage and shouts, "Snap out of it!"
I need someone to slap me right now.
It's no fun not playing in the playoffs. I know, I know. You can't make the postseason every year, but I was starting to believe that the Ravens had beaten the system, and we could.
So much for the NFL's best current playoff run – five years in a row and six of the past seven seasons. We're on the outside looking in. As Bill Parcells proclaimed some years ago: "You are what your record says you are." We are an 8-8 team watching the others like the Broncos, Patriots and Chargers enjoying the games we were playing the last five Januarys.
Conversation With Coach Harbaugh
Thinking John Harbaugh had to feel even worse than me, I strolled into his office last Monday to remind him how close we were to being a playoff team.
"John, when we tied the Bengals at 17-17 late in the third quarter last Sunday, I felt we were going to do it again. We were going to the playoffs. The Dolphins were down by 10 to the Jets. Here we go!"
The head coach just stared at me.
Tried a different tact. "Coach, we make five or six plays this season, we're right where we were a year ago. Five or six plays. Heck, take five or six plays out of our Super Bowl season, and we don't even make the playoffs last season. That's how close it is. We're closer than people think.
"Think about it," I continued. "Take 'Hey diddle, diddle' out of the win at San Diego or Joe [Flacco's] 16-yard first-down run at Kansas City late in the fourth quarter or Jacoby [Jones'] punt return for the touchdown in Pittsburgh out of those games, and we're an afterthought in 2012. We don't get in."
(Ravens won those games: 16-13 in overtime against the Chargers, 9-6 at Kansas City and 13-10 at Pittsburgh.)
Harbs smiled a little. "We made more plays last season."
Encouraged, I pressed on. "Think about this season. Joe's interception for a touchdown in Chicago; the kickoff return by the Steelers at Heinz [Field]; Aaron Rodgers' 52-yarder to the big tight end to keep the ball at the end of the game against Green Bay..."
(Ravens lost those three: 23-20 in overtime at Chicago, 19-16 in Pittsburgh and 19-17 against the Packers.)
Harbs held his hand up – in a nice way – and smiled. "We have to get better. To be in the playoffs next season, we have to get better. None of us want to feel like this again."
When we held our "State of the Ravens" press conference on Wednesday, I looked with confidence at the four men seated at a table in front of the media throng. There sat the owner, Steve Bisciotti, the multi-billionaire who struggled with school work as a youth; Ozzie Newsome, the Hall of Fame tight end who was raised in an area and time when Blacks used separate restrooms and water fountains; John Harbaugh, the hard-working mentor from a coaching family; and Dick Cass, our president who earned his undergraduate degree at Princeton and his law degree at Yale.
Four very different men. Four smart, tough and determined men. Four guys hurt by the failure to earn the playoffs in 2013. And, four men driven to get us back in 2014.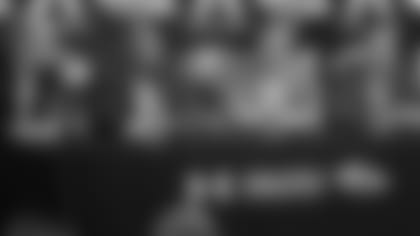 We need to get better in everything – that is the Harbaugh way. But, the headlines are obvious – and you guys have talked about them all season. The offensive line has to improve – a lot. We have to run the ball like the Ravens usually do. We have to protect Joe, and he'll throw much fewer interceptions. (See the 2012 Super Bowl playoff streak. We ran the ball well. We protected Flacco, and Joe threw 11 touchdowns with no interceptions. That is historically good.)
Looking at Oz and Harbs, Steve said: "Quality people take our failure this season and use it as fuel. We're all disappointed, as our fans are – more so. I think it's safe to say that we're going to look at our offense with the same fine-tooth comb that we looked at the defense last year."
Regarding the defense, Ozzie is confident it will be better in 2014: "Not having the ability to get off the field [our defense] cost us three or four games this season. We, first, have to get our guys better. We had a lot of new parts – six or seven new starters. We need to get a free safety that can be a playmaker. Someone who, when balls are tipped in the air, makes a play. We'll get the cohesiveness going. We have to play with more confidence, and then we'll play faster – make more plays."
Our rookies will improve. "The biggest improvement a player makes is from his first to his second season," Harbaugh offered. "They're going to make major strides - Elam, Arthur Brown, Brandon Williams, Kyle [Juszcyk], Ryan [Jensen] and Rick [Wagner]. You can throw Marlon Brown in there, too."
Harbs noted that he had conversations and shared texts with a number of our players during last weekend's Wild Card playoff games. "Our guys weren't happy about not playing. I like that. We should come back more highly motivated than ever. What we did this year was not acceptable, and the players are not happy about it. That's good," Harbaugh said.
We owe all of you thanks. We continued our run of selling out every home game in our history, and we dominated television because of you. The 17 most-watched TV shows in 2013 in the Baltimore area were our games. Of course, our Super Bowl victory over the 49ers in February was the most-watched show, not only in Baltimore, but the nation. Our 16 regular-season games completed the top 17 in this area. Thank you all.
By the way, for all TV viewing in the U.S. in 2013, NFL games occupied 34 of the 35 most-watched programs' list. The only non-NFL game? (See bottom of the column.)
Like most of you, I'll watch the rest of the playoffs games. The NFL is a great, exciting product and the best reality TV there is. I'll fight back the thoughts of, "We could beat them." (Maybe I'll ask my wife to slap me if I say it.) We're not a playoff team. Parcells is right. But, we'll be back soon. Can't wait.
(The 23rd most-watched TV program in the U.S. in 2013 was Macy's Thanksgiving Day Parade on NBC.)