We have all been glued to our televisions watching the greatest Olympic athlete ever, Baltimore's Michael Phelps, set a standard that may never be broken.
I'm sure many of us were demonstrative. … But maybe not like …
"Watching Michael, oh man, I was jumping up and down like he was one of my kids. Whatever strength I have, I was trying to give it to him. I was tired at the end of his races," Lewis told me Wednesday from Los Angeles, where he was attending to business.
"You know me, when I go in, I go all in. I'm talking to him through my TV. I'm going up to the TV and breathing on it, touching it. 'Here are my senses, Michael, I'm giving everything I've got.' I'm talking to him. I'm screaming. I'm hoping."
(I've seen Ray at his brother's and his children's games. He may move more than the athletes competing.)
And there was Michael after winning his record-setting 23rd gold medal as a member of the United States 4x100 medley relay telling, with tears in his eyes, NBC-TV's Michele Tafoya: "I was talking to Ray Lewis earlier today. I know he's watching. And we had a great talk. It's not the end of a career, it's the beginning of a new journey. And, I'm just looking forward to that."
I remember mentioning to then-Head Coach Brian Billick how Ray, Rod Woodson and Shannon Sharpe hung out together, even lifted weights together. "That's why movie stars marry movie stars. They understand what the other goes through."
Lewis, who you could argue* *is the greatest defensive player in NFL history – the guy with the statue outside M&T Bank Stadium – and Phelps, perhaps the most famous athlete in the world today. More than just acquaintances, they are best of friends.
"Ray is a brother to me," Phelps said earlier this week.
"During his training and at the Olympics, we would talk almost every day, text every day," Lewis offered. "When he lived in Baltimore, we would get together sometimes two or three times a week. I would go to his house; he would come to mine. We just chilled, talked a lot.
"When we first started hanging, we would talk about how we were connected by our city, Baltimore," Ray continued. "It was awesome. It was just sittin' around kicking the breeze. We could never go out and have a conversation. It was always at our houses."
In fact, Lewis made Phelps a member of the "Lion Order." "Years ago, me and Rohan Marley started the 'Lion Order.'"
(Marley, the son of reggae superstar Bob Marley, and Ray played linebacker together at Miami. An entrepreneur, Marley currently owns and runs the very successful Marley Coffee.)
"'Ro' and I were both into 'Animal Planet,'* *and we're now both on the board of the 'Saving The Lion Foundation,'" Lewis said. "We always talked about lions and the strength they have – and even more when they have the pride. Ed Reed, he's in the club. Michael is now. There are about 12-14 of us. It is the strongest brotherhood. It's about trust and reliability. I trust my kids with Michael. He trusts Boomer (Phelps' newborn son) with me. We have keys to each other's houses and cars anytime we need. It's a family beyond our families.
"And, we push each other to go way beyond ourselves. When Ro met Michael, it was obvious. Michael was a Lion Order. We take care of each other for life," Ray explained. "He told me he kept repeating 'lion order, lion order' in his last race."
When Phelps was dealing with some personal issues, Lewis suggested Michael read Rick Warren's "Purpose Driven Life," a book that has been translated into 85 languages and, according to "Publisher's Weekly," is the best-selling hardback in history. The spiritual journey book provides life lessons through 40 short chapters meant to be read on consecutive days.
"The book makes you ask yourself questions you hadn't thought of. It exposes who you are. It meant a lot to me. I told Michael about it, and he wanted to read it," Lewis added. "Michael is in such a great place right now. His entire energy is different. As a friend, to see him so happy, to see his demeanor, his approach to life, his love for his family. He's living now, not just existing. His happiness makes me happy."
I asked Ray if he and Michael talked about Phelps' decision to return to the Rio Olympics after saying the 2012 London Games were his last. "I remember him walking up, and he said, 'I'm coming back.' I grabbed him around the back of his neck and told him, 'Serious. I'm not playing. If this is for you, I'm good. I'm 100% with you, and I'll do whatever I can to help you on the journey.' He said, 'This is for me.' And, wow, look what he did – and it wasn't easy. The best in the world. Baltimore's own."
When Ray and I stopped talking about Phelps, I asked, "Can you swim?"
Laughing hard: "Not like him. I just survive."
Talk with you next week. First road trip of the season today. Let's beat the Colts.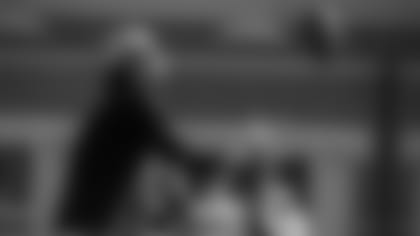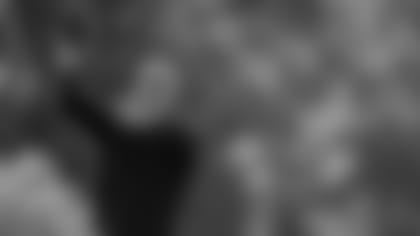 P.S. Our good fortune is that Phelps has regularly come to our practices. At the end of one session two years ago, some of our players were working on kick returns, catching long "kicks" from a Jugs machine. Michael was with Conor Dwyer, who won gold (4x200 freestyle) and bronze (200 freestyle) medals last week. We asked the pair if they'd like to try to catch one. Dwyer went first, and he was smooth, catching the ball on the run. Michael caught his. It was a double thump – the one when the ball banged his chest, and the other when it smashed into his hands off his chest. Standing next to John Harbaugh, the head coach offered: "Better than I thought. That had to hurt. Mike is going to have a big mark on his chest."