Calais Campbell: Chasing Greatness to the End
Finishing his 14th NFL season, Calais Campbell has done everything possible to remain a special player and inspirational leader.
---
---
Greatness comes with a price and Calais Campbell pays it.
Every week this season, Campbell has put his 35-year-old body through a tortuous daily regimen. It's the only way he can remain an impact defensive lineman in his 14th NFL season. His routine requires intense discipline, sacrifice, and a team of specialists – some who fly into Baltimore every week.
Team Campbell includes a massage therapist, personal chef, ankle specialist and physical therapist. All of them understand how badly Campbell wants to win a Super Bowl before he retires, and they are willing to help him squeeze the most out of his body.
Instead of flying to Baltimore each week, massage therapist Alisha Evans temporarily relocated from Jacksonville to Baltimore this season because Campbell thought daily treatments would help him maximize his performance on gamedays.
"We have a very strict schedule – Monday, Tuesday, Wednesday and Friday for three hours," Evans said. "Calais never complains. Somehow he balances it all – practice, training, family time, watching film.
"I started working with Calais in 2017, and he's just a special person, truly one of the best people I've ever met."
"I work with other players, and I wouldn't move to Baltimore to work with just anybody. But when Calais got traded from Jacksonville to Baltimore (in 2020), I told him I'd be on the next plane if he ever needed anything. Calais called."
Having specialists help him get ready for Sundays is expensive, but Campbell gladly writes the checks.
"I budgeted to spend around $300,000 this year to get myself ready to play every week," Campbell said. "I don't know if I'll spend that, but it's getting up there. It's going to be over $200,000.
"To play the game at a high level at this point in my career, I have to spend so many hours outside the building in order to get my body ready to play. If you want to play at a high level, you have to invest in yourself. It's more mentally draining than it is physically draining, but at the same time, I love the game, and I want to win.
"Ask me right now, if I could pay $300,000 for us to win the Super Bowl, would I do it? Heck yeah. Anytime."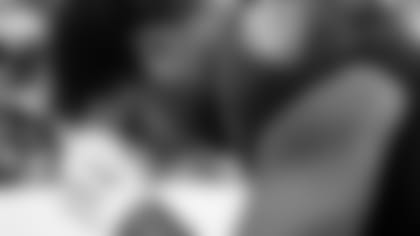 Unfinished Business
Campbell has made the Pro Bowl six times, he was the 2019 Walter Payton Man of the Year, and you'd have a difficult time finding a player who commands more respect leaguewide.
There are just two boxes he wants to check before he retires – winning a Super Bowl and adding to his case to make the Hall of Fame. He entered the season hellbent on helping the Ravens win a championship, and watching their playoff hopes almost extinguished following their one-point loss to the Los Angeles Rams in Week 17 was devastating.
If the Ravens don't make the playoffs, Sunday's season finale against the Pittsburgh Steelers could be the last game of Campbell's career. It's been a challenging past few weeks, starting with a painful thigh injury Dec. 12 that sidelined him for one game and limited him in two others.
Now, with the Ravens in the midst of a five-game losing streak, this is not the scenario Campbell envisioned after 11 games when the Ravens were 8-3 and the No. 1 seed in the AFC.
It will be interesting to see what he decides about his future as a pending unrestricted free agent. His teammates would love to have him back.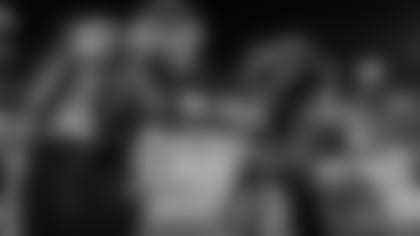 "I think he can do whatever he wants," defensive tackle Brandon Williams said. "He still has the energy, he still has the fire. I think he can still do it for one more year. It's just up to him and his family; it's his choice. I'd love to see him again, but if not, congratulations on a great career."
Several weeks ago, Campbell said he was still uncertain if he would retire or play at least one more year.
"That's a conversation I have to have with my family," Campbell said. "Honestly, I want to win it all and figure it out from there. It depends on how my body feels. Fifteen years was the goal I set for myself when I was young, but I was naïve about how hard it is to play 15 years. I looked at all the Hall of Famers and the great players that played the game. I still would like to play one more if I have it in me. But it's hard.
"If I'm going to play, I'm going to play at a high level. I'm not going to go out there and not be at my best. So the question is: Am I willing to sacrifice one more time?"
Connected to Ed Reed and Ray Lewis
Campbell played football at the University of Miami (Fla.), the same school that produced Ravens Hall of Famers Ray Lewis and Ed Reed. Before he was traded to the Ravens in 2020, Campbell already felt a bond to the franchise because he felt connected to Lewis and Reed. 
"Ray Lewis was my favorite player," Campbell said. "I loved the way he played with energy, tenacity. His pregame speeches, you could tell he loved the game. I knew he wasn't going to cheat the game. He was going to be real to it. I feel like I love the game the same way."
While watching Lewis inspired Campbell, it was Reed who inspired Campbell face-to-face. They met when Campbell was a sophomore and Reed was at the school visiting. When they passed in the hallway, Campbell said hello, and what Reed had to say was short and sweet.
"He was like, 'Man, I keep hearing about you – you keep working hard, you're going to be where I'm at one day,'" Campbell said.
"I was like, 'That's Ed Reeeed saying that about me?' I knew I was doing something right. When the NFL guys came back to Miami for those offseason workouts, I'd just watch them work out. I saw them doing a lot of the exact same workouts we did. It just gave me the confidence that I could be here one day."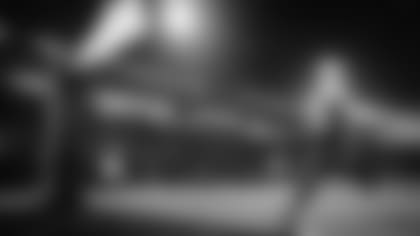 Hall of Fame Case
When the Pro Football Hall of Fame released its All-Decade team of the 2010's, Campbell was on it. With 767 career tackles and 93.5 career sacks, Campbell has been an elite run defender and pass rusher despite drawing double-teams most of his career.
Campbell doesn't compare himself to Lewis or Reed, but isn't shy about saying he'd like to join them in Canton one day.
"The ultimate goal is to reside where they do, in football greatness," Campbell said. "I don't know if I'm going to get there or not. With those guys, there was no question. But winning a Super Bowl would definitely, I think, put myself closer into the category of greatness. We'll see, but that's something you've got to earn."
What Campbell has already earned is league-wide respect. When he was drafted by the Arizona Cardinals in 2008, Campbell joined a team that had three players who would eventually win the Walter Payton Man of the Year Award – former Ravens wide receiver Anquan Boldin, Larry Fitzgerald and Kurt Warner.
It was a locker room where veterans led and rookies followed. But Fitzgerald immediately sensed Campbell had special character.
"From the day Calais walked into the building, you knew there was something different about him," Fitzgerald said. "The way he carried himself, coupled with the way he worked. He was a sponge, always seeking to improve."
Then when you met his mother, brothers, sister and heard about his father, it reinforced everything. He was a sponge and was always seeking to improve in all facets. I'm not surprised at all by the man he is, or the player he became."
Second in NFL all-time receiving yards behind Jerry Rice, Fitzgerald is considered a certain first-ballot Hall of Famer when he's eligible for induction in 2026. Asked about Campbell's Hall of Fame worthiness, Fitzgerald is positive Campbell belongs.
"When you match his numbers up against the other great interior lineman in this era it's undeniable, his place is solidified," Fitzgerald said. "He never had the fortune of playing consistently in a 4-3 front where he could really attack and rush the quarterback. He has always been a great player versus the run and pass. It was important for him to be great at both. You then also must speak on the impact he has made on special teams blocking and disrupting field goals. If you were building a football team, Calais is the kind of player you'd want to start with."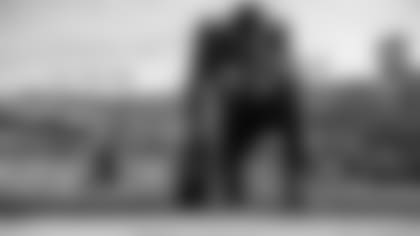 Both of his parents, Charles and Nateal, had lost their jobs and times were tough. But the Campbell family didn't stay down. They moved out of the shelter, first into a one-bedroom apartment, then into a five-bedroom house.
"Those were some of the best times of my childhood," Campbell said. "It was a lesson that your current circumstances don't have to last."
Campbell named his CRC Foundation in honor of his father, who passed away when Campbell was 17 years old. His father was a fighter, and so is Campbell. The Ravens are in tough situation, but Campbell is up for the fight and expects his teammates to be as well.
It's hard to believe Campbell feels 100 percent, not after his November thigh injury, not after 14 seasons. But after playing just 14 snaps combined in Weeks 15 and 16, Campbell dismissed whatever lingering discomfort he had against the Rams and played 72% of the defensive snaps to lead Baltimore's defensive linemen.
Campbell was there because he was needed. That's one of his best qualities, both in football and in life. You can always depend on Campbell. He has played in 212 of a possible 224 games during his career, never playing fewer than 12 games in any season.
Don't be surprised if Campbell has some special words for his teammates prior to Sunday's regular-season finale against the Steelers. He often walks from locker to locker prior to games, trying to inspire teammates with a word or a look. When the Ravens gather on the field following pregame warmups, Campbell is often the player who speaks in the huddle, because when he has something to say he doesn't hold back.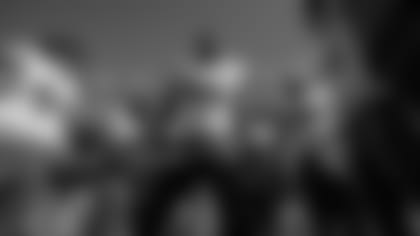 "Sometimes when you're a leader, you have to show that in front of the entire team," Campbell said. "When I was young, I always had uncertainly speaking in front of the team. I was like, 'Damn, I've got to speak?' As I got older, I realized that if I had something to say that's going to help us win a football game, I have to say something."
Campbell has set himself up with plenty of options for whenever his career ends. He has contemplated working in television as a sports analyst, writing movie scripts or acting, as well as various business ventures. He will definitely continue his philanthropic work.
But this season isn't done yet, and the Ravens aren't done either. Sunday could be the last NFL game for Steelers quarterback Ben Roethlisberger, and Campbell would love to send Roethlisberger off by sacking him a few times and helping the Ravens win. Campbell's mind and body have been tested this season, but his spirit has never been broken.
"It has to be the craziest season I've ever been a part of, just with the ups and downs and the highs and lows," Campbell said. "Three of our last five games have been one-point games, and it's tough. We're fighting hard. We're leaving it all out there, putting ourselves in a position to win, but we're just not getting it done right now.
"I guess it just says a lot about our team, that no matter the circumstances, we're going to keep fighting. We've got a lot of heart. If the football gods bless us with an opportunity to make the playoffs, I think all of this experience is going to pay off. All of these hard-fought battles [and] close games, that's going to make a difference if we get a chance to dance. Obviously, we need some help, but we've got to do our part."