PLEASE NOTE:The opinions, analysis and/or speculation expressed on BaltimoreRavens.com represent those of individual authors, and unless quoted or clearly labeled as such, do not represent the opinions or policies of the Baltimore Ravens' organization, front office staff, coaches and executives. Authors' views are formulated independently from any inside knowledge and/or conversations with Ravens officials, including the coaches and scouts, unless otherwise noted.
Pasted inside the front cover of Ravens Offensive Coordinator **Cam Cameron**'s personal journal is an article written by former Buffalo Bills Head Coach and Hall of Famer Marv Levy.
Cameron clipped the article out five years ago and has since highlighted large chunks in bright yellow and underlined certain words of wisdom.
The highlighted conclusion reads, "So coaches, forget the stress. Enjoy yourselves, but just remember – if you start listening to the fans, you're going to wind up sitting next to them."
"That tells the story," Cameron said. "I believe that."
Those lessons came in handy three years ago, when Cameron went 1-15 as head coach of the Miami Dolphins, and they're still being put to practice now.
As expectations for the Ravens' offense have risen, Cameron's play-calling has been a frequent topic of debate by the media and fans – particularly after losses.
So how does Cameron take it all?
"I don't worry about what people say and I don't care," Cameron said while reclining in a chair behind his desk late Monday night.
"I'm not getting on that roller coaster."
Cameron has always seen himself as having a positive outlook on life.
But during his time as an offensive coordinator in San Diego, he learned that he also had to be a realist if he was going to continue surviving grueling 16-game NFL seasons.
In 2004, Cameron had a chance to speak with the late Navy Vice Admiral James Stockdale, who lived seven doors down from him. Stockdale was the highest-ranking naval officer to be held as a prisoner of war in Vietnam. He endured torture for seven years, including four years in solitary confinement.
Cameron asked Stockdale why he survived and the others didn't.
"They were all optimists," Stockdale said.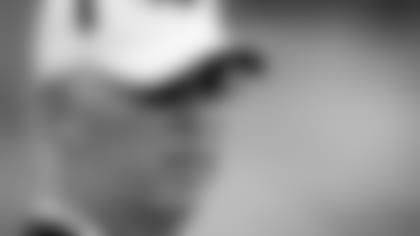 That outlook has helped shape how Cameron views handling the pressures of coaching in the NFL.
"I'm an optimist and a realist at the same time," Cameron said. "I'm not a worrier. I don't stress over stuff. But I'm not a guy that puts his head in the clouds either.
"Some people think that they're going to be an offensive coordinator in this league and everybody's going to like them. When everybody doesn't like them, it bothers them. That does not bother me one bit. I've got a job to do and I know how to do my job."
Cameron got a jolting reminder of how real NFL expectations are in 2007.
In his final season as offensive coordinator in San Diego, the Chargers finished the regular season with an NFL-best 14-2 record.
That wasn't good enough for Head Coach Marty Schottenheimer to keep his job, not after the Chargers were knocked out of the playoffs in their first game for the second time in three years.
"There's no circumstance that has taught me more about this league than that," Cameron said.
"You really have to put forth a world class performance every single week or there's no amount of wins that are good enough. You've got to realize that. The expectation is high."
By the time Schottenheimer was fired, Cameron was already settling into his new job as head coach in Miami.
The Dolphins went 1-15 in Cameron's first season as a head coach. He beat the Ravens in overtime of Week 15 to fend off becoming the first 0-16 team in NFL history.
Following the season, new management led by Executive Vice President of Football Operations Bill Parcells and General Manager Jeff Ireland fired Cameron.
Think Cameron hasn't felt the heat?
"You're talking about a guy who survived a 1-15 season with his head held high, who knew exactly what was happening to him," Cameron said.
"You talk about keeping a group of people motivated through that stretch. You learn a lot."
When Cameron arrived in Baltimore in 2008, the Ravens' offense had ranked in the top half of the league once in the past decade.
Last year, the unit ranked 13th in the league, its highest mark since 1997 and significant progress from the 22nd ranking it posted in 2007.
Cameron, the realist, knew it. He has high expectations for himself.
"I understand the business I'm in," Cameron said. "I understand it whole-heartedly and I have my eyes wide open."
After losses to the Cincinnati Bengals in Week 2 and New England Patriots in Week 6, Baltimore talk radio and message boards were ablaze.
"We go out and get another receiver," Mason said. "[Fans say,] 'Oh, we should be passing the ball for 300 yards!' We start passing it. 'No, we got to get the ball to Ray [Rice]!' We start giving the ball to Ray. 'No, we've got to pass!'"
Cameron was even called what Levy referenced to as "the two worst words a coach can be called – too conservative."
Cameron has a different take on the issue.
"The one thing I would think of our play-calling this year that is very obvious is that I have tremendous confidence in our players," Cameron said.
"Does it always work? No. But that's not going to deter my confidence in my players. I can't let public opinion affect the confidence I have in our guys. I'm not going to."
Asked for his thoughts on Cameron, Houshmandzadeh – who's also known for self-confidence – said, "I like Cam. I like his personality. He's one confident individual. Me and him, we're running neck and neck."
At the same time, Cameron is more than willing to accept feedback and suggestions – from his fellow coaches and players.
Cameron said he's called plays on direct suggestions from Mason and Anquan Boldin this year. Cameron remembered in 2008 when Offensive Line Coach **John Matsko** suggested each of the record-setting touchdowns runs by **Willis McGahee** and **Le'Ron McClain** in Dallas.
"He can take input, compartmentalize it, give it the value he feels he needs to give it, and make decisions," Head Coach **John Harbaugh** said. "As a play-caller, you've got to be able to do that and you've got to be able to do it quickly."
"Ninety-five percent of the time you look back on it and say, 'Hey, that's a really good decision.' He's willing to take chances. He's not afraid to put himself out there and he's got broad shoulders and he can handle the criticism. I think it's because he's very confident and that's because he's very good at it."
Cameron says he doesn't need to pick up a newspaper or turn on the television to know what's being said about him.
But he still flips through the daily clippings from around the media delivered to his desk every morning and has ESPN on the television sometimes late at night.
Cameron's human. He's not deaf to criticism. But if it bothers him, Cameron has his method for that too.
"My 20-minute ride home is my chance to run things through my mind," Cameron said. "It's huge. It's real important to me."
By the time Cameron's home, that's the end of it.
He's been married to his wife, Missy, for 25 years and he's raising four children (three boys and one girl) all 16-years-old and younger.
"There are certain things that this business can't take away from me," Cameron said. "One is my marriage. Two is my ability to be a good father and raise my family. Three, I'm not going to let the criticism get me.
"That's one of my non-negotiables. Once you know who you are, stuff like that isn't going to rattle you."