Chuck Pagano's cancer recovery and Baltimore reunion.
Jim Caldwell against his former decade-long employer.
The Colts in their former city.
The storylines surrounding Sunday's game at M&T Bank Stadium are intense.
Despite all that, there's still a game to be played. And Head Coach John Harbaugh reminded his team that it can't get too wrapped up in the emotion.
"That's something that we have talked to our team about a lot," Harbaugh said. "It's taking that energy and that emotion and focusing it at the task at hand and doing our job."
Many Ravens will likely shake hands and chat briefly with Pagano before the game. Safety Bernard Pollard talked about the love they have for their former defensive coach. That will only last so long, however.
"When the clock starts, when it's time to go, we've got to go play football," Pollard said. "What we need to do is get to the second round. What we need to know is that a team's coming here trying to beat us. We can't lose sight of that. We have to leave that mess in the locker room." [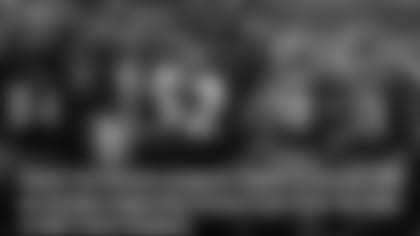 ](http://www.baltimoreravens.com/videos/videos/)
Lewis' pregame introduction will likely take the frenzy at M&T Stadium to epic proportions. His teammates now crowd around the entrance to the field, joining in on the festivities with the linebacker.
Defensive Coordinator Dean Pees told a cautionary tale about not letting emotions run too rampant. He learned that when he went to the Super Bowl with the New England Patriots.
"Don't go out and go crazy for the first five minutes and everybody is jumping up and down, and 10 minutes into it everybody is gassed or hyperventilating," Pees said.
Quarterback Joe Flacco, a typically cool customer, said he would be the first to tell somebody that they're making too big a deal of fairytale storylines impacting the outcome.
"For whatever reason, they usually end up not being too big of a deal," Flacco said. "I think we have a pretty powerful kind of emotional feeling – emotional back – with Ray [Lewis] on our side. If they do mean something, I think we have the leg up."
LB Ray Lewis vs. QB Andrew Luck
Lewis has been intimidating quarterbacks for years. Now he'll step onto M&T Bank Stadium field for perhaps the last time, a thought that will surely have the inside linebacker on an emotional high. What must Luck, a rookie quarterback, think when he looks across the line of scrimmage and into Lewis' intense eyes? Luck is susceptible to mistakes (18 interceptions), and he could be in line for more if he's rattled.
S Ed Reed vs. WR Reggie WayneLike Lewis, Reed could also be playing his final game at M&T Bank Stadium. He'll play opposite the man who he said taught him how to cover when they were both at the University of Miami. Despite being 34 years old, Wayne is still one of the league's top receivers and notched an eighth season with more than 1,000 receiving yards this season (1,355).
LT Michael Oher vs. OLB Dwight FreeneyThe Ravens' chief priority on offense is to keep Joe Flacco upright. When he has had time this year, Flacco has put up big numbers – especially at home. Freeney has been on the decline as his five sacks this season are a career low when playing more than nine games. Fellow outside linebacker Robert Mathis has eight sacks this season.
How much are Ravens affected by Lewis' return/retirement?Lewis' return could have a two-pronged effect. First of all, his teammates will be amped up after saying they owe it to Lewis to send him out the right way with a second Super Bowl win. That desire and intensity will be interesting to see. The now healthier defense is also getting its general back in the middle of the field.
Is Flacco ready to carry Ravens?Flacco said there is no carryover from his AFC championship performance in New England last year when he outdueled New England's Tom Brady. That was the best Flacco has ever looked in the playoffs. It's been an up-and-down [added hyphens] year for the Ravens quarterback in 2012, but if he can rekindle that playoff magic it could mean a run for Baltimore.
Does experience matter?
The Colts are young, led by a rookie quarterback who is surrounded by rookie tight ends and a rookie receiver in T.Y. Hilton. They're facing a Ravens team making its fifth-straight playoff trip. Pagano said his team may be better off because they don't realize the magnitude. But is it better to be naïve or experienced?
Ravens
Total Defense – 350.9 (17)
Rush Defense – 122.8 (20)
Pass Defense – 228.1 (17)
Points Allowed Per Game – (21.5) 12t
Total Offense – 352.5 (16)
Rush Offense – 118.8 (11)
Pass Offense – 233.7 (15)
Points Scored Per Game – 24.9 (10)
Colts
Total Defense – 374.3 (26)
Rush Defense – 137.5 (29)
Pass Defense – 236.8 (21)
Points Allowed Per Game – 24.2 (21)
Total Offense – 362.4 (10)
Rush Offense – 104.4 (22)
Pass Offense – 258.0 (7)
Points Scored Per Game – 22.3 (18t)