For every home game at M&T Bank Stadium, a member of the public relations team writes a feature story on a Ravens player in the gameday program. Linebacker Daryl Smith is featured in the Redskins vs. Ravens preseason program.
In the NFL, you either have one, or you don't. If you have one, you win. If you don't have one, it's going to be a long season.
In Baltimore, we have one…
When he first stepped foot in the Ravens' locker room, he was "Shane Falco" (the quarterback from the popular movie The Replacements that was filmed in Baltimore). Linebacker Terrell Suggs, who loves to rib his teammates, first dubbed him as Shane Falco in his rookie year (2008). Quietly and steadily, he gained Suggs' respect. The Ravens' 12-year vet now calls him by his given name: Joe Flacco.
"He EARNED me calling him by his real name," declared Suggs. "I would say, in 2011, just with his play. When we took the AFC North, you felt like he kind of came into his own. His confidence shot up, and he played really well for us that year. You can't deny the wins. The kid's a winner."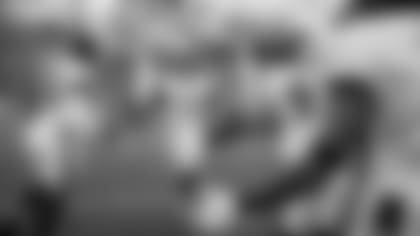 The "kid" has now been winning NFL games for six-plus years. He has the most regular season victories (62) by a starting quarterback in the first six seasons of his career. Joe has produced the most wins (71, including playoffs) by an NFL starting quarterback since 2008, his rookie season, and is the only starting quarterback in NFL history to win a playoff game in each of his first five seasons (2008-12). And, of course, he earned the Super Bowl XLVII MVP award.
His body of work is what Ravens fans love; his cool and calm disposition is what they have come to embrace. Flacco has not missed a start in his career, while re-writing the franchise's record books. Yet, Flacco is still the same guy that poses for photos and engages with Ravens fans while out with his family, endearing Joe to the blue collar Baltimore community.
For nearly two decades, there was a towering, ever-present Ravens leader with Ray Lewis. When he retired, there were questions about who would fill that that void and what leadership style would be employed. Flacco, along with other veterans, took the reins.
When asked about the discussion of leadership and how one should lead, Flacco leaned back in his chair and smiled, and in his typical low-key manner, firmly declared: "Leadership starts with being a person that people can trust and a person that people see every day doing their job at the highest level.
"I think everybody has a different way of doing it. Sometimes the best leaders are people that aren't necessarily looking to be that guy, but because they are the way they are, they've kind of been lifted by their peers and rise up to be that guy. Everybody around them has so much respect for them and can see what that guy is going to do for them."
Over the years, Joe has earned respect from his teammates and peers and has led in his own way.
"Obviously, I'm not the most outspoken person. I think at some point, everybody has to be able to voice their opinion in some way. If you're going to be the leader, you have to get the message across to everybody in that locker room. But, like I said, I think without the trust, you can say whatever you want, but it's not going to mean anything. The real key foundation to all that stuff is the trust and being able to perform when it comes down to it."
And "Cool Joe," as Suggs also calls him, has performed on the biggest and brightest stage. But his signature style has never changed. Flacco believes that you earn a leadership role, as does his close friend and teammate, Dennis Pitta.
"Joe is a leader by example, which I think all good leaders are," shared Pitta. "You can be a vocal guy, but if you're not taking it to the field and showing it with your work ethic and how you play and your confidence on the field, it doesn't really matter much. He is able to stay level-headed in any situation. He's able to stay poised. He doesn't get too high or too low, depending on what's going on in the game, but he goes out and works hard every day and stays poised and confident, and that rubs off on other people."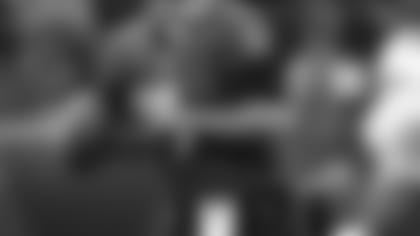 For many professional football players, the honors they earn help define their career and themselves as successes in the NFL. Flacco's football highlights make him proud, but, the most important accomplishment for Flacco over the past couple of years is being a good husband and father.
"Listen, football, for so long, has been one of the most – if not the most – important thing in my life, and all of a sudden, you have a family," gushed the smiling quarterback. "You have a wife, you have kids, and they're the No. 1 thing – without a doubt. They make this experience even more special."
There is a delicate balance between being a professional athlete and strong family man.
To be successful at both, you have to be selfless and selfish, confident and humble all at the same time. Being willing to step up in good times and bad, accept the praise and criticism. Particularly while in the highest profile position in sports, keeping a level head is not easy, but Flacco dances that fine line like a seasoned veteran.
Flacco has been successful in basically everything he has done at every level, but even he couldn't have foreseen what he has done so far during his relatively young professional career.
"I didn't really dream about individual things," acknowledged Flacco. "I dreamed about winning, but I don't think they were things that big. I think you have to imagine, before they come true. You do have a big-time imagination, and you see yourself doing some big-time things. As you kind of go out there and put the work in to get yourself to actually be in a position to do those things, you look up, and all of a sudden you have your body of work."
Flacco's body of work speaks for itself, which is a good thing, because you won't find him talking about himself very often. When asked about the ring he earned winning Super Bowl XLVII and where it is, he laughs and blushes a little.
"I don't like to show anything off. I love having it. It's like one of those things that's in my back pocket. I don't need to wave it in everybody's face. You either know, or you don't know that I have one, and that's enough for me. I know I have it, and I know what it looks like, and I know that it's pretty sweet."
In the NFL, you either have one, or you don't. In Baltimore it's pretty sweet to know that we have one.