Cover Story: The Fire Still Burns for Justin Houston
On the verge of 100 career sacks and going against his former team, outside linebacker Justin Houston rescued two brothers from a raging fire as a youngster and overcame adversity to become one of the NFL's premier pass rushers.
---
---
When Justin Houston was in the ninth grade, his family's home in Statesboro, Ga. was destroyed by fire. Houston was talking on the phone when the line went dead. Then he smelled smoke, went into the hallway and immediately saw flames.
Houston ran outside, but quickly realized that two younger brothers were still inside.
At that moment, it wasn't about getting to the quarterback. It was about getting to Tylen and Aaron.
"I just took off and ran inside to get them," the Ravens' 32-year-old outside linebacker said. "Fortunately, I knew that house so well, I could get around the place with my eyes closed. It was pitch dark and the smoke was heavy, but I knew they were in the back room. I ran in there screaming their names. They came running and found me. And we got out."
Houston is too modest to describe himself as a hero. But his family does.
"That's Justin," his mother Kimberly said, sobbing on the phone recently as she recalled that day. "He saved my boys."
That day changed Houston's life in ways that are hard to fathom. His mother and 10 siblings were left with no place to live and all their worldly possessions gone. The community in Statesboro rallied around Houston's family, teaching Houston that people are far more important than possessions.
"As far as material things, if you weren't wearing what you had on that day, you lost it," Houston said. "Thank God, we had people in the city to help us – the school, the churches, because we really had nothing."
The fire took Houston's home, but it couldn't take his determination. Eighteen years later, he is one of the best pass rushers of his era. With 98.5 career sacks heading into the Ravens-Indianapolis Colts matchup on Monday Night Football, Houston is the next NFL player in line to reach the 100 career-sack total. Among active players, only Von Miller (110.5), Chandler Jones (102) and J.J. Watt (101) have more.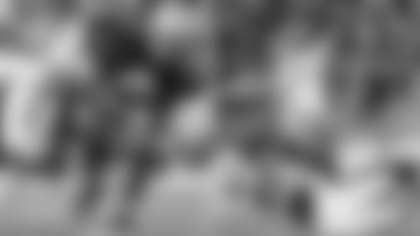 Houston has chased quarterbacks his entire career and caught many. But a Super Bowl ring has eluded him. That's the main reason he signed with the Ravens before this season, despite more lucrative offers elsewhere. He believes they have a chance to win a championship, and Houston will do whatever it takes to help achieve that goal.
"At this point, it's the main reason I'm playing," Houston said. "I'm not going to play with just any team. But we have the pieces to be special."