For every home game at M&T Bank Stadium, a member of the public relations team writes a feature story on a Ravens player in the gameday program. Linebacker Daryl Smith is featured in the Redskins vs. Ravens preseason program.
This is a feature story about someone who isn't concerned about being featured. Frankly, it's a story that's somewhat difficult to tell.
To this player, descriptive words, revealing anecdotes and expressive explanations aren't all that important.
You see, this player would prefer to let his actions tell the tale. He doesn't care for colorful name recognition. He'd rather show up, suit up and then ship out – leaving behind only a track of toughness and triumph for others to talk about.
"The spotlight isn't something I look for," he says unassumingly, in a uniquely low-key, Southern drawl. "I don't need all the lights turned on me. I just go about my business and help the team. I'm just trying to play my role."
It's a role he's perfected throughout his 11-year professional career – one that, statistically, has elevated him into the upper echelon of NFL defenders, yet surprisingly, has never earned him Pro Bowl honors.
"He's always been one of the best players," Ravens Inside Linebackers Coach Don Martindale states. "Anyone who's ever been around him will tell you that."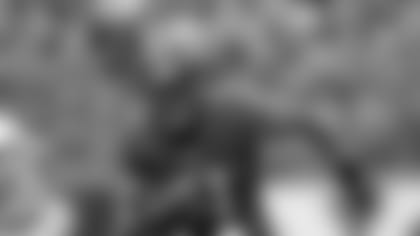 Just look at what this player did last season. In his first year in Baltimore, he accomplished something no other Raven ever has, producing at least 100 tackles, five sacks and three interceptions.
Charm City faithful had never seen a performance like this – not even from the iconic
Ray Lewis.
"I thought he had a Pro Bowl season," Martindale adds. "He had the stats to prove it. Last year was the best year of his career.
"But the season he had was just like him – it was under the radar. People in Baltimore probably know about it, because this is their team. The inside linebackers coach definitely knows it, because he's my guy. But everyone else outside of here? I'm not sure they realize."
Why this player isn't a household name across the country can only be surmised. Perhaps it's because prior to arriving in Baltimore, he played for an unheralded Jacksonville club that was rarely exposed to the limelight.
Or maybe it's related to his humble and easy-going nature, something that draws a heap of affection from those close to him, but also a bulk of anonymity from those who aren't.
"Here's the frustrating part about him: Because he's such a good guy, you want him to get the recognition," Martindale continues. "But one of the reasons he's such a good guy is because he doesn't need the recognition. It's a double-edged deal."
That said, this player's teammates know exactly who he is and what type of impactful presence he consistently provides.
"He's a guy who isn't extremely vocal, but he's a leader and demonstrates the proper example through his actions," affirms tackle Eugene Monroe, who similarly, played for Jacksonville before joining the Ravens last season. "It was cool to see our Jaguar teams gravitate toward that. Now, in just a short time in Baltimore, this team has done the same thing.
"He's the same guy today as he was when I first met him. He's a hard worker and a professional, and he always approaches the game the right way. That is how he leads."
Ask Martindale to describe this player in three words, and without hesitation, he arranges a trio of adjectives that pinpoints the types of figures Baltimore has come to embrace with pride.
"Smart, tough and productive," the coach states.
Or talk to Terrell Suggs, the man who currently carries Baltimore's torch of defensive dominance and is a prime example of what it means to "Play Like a Raven."
"It's easy to see why he fits in Baltimore," Suggs declares. "We have a certain style and standard that everyone must live up to. He has done that since first walking through the door.
"This man is talented, physical, prepared and dedicated. He understands our brotherhood and how we go about our business. He doesn't take it lightly, because he knows it's a privilege to be a part of it."
The 2013 offseason was filled with new names and potential for Baltimore's revamped defense. Following the departure of the legendary Lewis, high-profile additions of players like Chris Canty, Elvis Dumervil and Arthur Brown had fans and media members buzzing. However, publicly, the signing of one significant player was more ho-hum than headlining. Internally, though, Ravens coaches and players were ecstatic when he joined their team.
"It was evident as soon as he came here to practice that he was the guy," Martindale says. "The more we got to know him, it just stamped that he was the right guy, because he didn't make it too big that he was the next middle linebacker after Ray Lewis.
"He has a total and utmost respect for Ray, but never last year did he try to be Ray Lewis. Really, he was the perfect guy for that time."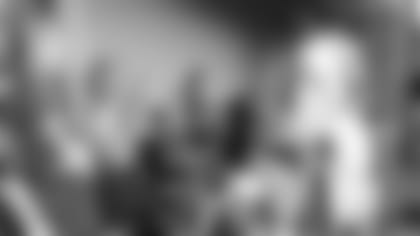 In just his second home game wearing purple and black, this reserved player burst onto the Baltimore scene. On a day when Lewis was being inducted into the Ravens Ring of Honor, he performed in a manner that made the future Hall of Famer beam with pride, producing 10 total tackles and an interception returned for a touchdown.
"The way he came out of the gate was incredible," Martindale acknowledges. "For him to have that type of game, I think Ray was excited for him, and I know he was excited for Ray [to be inducted into the Ravens Ring of Honor]."
Throughout his illustrious playing career, Lewis often talked to his teammates about the legacy they hoped to leave. "What will you do to make your mark, and how do you want people to remember your name?" the gregarious Lewis would boom.
So how does Baltimore's current starting middle linebacker respond when posed those complex questions? He does so in a contemplative – yet perplexed – manner, first noting how he's never actually thought about an answer.
"I guess if someone brings up my name years from now, I want them to say: 'He was a pro who came to work every day. He did his best work, he was a good teammate, and he was a consistent person.'
"If that's what they say when they bring up my name, I'll be good with it."
This is a feature story about someone who isn't concerned about being featured.
The player is Daryl Smith. And though he doesn't need the attention, at some point – whether it's in the near future or far down the line – his name is one that will be difficult to ignore.