DeAngelo Tyson will never forget his seventh-grade Christmas.
He wanted a CD player and a pair of black Air Force One tennis shoes.
Tyson put those two items on his Christmas list and handed it to Kim Lamb, his school teacher who gave him support while he was living in a boys group home.
"She got me what I wanted," he said.
The shoes and CD player weren't all he got. Kim and her husband Chris eventually welcomed Tyson into their home.
What started as a Christmas gift has turned into a new family.
"That's my mom and dad," he said. "I'm proud to say that's my family. I say that's my blessing because without that I probably wouldn't be where I'm at right now."
Now Tyson is in the NFL, hoping to earn a spot with the Baltimore Ravens after they drafted him in the seventh round this year.
The defensive lineman from Georgia has a story similar to that of Michael Oher, which became a bestselling book and a Hollywood blockbuster, "The Blindside."
"Some people say that I have a 'Michael Oher story,'" Tyson said. "It's similar, but I'm pretty sure that everybody goes through struggles and you just can't get down in the dirt."
Living In Fear, Searching For Consistency
Tyson grew up in a broken home. His father was not in his life and his mother was abusive. Not only would Tyson's mother beat him, but so would the different men she brought home.
"I don't think a young child should be scared of their mom," Tyson said in a monotone voice. "I think at that time, that's what I was: scared."
One beating, which was set off by Tyson eating something his mother didn't approve of, was so bad that neighbors called for help. That led to 10-year-old DeAngelo getting taken out of his mother's home for good.
The Department of Family and Children Services found a new place for him to live: the Joseph Home for Boys. Tyson moved into the group home in Statesboro, Georgia, where he lived with as many as 14 other boys, who all came from similar situations.
From the time he first arrived at the home, Tyson stood out.
Unlike most of the boys, who ranged from ages 6-21, Tyson kept to himself. He spent most of his time in his room, playing an electric keyboard. While the other children were rambunctious, often acting out at school and home, Tyson was the exception.
"A lot of the kids are real outgoing, real in-your-face," said Suzy Wagner, an employee at the home for the last 25 years. "To compare D to the boys here, you really can't do it."
Tyson's quiet demeanor, which he still carries with him today, is a result of his upbringing, Wagner said. After his early years in an abusive home, Tyson learned to keep to himself.
"D very rarely will talk," said Wagner, whom Tyson views as one of the most influential people in his life. "That's his personality and also how he was raised by his mother. He just makes sure that people can't judge him."
Life at the group home was a total change for Tyson. It provided him with stability, something that never existed as a young child.
He knew that breakfast would be ready in the morning and tutoring would be available once he got home from school. After they finished homework, Tyson and the other boys could go outside and play basketball for a few hours.
They had chores and a bedtime.
"It wasn't normal for me," Tyson said. "It was a different environment. I wasn't sure how I would get treated. I wasn't sure what I was getting into at that young age."
Tyson lived at the home into his middle school years and grew more comfortable with the way of life, but he still never lost the desire to be part of a family.
When Tyson made it to middle school, he met the couple he would eventually call "mom" and "dad."
Kim Lamb taught life science and her husband Chris was a middle school football coach.
Tyson was a student in Kim's class and the two connected almost immediately.
"D and I just formed a bond," Kim said in her strong southern accent. "It was a God thing. The Lord works in mysterious ways."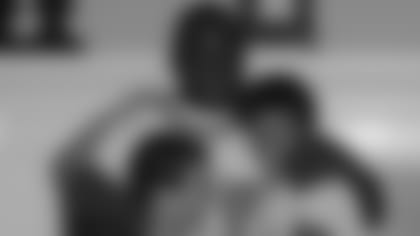 Kim has an outgoing talkative personality; she's a church-going woman with a genuine desire to help people. She knew that Tyson lived in a group home and that his biological family was not in his life. At the time, she felt badly for him and wanted to help.
She started by reaching out on holidays.
The group home would close on the holidays, so the boys would often go spend the day with members of their family. If their relatives weren't able to take them in, then the boys would go spend the day with a foster family that they typically didn't know.
One Thanksgiving, Tyson didn't have a place to go, so the Lambs invited him to join them. Kim and Chris filled out official paperwork with the group home to allow Tyson to spend time with them, and things continued to build from there.
Tyson lived at the group home throughout high school, but would spend weekends, holidays and summers at the Lambs. He would come and play with their two younger boys, Taylor and Jake, now 19 and 17, respectively.
Taylor and Jake loved having another guy around the house to hang out with and play games, and the three boys quickly formed a brotherhood.
"They could not be any more blood brothers," Kim said. "It is amazing how they're so much alike."
As Tyson spent more time with the Lambs, he began to see himself as part of their family.
She noticed he would leave small items like a T-shirt or toothbrush at their house. When she would bring the item to school to give it back to him, Tyson would tell her that he didn't need it anymore.
"Then it dawned on me," Kim said. "He was leaving pieces of himself so he would have something to come back to."
Kim filled a role in Tyson's life that his biological mother never did. She was nurturing and receptive, and as Tyson matured, she helped guide him through life.
"She is the one that took the first step of bringing me into their family," Tyson said. "I have a beautiful mom and without her I probably wouldn't be here today."
They talked about everything.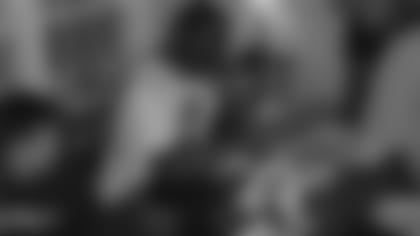 He told her about his past and she warned him about challenges he could face in the future. Kim vividly remembers sitting in her car telling 14-year-old DeAngelo that people would come out of the woodwork looking for a "piece of the pie" if he ended up being successful.
They talked about homework and girls. She even gave him the "birds and the bees" talk.
"We had the whole sex talk." Kim said. "I talk to him just like he's mine."
When she mentions her family, she refers to Tyson as her oldest of three boys.
"I tell everyone that he's the easiest delivery I ever had," she joked.
During Tyson's junior year of high school, the Lambs moved and built a new home. When they built the house, they had a bedroom for Tyson. He had clearly become a member of the family, but Tyson still had reservations about whether it would last.
"Did you build my room to be my room?" Tyson once asked Kim. "Did you know [it would be mine] for the long haul or did you just build an extra room?"
"That was your room," Kim assured him.
Even after Tyson continued to build the family relationship with the Lambs, he still had a desire to know his biological relatives. His parents had never truly supported him, and he wanted badly for them to want him.
"I felt like I was thrown away by my biological family," Tyson said.
That feeling only worsened when his parents and siblings made failed efforts to re-enter his life.
"I remember getting phone calls from my biological mom that she wanted to come see me, but she would never show up," Tyson said. "That kind of hurt."
During his junior year of high school, once he was a big-time college football recruit heading to play for Georgia, the phone calls started again. Relatives he hadn't spoken to in years were suddenly looking for a way back into his life.
"That was a very tough time because I didn't know how to deal with it," Tyson said. "I always wanted my biological parents, my biological siblings, just my whole biological family to be part of my life because that's what I used to have."
Tyson ultimately cut out all the people who were looking for a way into his life and the NFL fortunes that could potentially come with it. He now has no relationship with any of his biological relatives.
The Lambs are his family.
"I've just got the people that have always been there: Suzy, Kim and Chris," Tyson said. "Their family is my family. I'm part of that family."
Football was not always part of life for Tyson.
But when he entered the eighth grade, a year after meeting the Lambs, he decided to give the game a try.
Tyson was more of a basketball fan, but a number of friends were playing football and he thought it was worth a shot. Plus, it gave him something to do after school so he didn't have to go back and sit at the boy's home.
Football was the perfect release.
"I kind of used all the built up anger I had with football because it's a very physical contact sport," Tyson said. "That helped me to release my stress."
Before he ever stepped onto the field, Tyson had the natural gift of size.
"As a 10-year old, we looked at his hands and he could hold a basketball in his hands," Wagner said.
Tyson, now 6-foot-2, 315 pounds, played defensive line from the time he first put on the pads.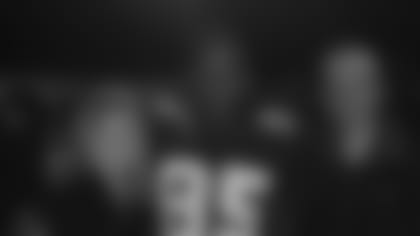 He starred during that eighth-grade season, but when he got to high school, Tyson didn't have much interest in continuing to play. The game simply wasn't very fun to him.
Statesboro High School coach Steve Pennington set out to change that. He saw tremendous potential in Tyson and didn't want it wasted. Pennington paid a visit to the Joseph Home For Boys to talk. He drove up in a little blue truck and found Tyson out back shooting hoops. Pennington convinced Tyson to join the team.
Despite his reluctance – Tyson said he almost felt forced into playing – he went on to have a stellar high school career.
Tyson was a Parade All-American and USA Today First-Team defender. He was offered a scholarship to the University of Georgia during his junior season and was one of the state's top prospects.
"As the years kept going, people always told me that this would be my ticket out of Statesboro," Tyson said. "I never thought I would be able to go to college, but I used football to get me there."
Learning To Love The Game
On the football field at Georgia, Tyson had to confront the reality that he still didn't love playing the game.
Once he reached his sophomore year of college, Tyson got to a point where he needed to tell his coaches about his lack of interest. He sat down with his position coach Rodney Garner for guidance.
"I told him, 'Coach I don't really like playing football. I just do it to do it,'" Tyson said.
Garner responded by telling Tyson, "I'm going to pray that you get out of that mindset because you can be a great player if you grow to love it."
From that point on, Tyson began to see a change.
"Ever since we had that talk, I grew to love football," Tyson said.
Tyson then went on a tear the next two seasons. He was named a team captain and started 23 out of 24 games during his junior and senior seasons, developing a reputation as a run stuffer and player who can get after quarterbacks.
The performance over those two years attracted the attention of NFL scouts and earned Tyson an invitation to the scouting combine. Getting the invite to the combine was the first time that Tyson truly realized he could make it to the NFL.
"You always hear all these statistics about not many people making it to the NFL," Tyson said. "I thought getting invited to the combine might be that first step."
The next step came on draft weekend, when the Ravens selected him as the 236th-overall pick. He's now out to prove he belongs in the NFL and is fighting for a spot on the Ravens roster.
"Everything happens for a reason and I'm glad I stuck with it," Tyson said. "Now I'm able to fulfill my dream of playing in the NFL."
Back at the group home in Statesboro, some things have changed. Instead of 15 boys running around the house, there are now just six. They're coming from backgrounds similar to Tyson's and looking for a way to overcome their situations.
Tyson's story provides hope. He is one who made it out.
"All of the kids look up to him," Wagner said.
The boy who Kim described as a "child of Statesboro" now has a chance to succeed at the highest level.
He's fought through the abuse and the broken promises. He developed a love for the game of football and found a family he can call his own.
Unlike his early childhood, Tyson now has people standing with him, offering support.
"Everybody is rooting for D to succeed," Kim said. "He's been through a lot and he's worked hard to overcome. Many people that have been through some of the things that D has would be a bitter person. And DeAngelo is not."
Tyson is proud of where he is today and says that he has been able to forgive those who have wronged him in the past.
His focus is on moving forward, working to succeed in the NFL and no longer allowing his past to distract him from where he is headed.
"I used to be shy and not want to talk about it," Tyson said. "But I'm getting older and I see that I can overcome. I've been through a lot of stuff and I overcame it, so there's no point of holding it back.
"It's like a testimony. Maybe somebody out in the world needs to hear it because they're probably in the same situation that I've been in and probably need some guidance or just somebody to let them know that everything will be OK."