For every home game at M&T Bank Stadium, a member of the public relations team writes a feature story on a Ravens player in the gameday program. Outside linebacker Elvis Dumervil is featured this week.
On a cool October morning, Elvis Dumervil draws near the practice field with his helmet in hand. Before stepping foot onto the freshly-manicured grass, Dumervil drops to one knee with his head bowed and a fist against his chest. He quietly gives thanks for another opportunity to play the game he loves.
For as long as he can remember, football has been Dumervil's way of life. The formidable pass rusher spent the first seven years of his stellar NFL career in Denver, setting franchise marks and the league standard with 17 sacks in 2009. His dominant performances on the football field have earned him three trips to the Pro Bowl and numerous other honors.
Dumervil was a once-beloved Bronco, but an infamous fax fiasco in March of 2013 abruptly sent him to the free agent market. Teams across the league aggressively began clamoring for his services.
From the start, Baltimore was labeled as an ideal landing spot for the veteran pass rusher – it had a notorious reputation for enticing stalwart defenders. Within 10 days of his unexpected release, the Ravens made a splash and stole national headlines by signing the highly-coveted Dumervil to a five-year contract.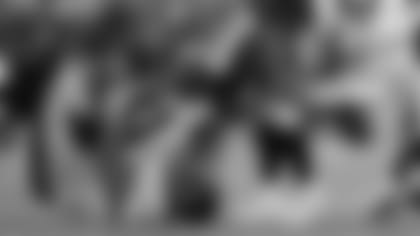 "So many great players have played here," Dumervil recalled. "That's the reason I chose Baltimore, because of its great defensive history. I want to be remembered as somebody who fits that class, as somebody who is relentless and fearless. I want people to remember that's the way I approach this game."
Perhaps it was the bizarre course of events that unfolded that early spring day, or the sudden and unexpected upheaval to his football career, but he had been transformed. Dumervil's priorities shifted, and his outlook on life and football were refocused.
He might not have known it then, but it would be a defining moment – and choosing the Ravens was just the beginning. His resolve would be tested, and soon, football would take on new meaning.
"Football used to be a job for me, but now it's more something I love to do," Dumervil explained. "It doesn't define who I am, and I think that can be a difficult thing for people to grasp. As long as I can keep it in that realm, it's never going to be a job – and that has really helped me find such love for the game again."
What has defined Dumvervil's storied nine-year career is his knack for finding the opposing team's quarterback. At 5 foot, 11 inches and 255 pounds, Dumervil is smaller than the prototypical outside linebacker. But what he's lacked in stature, he has more than made up for in the passion and intensity with which he plays the game, often running through offensive linemen weighing almost 100 pounds more in order to take down his sought-after target.
Although Dumervil finished second on the Ravens defense with 9.5 sacks in 2013, he mostly regarded his inaugural campaign as a disappointing one. In addition to learning a new scheme, he was hampered by a lingering ankle injury that he believed prevented him from producing at the highest level, which he had hoped to achieve when he signed with Baltimore.
Despite his frustrations, Dumervil maintained his strong faith, and his devotion to life and football helped him persevere. Fully healthy, he trained diligently this past offseason, throughout OTAs and minicamps. He relied heavily on his belief in Christ to guide him in the right direction. That much had been evidenced by the way he was preparing for the 2014 season.
"He is as good a pro as I've ever been around," Linebackers Coach Ted Monachino explained. "Elvis came back [to our offseason practices] focused and committed to the things that we were asking him to do. But ever since I've known him, Elvis has always been a great example both of what a pro football player and what a man should be."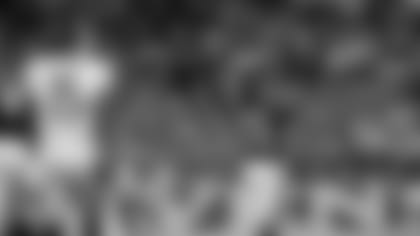 Being a pro has been just the threshold for Dumervil. He has embraced his Baltimore arrival, and enjoys being a part of the community. He has rededicated himself on and off the field and is relishing the fastest start to a season since his historical '09 campaign. 
"A lot has happened, and I've matured in a lot of ways from the situation in Denver," Dumervil stated. "It's not about what happens, but how you respond to it. Personally, in my life, I've grown a lot. Ever since I've been here, I've really changed my lifestyle. I'm not perfect, but I've come a long way. And really the biggest difference being here now is that I'm healthier. I'm being more of a professional and taking care of myself and my body, and honestly it shows."
Maybe it was a change of scenery that Dumervil needed. Perhaps his trust in his faith guided him to signing with the Ravens and was the first step to reestablishing his love for the game. But regardless of why, Dumervil dons the purple and black with pride, and he does it for many reasons other than taking down the opposing team's quarterback.
"It's a great football town. The atmosphere is amazing, and we're just getting started. I've been embraced here, and I love it. I feel really at home.
"This is also one of the best defenses I've ever been a part of. We've got so many unselfish players and an extremely selfless team. That's something I'm learning more about, too. Being a part of this has been a great learning experience for me. Sometimes as you lead people, you learn along the way. It's a great opportunity, and I think we have a great chance to do some special things as long as we play like Ravens." For Dumervil, it took finding himself before finding a home here in Baltimore. Regardless of his football accolades, Dumervil's finest achievement has been prospering through adversity. Through his relentless and fearless approach, he's proven himself a key cog to the Ravens defense – and has proven to himself that it's because he loves to play the game.