Running out of the tunnel, hearing the crowd and slapping his teammates' hands was the most emotional part of Dennis Pitta's feel-good return to the field Sunday.
After two years away from football, Pitta returned, made a vintage 27-yard catch while completely covered and got out of the game healthy. He got the first game out of the way.
But before the emotional injury can be put completely in the rearview mirror, Pitta has one more reminder coming this Sunday. He'll return to the place where he suffered his second hip injury.
Pitta fractured and dislocated his hip for a second time on Sept. 21, 2014 in Cleveland. It came after he caught a ball and turned up field. Pitta wasn't even touched, but stumbled, then crumpled to the turf in pain. He immediately knew what had happened.
When he goes back to FirstEnergy Stadium Sunday, his comeback will come full circle.
"I think the last time I played in Cleveland was a pretty big low point. That was probably the lowest," said Pitta, who was told by some doctors, friends and family that he shouldn't play football again.
"The last time I was on that field, it wasn't the best memory. [But] I don't anticipate really even thinking about it. I'm just excited for another opportunity to be on the field and get a little bit better."
Once the regular-season opener against Buffalo started, Pitta said his pre-game emotions flew out the window. He was just playing football.
Good friend and quarterback Joe Flacco forgot it was Pitta's first game back until he heard the crowd at M&T Bank Stadium cheer following Pitta's first catch, a 7-yard grab that Pitta had to hit the turf for to pick up a first down. [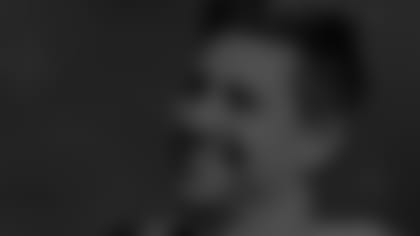 ](https://itunes.apple.com/us/podcast/baltimore-ravens-the-lounge/id1142013759 "Subscribe To The Lounge Podcast")
"Not to sound cold or anything, but I really didn't think about it too much," Flacco said. "It was funny when he caught the pass, obviously the place erupted a little bit. I said to myself, 'I guess that was the first pass he caught today.'"
Pitta finished his debut game with three catches for 39 yards. He dropped one other pass that he would usually catch. Pitta received the Ravens' lowest offensive grade (minus-3.2) from Pro Football Focus, who docked him for his pass and run blocking.
"Last Sunday was certainly exciting for me to be back out there, but it was not perfect by any means on my end," Pitta said. "It was good to get a game feel back and get that under my belt. I hope that I can continue to improve as the weeks go on."
"It was good to see him out there. When you take a minute and look back instead of ahead – there's not a lot of time to look back, but certainly, when you look back on his journey it makes you feel really good about where he's at right now," Head Coach John Harbaugh added. "Now the thing is, we're both talking about, 'OK, here's where we have to go from here.' You move right into the next thing."
Pitta feels like he can get back to the player he was during his breakout 2012 season when he caught 61 passes for 669 yards and seven touchdowns. But it doesn't happen overnight.
In addition to the two years away from football, his training camp was cut short and he didn't play at all in the preseason after breaking a finger in a practice scuffle with rookie linebacker Kamalei Correa. Pitta said that was frustrating, but was lucky it didn't cause him to miss any regular-season action.
"Now, it's just about continuing to get the feel and everything down," he said.
Pitta said he physically feels "great." The mental battle is less within Pitta and more with his family, which will certainly be watching Sunday's game with their hearts pounding.
"My wife is still nervous to the day to watch me out there, and she was nervous last Sunday," Pitta said.
"I think everybody around me – the people that are important to me and matter to me – are supportive and understand this is certainly my decision and that I'm smart enough to make an informed decision when it comes to my health."