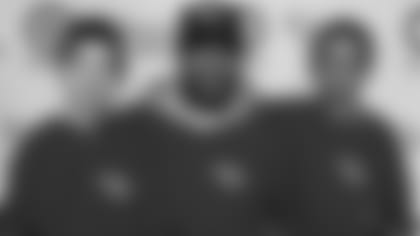 Old Saint Nick may have breathed a sigh of relief this week as two of the Ravens' receivers strived to ease his holiday workload.
Derrick Mason and **Anquan Boldin** enlisted the help of several teammates and cheerleaders on Thursday (12/16) evening to personally escort local youth on a holiday shopping spree through the Pikesville, Md. Target store.
Now in its 6th year, the annual Holiday Helpers event reached out to children, ages 6-14 in an effort to offer them a holiday season they wouldn't forget.
The escorts guided youth through the aisles of toys, clothes, electronics and more to help make their holiday dreams come true. Whether it was getting the Barbie doll they had been asking for all year long, or discovering the perfect gift to give to a loved one, the holiday helpers were sure to help them find it.
Mason, who started the event in 2005 – his first season in Baltimore – with former cornerback Samari Rolle, proved that he was a seasoned pro, guiding not one, not two, but five children through every aisle and corner of the store.
Armed with three shopping carts, the 14-year veteran piled up clothes, games, movies and action figures for the four sisters and their brother. His goal was to give the family "the best Christmas ever."
And what would the "best Christmas ever" be without some old-fashioned caroling to top it all off?
As Mason and his crew made their way to the girls' clothing section, the receiver decided to make a surprise stop at the event's DJ booth. With a little persuasion, the kids were willing to join him in singing (or attempting to sing) "Jingle Bells," as fellow shoppers passed by.
Through the Derrick Mason Foundation and the Anquan Boldin Foundation, both receivers donated funds to provide the gift cards necessary for the 6th Annual Holiday Helpers.
To learn more about the respective player foundations, click here.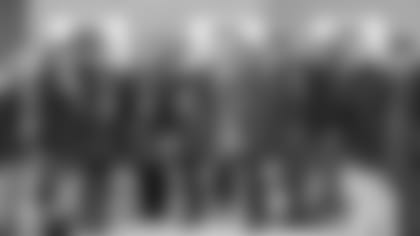 Lady Ravens Shop for Local Families**
A number of the Ravens players' wives visited the Owings Mills, Md. Sam's Club Thursday morning to do a little holiday shopping for local families in need.
The wives joined forces with the Salvation Army to provide gifts and household necessities for 10 pre-selected area families. With $800, and a list of possible gift ideas, the women were able to purchase everything from blankets and clothes to TVs and toys, as they hoped to brighten the holidays.
Among the wives in attendance were Adrianna Birk, Dionne Boldin, Sarah Carr, Nicole Cundiff, Christina Ngata and Jazmin Wilson. **