The 40-yard dash times for Georgia's Knowshown Moreno and Chris "Beanie" Wells of Ohio State, whom many pundits have rated as the draft's two highest rated running backs, didn't necessarily blow anyone away.
Wells, the 235-pound bruiser, ran a 4.59-second 40, while the slashing Moreno was given an unofficial 4.62 by the NFL Network.
That the top pair of backs turned in such pedestrian times is a far cry from the blazing speeds offered by last year's prospects, when Chris Johnson wowed viewers with a 4.25 clocking and Darren McFadden posted a 4.33.
Still, it does not mean there is a lack of talent in the 2009 crop of runners.
"The backs this year may not be as fast as last year, but there are definitely good players in this group," said Ravens director of college scouting **Joe Hortiz**. "All you have to do is look at the tape, and you can see what they can do."
Indeed, a glance at the film shows that the Class of '09 has a different feel to it at the top.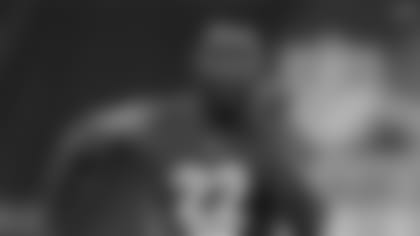 Wells is known as a power back with a rare combination of size, strength and acceleration that allows him to bowl over would-be tacklers instead of necessarily out-running them.
He may have missed three games with a toe injury and fought a tweaked hamstring during his 2008 campaign, but Wells still managed to total 1,091 yards and eight touchdowns on 191 carries, averaging 5.7 yards per attempt.
"I want to be that back who can take it the distance like a scatback or a back who can get the tough yards like a hard-nosed short-yardage back," Wells said.
"I was nicked up, (but) I don't think it was anything where I missed a whole season," continued Wells, who also played his entire 2007 season with a broken wrist and repeatedly had to exit games with a sore ankle. "I missed three games in three years, so things happen."
Moreno, who is listed at 5-foot-11, 217 pounds, has the lateral quickness in short spaces that causes defenders to regularly grasp at air when pursuing him.
Driving a high-powered Bulldogs offense, Moreno rushed for 2,734 yards and 30 touchdowns in two seasons after redshirting in 2006 in addition to catching 53 passes for 704 yards and two scores.
The sturdy Wells wasn't expected to blaze in the 40, however, Moreno was hoping to open eyes after working with the Michael Johnson Performance center in Texas.
"I've been trying to bring my 40 time down 3/10ths of a second," Moreno said, noting that he expected to run in the "4.4s."
Even though that didn't happen, Moreno's draft status can still stand on his overall performance.
He tied with Wells for sixth-best in the 225-pound bench press with 25 reps and was among the best in his broad jump (10' 8") and three-cone drill (6.84 seconds).
"The thing is, they are fast enough for 200-plus pound backs," Hortiz said. "They've had their share of 60-yard runs where they break out of the pack."
Hortiz's evaluation comes from hours and hours of film study, not two brief glances at a player sprinting a 40-yard stretch.
For those backs joining the talented duo at the top of draft boards across the NFL, including NC State's Andre Brown – who ran 4.49 seconds weighing 224 pounds – and Connecticut's Donald Brown – a 5.51 at 210 pounds – a history of production will have to trump slower times in the 40.