Stories: Calm Through the Storm | Day 2 Draft Picks | Rice, Flacco Wrap Day 1 | Flacco Feeling Fine | Ravens Get Their ManTranscripts: Draft Wrap-Up Presser | Flacco Introductory Presser | Ravens Day 2 A.M. Presser | Flacco Conference CallBlogs: The Byrne Identity | Insight to the Limelight
At the final draft press conference, Ozzie Newsome and Eric DeCosta recapped a frenzied weekend that landed the Ravens 10 new rookies and three-year veteran Fabian Washington through a trade.
All in all, Newsome said that he felt much better about the team Sunday than he did three days prior.
Some of that had to do with having a new coaching staff, headed by John Harbaugh.
"It was good to have a new set of eyes on our football team," Newsome noted. "One good thing about having a new coaching staff is the extra mini camp is that we can evaluate where our football team is before the draft."
Though they were bleary-eyed after turning in eight picks on the draft's final day, there is still much more work to be done. Newsome and DeCosta raced back up to their offices to continue the process of calling undrafted free agents to further stock the roster.
One of the positions they will focus on is tight end. Newsome said that he still was uncertain about the extent of Quinn Sypniewski's knee injury (suffered in practice April 18), so he would like to sign at least two more tight end prospects to compete for a spot. There was thought that the Ravens would draft a tight end, but Newsome also stated that two of his targeted players were snapped up before the he could take them on Sunday.
Washington, the Raiders' first-round pick in 2005, is expected to compete for a starting spot in the offseason, although Newsome initially sees him as a nickelback.
"Teams throw three receivers out there in a hurry," said the GM.
The Ravens acquired him for the 125th-overall selection. The former Nebraska star ran a 4.29 40-yard dash at the NFL Combine and was a former starter for Oakland. His best season came in 2006, when Washington had four interceptions and 11 passes defensed.
But, the offseason signing of DeAngelo Hall, coupled with an assault charge against his live-in girlfriend in Florida, led to the Raiders letting Washinton go. Washington will not be prosecuted for the charge if he completes a program for first-time offenders, and Newsome said he doesn't expect any penalties from the NFL with regards to the conduct policy.
"I don't think at this point, I don't think there can be any league discipline, but that's not for me to say, that's for the league to make that determination," Newsome stated.
It's time to wrap up the blog and go over the news from the final presser. I hope you enjoyed draft weekend as much as I did.
Thanks for sticking with BaltimoreRavens.com and the Big Board for your 2008 NFL Draft coverage!
Even though the Ravens haven't had any picks in a little while, things have amped up around team headquarters.
After meeting with Flacco (stay tuned for an exclusive interview I had with the quarterback on BR.com today), he went into the auditorium to face the Baltimore media for the first time.
Wearing a fresh Reebok draft hat, Flacco took his spot next to head coach John Harbaugh, general manager Ozzie Newsome and director of college scouting Eric DeCosta. The first thing to do was hold up the purple jersey with his name sewn across the back for an official picture.
Harbaugh, who is clearly having fun with his first draft as a head coach, joked that he might be hidden if the 6-foot-6 Flacco holds the jersey any higher.
The flashbulbs popped, and then everyone took their seats on the riser. Newsome said a few words to welcome what he called "our quarterback of the future," but he had to dip out because there was a draft going on, after all. The jersey ended up in the hands of Flacco's mom, Karen, who was sitting in the front row with the rest of the Flacco contingent.
Anyway, after Ozzie, Harbaugh and DeCosta left to go back to the War Room, Flacco was joined by offensive coordinator Cam Cameron.
Here are some quick-hit thoughts from the press conference:
Cam was very complementary of his new protégé. "He has nimble feet for a big guy, an explosive arm," Cameron said. "He's a quick-twitch guy."
Nobody in Flacco's immediate family in attendance was anywhere near his 6-foot-6 frame. When asked where he got his height, Flacco replied, "My dad says it was the milkman…" That got a huge laugh.
Even though he came from a Division I-AA school, Flacco said he thinks he is ready to start in the NFL now.
Flacco left the University of Pittsburgh because he wasn't getting an opportunity to play behind Tyler Palko. "I never felt that I was competing with Palko," he said. "I was just backing him up because someone transferred."
The rookie went on to say that he will always carry that small-school chip on his shoulder.
Ozzie Newsome continued to work the phones by trading the Ravens' 3rd-round 125th-overall pick to the Oakland Raiders for three-year veteran CB Fabian Washington. The speedy cornerback turned in the fastest 40-yard dash at the 2005 NFL combine and was a former first-round pick . Washington will be a major asset to the defensive backfield core that includes CBs Chris McAlister and Samari Rolle.
Read more about the Ravens' new CB
The arrival of Joe Flacco at the Ravens' facility wasn't much of a huge event to the outside world, but it was a big deal inside the building. About 10 staffers were waiting out in the lobby for the Flacco family, who traveled the two hour drive from Audubon, N.J. to Owings Mills with the first-round draft pick.
Joe is one of six kids, and two of his brothers and a sister came on the trip, along with parents Stephen and Karen and girlfriend Dana. According to Karen, their eyes were opened at the prestige of the facility when they saw the putting green in front of the entrance.
Walking up the stairs, I heard Mr. Flacco say, "It's like home here. I never expected it to be this close."
Good for them. That means they'll be able to get down to Baltimore and see their son play often.
The entire crew was led to the Draft Room, and the first guy to greet the quarterback appropriately was owner Steve Bisciotti. He joked with Flacco about trading away a third-round pick to move up in the first round to take him.
"Since we traded a third-rounder for you, we'll take a receiver in the sixth round, and you have to make him three rounds better," Bisciotti said with a laugh.
General Manager Ozzie Newsome and Director of College Scouting Eric DeCosta were quick to get out and shake some hands, especially because they had some time to chill after trading the 125th pick to the Raiders for cornerback Fabian Washington. They're not on the clock again until the 133rd spot.
It was interesting to see everyone come down the hall and greet Flacco. First, there was Offensive Coordinator Cam Cameron, who simply asked, "Are you ready?" These two guys seem to have chemistry, which may have started when Cameron worked with Flacco at Delaware weeks ago. That is important, considering they'll be close buddies for years to come.
Then, Head Coach John Harbaugh brought his energy to the group, followed by Offensive Line Coach John Matsko and Quarterbacks Coach Hue Jackson.
"This is the man that is going to protect you," Harbaugh said, pointing at Matsko.
The family, coaches, scouts and owner chatted for a while before Bisciotti took the quarterback to his office for a private conversation, while the Flaccos took a tour around Ravens headquarters.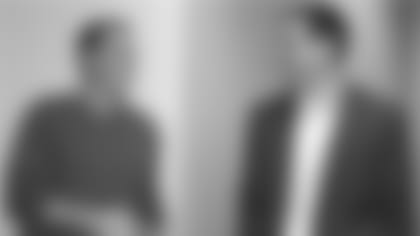 Joe has a press conference scheduled for 2 p.m. today.
One other interesting note:
Ravens southwest area scout Jeremiah Washburn bears an uncanny resemblance to Flacco. Seriously, these guys could be brothers - maybe even twins in the right light. They look so much alike that when Washburn went to the cafeteria for breakfast, he got a standing ovation by some early-morning diners that legitimately thought he was Flacco.
As an experiment, here is a picture of Flacco and Washburn. Can you guess which is which? 
Ravens head coach John Harbaugh was just on ESPN for an interview with Trey Wingo.
Harbaugh talked about wining in the locker room first, which analyst Ron Jaworski really seemed to like.
"He's going to get good people in that locker room, and that's how you build a winning team," said Jaws.
Harbaugh also had an interesting thought regarding new safety Tom Zbikowski, who is known as a promising boxer.
"He's going to play safety for us, and maybe be my bodyguard on the side," Harbaugh joked.
I was waiting outside of the interview studio for the coach to chat with him walking back to his office, and we all got a pretty good laugh out of that line.
I had the chance to meet Tom Zbikowski at the NFL Combine in February, and I was really impressed with the safety/professional boxer. With a freshly-cut Mohawk, Zbikowski walked into the media room and sat with reporters who were more interested in his boxing career than football, it seemed.
Zbikowski was clear about his intentions - he was focused solely on playing football, not on boxing.
"I love boxing, but as long as football is in my life, that won't be a problem," he said at the time.
I get that, but I also like the competitiveness that comes with stepping in the squared circle. Zbikowski has to be a battler. He was 60-13 as an amateur boxer, for pete's sake. And, I have to admit, it would be pretty cool to make your pro debut in front of a Madison Square Garden crowd.
While Zbikowski was talking about his experiences, though, he was pretty cool about it. Like not too amped up. I got the feeling that he's an intense, intense, intense guy, whether he's on the field or in the ring. He's going to be a solid addition to the secondary.
Maryland-area fans may have seen him play Navy at M&T Bank Stadium in 2006, a game where he posted 14 tackles.
We're back up and running live from Owings Mills for Day Two of the NFL Draft.
A few notes and observations before we begin:
After heavy rains last night, there is a fine mist covering the practice field behind the Ravens' facility that gives everything an eerie feel to it on an early Sunday morning. To me, though, it is a sign of the storm to come today. With only five minutes between picks, they're going to be coming fast and furious throughout the day. Considering the Ravens have a whopping nine picks to make, it's going to be even nuttier here in Baltimore. I'm looking forward to it.
How about the Ravens' offensive haul? I think there is a lot of promise in Joe Flacco and Ray Rice, so I know Cam Cameron and the offensive coaches are psyched up. But what about the defense? I talked to Mark Carrier as he was walking out of the facility last night after the second round, and he was itching to see when the Ravens would draft him a cornerback. "When is the defense going to get any love, Duff?" he joked to me. He was definitely kidding, but it goes to show that you can't have too many picks, because there are two sides of the ball to take care of.
Surprising first day leave-outs: Texas running back Jamaal Charles, Penn State linebacker Dan Connor, Auburn defensive tackle Pat Sims, LSU wideout Early Doucet… among others.
Since the Ravens will be picking so often, make sure you keep it locked to our second-day draft pick page, where we'll have the latest news on who the Ravens are selecting. It will be the first place to get the update.
POSTED SATURDAY – 8:44 PM
Today's first round was completed in three hours and 30 minutes, roughly half the time of last year's first round, which took six hours and eight minutes.
It was the shortest first round since 1990 – which took three hours and 24 minutes.  The shortest first round since 1970 was in 1972 – two hours flat.
POSTED SATURDAY – 8:19 PM
The Ravens added some speed and depth to their backfield with the selection of Rutgers running back Ray Rice with the 55th pick in the draft.
Rice, 5-foot-8, 199 pounds, may lack size, but he was wildly productive in four years at Rutgers. He started all 13 games in 2007, racking up 2,012 rushing yards and 24 rushing touchdowns on 380 carries.  He ran a 4.47 in the 40-yard dash at the NFL Combine. 
Coincidentally, Rice was previously coached by new Ravens offensive assistant Craig Ver Steeg, who was formerly the running backs coach (2007) and offensive coordinator (2003-06) at Rutgers.  Ver Steeg said that Rice would be a perfect fit in Baltimore. 
"He is really the type of player we are looking for," said Ver Steeg.  "He embodies the things that John [Harbaugh] and Ozzie [Newsome] talk about for the players we want in Baltimore."
POSTED SATURDAY – 7:46 PM
M&T Bank Stadium was apparently rocking today for the Spring Football Festival, as 11,497 fans showed up for a beautiful 75-degree day in Baltimore. Twenty players showed up to sign autographs and mingle with fans, a list that was highlighted by running back Willis McGahee.
POSTED SATURDAY - 7:01 PM
The Ravens are still wheeling and dealing in this draft, trading their 38th-overall pick to the Seattle Seahawks to drop back into the second round and gain another selection in the third.
Baltimore will get the Seahawks' pick at Nos. 55 and 86. Seattle used their new pick to take tight end John Carlson out of Notre Dame.
The Ravens now have three third round picks again, after trading the 89th-overall to Houston as part of a package to move up in the first round and select quarterback Joe Flacco.
POSTED SATURDAY – 5:10 PM
"With the 18th pick in the 2008 NFL Draft, the Baltimore Ravens select quarterback Joe Flacco." 
Those were the words uttered by Commissioner Roger Goodell, as the Ravens nabbed their quarterback of the future. 
After originally trading down with the Jacksonville Jaguars from the eighth to the 26th spot, gaining two third- (71st and 89th) and a fourth-round (125th) picks, Baltimore sent the 89th and 173rd picks to the Houston Texans to swap first rounders and move up to No. 18. 
The talented Division I-AA prospect out of Delaware was one of the highest-rated quarterbacks in the Class of 2008.
Flacco, 6-foot-6, 235 pounds, led the Blue Hens to the Football Championship Subdivision National Championship last season, losing in the title game to Appalachian State.
POSTED SATURDAY – 5:06 PM
After trading the No. 8 pick for the No. 26 pick from the Jacksonville Jaguars, the Ravens went back to work the boards again. GM Ozzie Newsom traded back up to the 18th pick to get QB Joe Flacco from Delware.
POSTED SATURDAY – 4:54 PM
Here's an interesting note about the trade with Jacksonville. The 71st-overall selection the Ravens got from the Jaguars is actually one of the picks sent to Buffalo last year in the Willis McGahee trade.
The Bills traded that pick, among others, to Jax this offseason to acquire defensive tackle Marcus Stroud to their roster. I guess what goes around comes around.
POSTED SATURDAY – 4:37 PM
OK, so the waiting continues. I was standing outside the Ravens' War Room for the past 30 minutes, waiting for the Jets and Patriots (actually New Orleans after the trade) to pick and noshing on some of the Twizzlers they have at the food spread they have set up right outside the door, when Kevin Byrne stuck his head out and said that we might move back, but it wasn't a done deal yet. He whispered "Jacksonville" to me and director of media relations Chad Steele and closed the door. As the clock ticked down to the Saints' pick of defensive tackle Sedrick Ellis, it became evident that we were, in fact, making the trade.
I didn't know how much we'd get for it, though. The Jaguars must really have wanted Derrick Harvey, whose former defensive coordinator at Florida is Ravens linebackers coach Greg Mattison. Harvey was regarded as one of the better pass rushers in the draft, but top 10 good? Their love affair with Harvey also shows in the three picks they surrendered to Baltimore – two thirds and a fourth. That adds up to the Ravens having 12 – 12!! – picks in the draft. That is one less than the Kansas City Chiefs, whose 13 picks are an NFL high. The Ravens will pick at No. 26, 38, 71, 89, 99, 106, 125, 133, 173, 206, 215 and 240. Phew….
But, I'm not so sure the Ravens even stay at 26. Newsome and Co. will have to sweat it out and see if their signal-caller is at that spot. With so many picks, they might move back up to ensure they get the right guy.* *
POSTED SATURDAY – 4:19 PM
The Ravens moved back in the draft and gathered up three more picks in a trade with the Jacksonville Jaguars. Baltimore gave the Jaguars their spot at No. 8 in exchange for the 26th, 71st, 89th and 125th selections. The Ravens now have 12 picks to maneuver around the draft, including 10 on the second day. Eight of those picks are tradeable, while the four others are compensatory and cannot be traded.
General manager Ozzie Newsome and the Ravens last traded a first-round pick in 2006, when they swapped choices (and gave up a sixth-rounder) with the Cleveland Browns to add defensive tackle Haloti Ngata at No. 12 overall.
With the eighth selection, Jacksonville nabbed Florida defensive end Derrick Harvey to bolster their pass rush.
It is believed that the Ravens are positioning themselves towards the back of the opening round to take one of three quarterbacks - Joe Flacco, Chad Henne or Brian Brohm – after the Atlanta Falcons selected boston College's Matt Ryan at No. 3.
POSTED SATURDAY – 3:58 PM
I was up in the War Room, ready to take a picture of Ozzie and Steve calling the Ravens first-round draft pick.  Instead, I was given the news that we traded our #8 first round pick to the Jacksonville Jaguars.  The Ravens' first pick will now be the 28th overall.
The waiting game continues...
POSTED SATURDAY – 3:30 PM
Well, there goes Matt Ryan. The Falcons made a good move in taking a quarterback that is just as much a football move as it is a public relations move. In light of the Michael Vick situation, the Falcons were in dire need of a guy that could lift up the franchise and the city. Now, things get interesting. It will be interesting to see what the Ravens will do. Some think that Ozzie Newsome will try to acquire more picks by moving back, but I wouldn't be surprised if he stays put and takes the best player on the board.
For now, I'm going to run up to the War Room to get a quick picture and check out Ozzie and Steve Bisciotti when they call the draft pick to welcome them to Baltimore. Be back after the pick.
POSTED SATURDAY – 3:14 PM
You have to love the way New York fans welcome the draft picks as they walk across the stage to shake hands with Commissioner Roger Goodell.  As Jake Long was announced for the AFC East's Miami Dolphins with the first selection, a hail of boos rained down from the stands.  I'm thinking those were mostly from Jets fans, who occupy the same division as Miami.
Welcome to the NFL, Jake.
Barring any trades, the Ravens won't pick for a little over an hour. 
A little idea of what is going on today – after Steve Bisciotti and Ozzie Newsome calls the new pick, there will be a press conference, and then a conference call with the pick.  We'll be posting news as it comes in, along with video of the presser and some more interviews with coaches and a scout or two.    It is a funny and sometimes frustrating game of "hurry up and wait" and then RUN!!  Once that pick is made, this place goes nuts, especially in the media room, which is packed with reporters.
POSTED SATURDAY – 2:34 PM
The rumors are starting to swirl around the Ravens.  With the Falcons reportedly deciding on Matt Ryan at the third spot, the NFL Network has been reporting that the Ravens are trying to move up to the second spot in a trade with the Rams. 
The funny part about this is that I was in the cafeteria making a ham sandwich (with tomato, onions and mayo, if you must know), and there was a group of scouts sitting at one of the tables looking a little bewildered.  Intrigued, I went to check with Eric DeCosta about the report, at which he laughed.  He told me that he chuckled when he saw the TV, because that was the first time he heard of the trade talks. 
Of course the Ravens would have called St. Louis to ask about a trade, but serious consideration wouldn't be like Baltimore's brain trust.  Even though it would only be a move of six spots, it would take the entire draft and probably next year's No. 1 pick.  That's not doable.
POSTED SATURDAY – 1:50 PM
Well, it's already started.
The 2008 NFL Draft doesn't officially begin until 3 p.m. today - unless you count Jake Long's signing earlier in the week - but you can tell that things are ramping up at Ravens headquarters. Everyone obviously has the draft on their mind, but the fact that it's mere hours away is perhaps a little shocking to everyone.
Some people must think that the Ravens are going to be big players in this draft, because ESPN sent veteran reporter Sal Paolantonio to spend the weekend here at the facility. If you've been watching The Worldwide Leader all day, you might have caught Sal checking in live from Owings Mills, complete with the practice fields in the background. Expect a lot more of that all weekend.
In addition, the NFL Network has a big presence here. Scott Hansen will be offering live reports for the Network's extensive draft coverage all weekend.
Each network brought all the attendant equipment, so the halls of the facility are snaked with random cords, cameras and lights. WBAL Radio is broadcasting out of our radio studio live all day long, and of course every TV and radio station in the Baltimore area will be offering live reports.
Here on BaltimoreRavens.com, we're going to be blogging the events from Owings Mills with the blog squad, made up of me on "The Big Board," senior vice president of public and community relations Kevin Byrne on his "Byrne Identity" blog, and public relations coordinator Patrick Gleason on "Insight to the Limelight." Kevin is inside the War Room for most of the day, so he'll give you coverage from Ozzie Newsome's home base, while Patrick will be checking in from the media room.
As usual, the Board is going to have quick hit news and notes from the Ravens' ground zero.
The picture you see on the homepage for The Byrne Identity post is a mock up of what the Ravens' draft board looks like. That is a look inside the auditorium, where Ozzie, head coach John Harbaugh and director of college scouting Eric DeCosta will hold a press conference immediately after the first pick is made. There are also big flat screens in there tuned to ESPN and NFL Network's draft programming, so media members kind of chill out in there when they're not furiously typing.
Already this morning, the rumors are flying. With the delayed start (last year, the draft began at noon), there is a lot of double talk that I think is meant to throw off other teams. The Dolphins already got their deal done. We knew that. But now there are reports out that the Rams are going to go with defensive end Chris Long, the Falcons are taking quarterback Matt Ryan and the Raiders have settled on running back Darren McFadden.
Are we to take those reports as truths? Or are they meant to throw teams like the Ravens, who sit behind them at No. 8, off the trail? As director of pro personnel George Kokinis told me last night, you can't believe any information about the draft until the pick is made.
And we've got a few more hours until the Ravens are going to make their pick, so sit tight.
There is more to come all day long. Get excited, Ravens fans. This is like Christmas in April for NFL devotees.