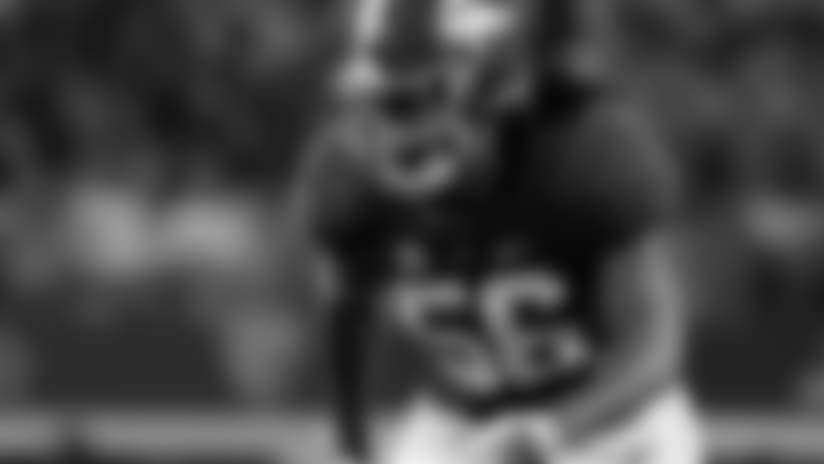 The Ravens are in the market for pass rushers.
Terrell Suggs and Elvis Dumervil are both in the final stages of their careers. Baltimore has young talent in players like Matthew Judon, Za'Darius Smith and Kamalei Correa, but none of them have proven themselves yet as consistent three-down outside linebackers.
Bringing a young premier pass rusher to Baltimore is an attractive possibility with the No. 16 overall pick, and Ravens Assistant General Manager Eric DeCosta named two players they could take at that spot: Alabama's Tim Williams and Missouri's Charles Harris.
"They're good 3-4 outside linebacker type players, and they'll be players of interest for us in the first round," DeCosta said.
Williams is widely viewed as one of the top pass-rushing talents in this year's class. The 6-foot-4, 252-pound linebacker comes from the vaunted Crimson Tide defense, and he put up over 18.5 sacks and 27.5 tackles for loss over the last two years.
"Timmy Williams from Alabama is a really, really good prospect," DeCosta said. "He's a guy that's proven it in big games, and is explosive off the ball."
The talent isn't in question with Willliams, but he does have off-the-field concerns stemming from failed drug tests in college. Williams confirmed to reporters Saturday that he failed multiple drug tests at Alabama, and NFL Network's draft analyst Mike Mayock said he expects Williams' stock to drop despite being the second-best pass rusher in the class.
Williams attributed the failed drug tests to being a "young player making decisions that I grew from."
"That's what life is about – being a man on and off the field, owning up to your mistakes," Williams said. "Everyone makes them. I'm not here dancing around and joking. I know I'm here with something to prove. I'm obviously behind the eight-ball, so I'm here to prove not only to myself but to every organization that if they get me, they're going to get the best player here."
Harris, 6-foot-3 and 255 pounds, is a prospect currently considered by many pundits as a late first-round pick. He had 16 sacks and 30.5 tackles for loss over the last two seasons, and DeCosta called him a "very intriguing player."
He's the latest in a line of Missouri prospects with a good pass-rushing pedigree, including Shane Ray, Markus Golden, Kony Ealy, Sheldon Richardson and Aldon Smith.
"Missouri has done a good job the last couple of years at putting some really elite-level, top-talent pass rushers in the NFL," DeCosta said.
Harris didn't lack any confidence when he met with the media at the combine. When a reporter started a question by asking about his "very good first step," Harris cut him off and said, "I have a great first step."
He also thinks he'll be gone before the Ravens are on the clock. He said he'll "definitely [get drafted] first round, hands down. Top 15, at least."