When discussing quarterbacks, Ravens Quarterbacks Coach Jim Zorn uses his hand to illustrate how their season can chart.
For some quarterbacks, there are sharp spikes and crashes resembling the stocks on Wall Street. In Zorn's opinion, you can't win championships with a quarterback like that.
As Zorn illustrates it, Flacco's 2010 line chart has a steady incline.
Like even the best, there are little bumps and dips. But most importantly it's constantly trending in the right direction.
"He's been deadeye Dick," Zorn said with excitement, making an arrow with his hand as if it's hitting a bull's eye.
"He's playing inspired football. I'm really pleased with how he's playing. He continues to get better and better. He's giving us an opportunity as our quarterback to win football games and that's the thing that I'm fired up about."
In a third season with so many expectations, Flacco has improved in key areas such as his decision-making, movement in and out of the pocket and leadership.
Now approaching a rematch with the Cincinnati Bengals, a team that nabbed four picks off Flacco on Sept. 19, Flacco statistically stands as one of the top quarterbacks in the NFL.
Only New England's Tom Brady has a better quarterback rating (112.1) than Flacco (105.1) since Week 3.
"I can't say he's gone in a different direction since that game," Zorn said. "I can say he's grown as one of the top QBs since we've been playing this season. What are we looking for? Consistency."
Flacco had one of his worst games as a pro against the Bengals in Week 2. He threw four interceptions and completed 43.9 percent of his passes – a 23.8 quarterback rating.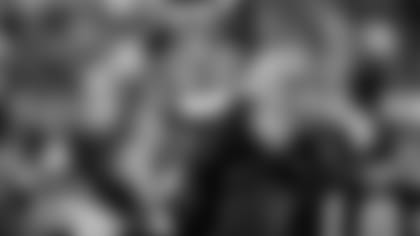 The Ravens' final two offensive drives of the game ended with interceptions, which doomed the Ravens to a 15-10 loss that still haunts them in the standings today.
Radio talk show callers called for backup Marc Bulger. Flacco went about his business as usual.
"Joe has a remarkable ability to move on," Offensive Coordinator Cam Cameron said.
"I think the great quarterbacks do. Not only from one game to the next, but it might be from one series to the next. I think that's why at some point in time – this guy, he's going to do nothing but get better and better – but someday this guy is going to be a great one."
Flacco returned with a three-touchdown, interception-free day against the Cleveland Browns.
Since Week 2, Flacco has tossed just four more picks in 13 games. He's thrown 24 touchdowns, compiled 3,095 passing yards and completed nearly 65 percent of his passes in that time. He hasn't had a day with a quarterback rating lower than 81.4 and now ranks seventh in the league.
"He's pretty much grown in every aspect of playing the position and leading the team," Head Coach John Harbaugh said.
Flacco has taken strides in three key categories:
Not all of Flacco's four interceptions in Cincinnati were his fault, but two in particular were forced, as even Flacco has conceded.
To improve on that, Flacco has continued his rigorous study habits and ball protection has also been stressed by coaches.
Good decision-making goes beyond not throwing interceptions, however. It's understanding blitzes, coverage schemes and knowing when to audible, when to take a deep shot or when to simply check down.
One instance came with the Ravens leading by 10 points in the fourth quarter Sunday in Cleveland. Flacco clearly audibled on a key third-and-2, and handed off to running back Ray Rice for a 3-yard gain.
"He's a kid who really wants to make very good decisions," Zorn said. "He's not in the dark out on the football field. He knows and he's very cool about the game situations."
Flacco has attempted fewer passes this season than last year. He would need 29 attempts versus Cincinnati, which would be unusual in January weather, to match last year's total of 499. But he's been more effective with those attempts.
"You can really sense that Joe feels really comfortable playing the kind of football he's playing," Zorn said. "It's a disciplined game, yet free enough to react to what he sees."
There are different types of quarterback movement.
One, like Indianapolis' Peyton Manning, involves sliding in the pocket to extend plays by even a fraction of a second, to avoid pressure or open up throwing lanes. The other, like Philadelphia's Michael Vick, involves taking off down the field like a tailback.
Flacco will never be Vick and the movement of Manning has been more than a decade in the making. But the University of Delaware product has shown progress in both areas.
The improvement in the pocket is a byproduct of good, old-fashioned practice. Zorn, who was a scrambling, backyard-style quarterback in his days under center, rolls big exercise balls at Flacco while he's throwing in practice. During pregame warm-ups, Zorn's constantly in Flacco's face.
To the casual viewer, the result is a quarterback that looks comfortable.
"He's a lot more patient," wide receiver Derrick Mason said. "He's calm back there, and as a quarterback that's what you have to do. He's way ahead of the curve."
Flacco has always had what Harbaugh called "surprising" athleticism and speed for a quarterback his size. But he's doing a better job of quickly making up his mind to gain yardage instead of waiting too long for something down the field to open.
In Cleveland, he spun out of the grasp of a sack, before turning up-field for a 13-yard gain. He threw a touchdown to Mason on the next play. Earlier in the game, Flacco scrambled four yards to pick up a key first down on third-and-4. That extended a drive that ended with a field goal.
"I always feel comfortable doing that when the time presents itself," Flacco said. "Looking back at the Cleveland game, there were a couple of times when guys were free in the pocket, and I was able to take one step here or there. … It can definitely help you out in avoiding the guys."
Much was made of Flacco's sideline blowup with Mason in Carolina, in which the two players got in each other's face. But if anything, it was a byproduct of Flacco's assumption of leadership within a veteran, strong-minded locker room.
"He's always been a good leader, but the more experience you get and the more comfortable you get in the league and with the team, you probably grow in that aspect as well," Harbaugh said.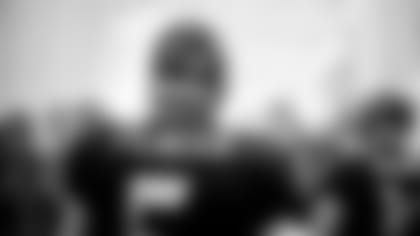 Vocal outbursts like that are still very uncommon for Flacco.
Zorn says when Flacco comes to the sidelines during games, he's generally asking questions or talking to the different position groups about what needs to happen on the next series. He's not biting at teammates or dishing out motivational speeches.
"He's very intense and he's into the game," Zorn said. "He knows what he's talking about. It's not rah-rah. It's a little more in the script, but it's meaningful."
Zorn expressed that people need to get over Flacco's lack of outward emotion. He said fans should watch for his intensity in subtle ways, like with a fist-pump or maybe a raised hand.
"Both hands in the air if it's really significant," Zorn said with a chuckle. "That's all you're going to get from him. He's just got to be himself and we can't be critical of what he doesn't do because we see other guys doing something that gets you excited. He's not going to be Ray Lewis."
At the end of the day, Flacco is winning. That's all that matters this time of the year.
He's poised to take the Ravens into the playoffs for a third straight season, making him just the third starting quarterback since 1970 to lead his team to the NFL postseason in his first three seasons (Bernie Kosar and Dan Marino).
But the records, stats and Pro Bowls (he was named as a third alternate this year) don't matter to Flacco.
"I'm focused on playing good football games and coming in and looking at the tape and having my coaches say, 'You played a hell of a game today,' and me feeling that same way," Flacco said.
"I'm motivated by winning football games and knowing that I can look at myself in the mirror and I can look at my team and know that I played well."