Otha Foster was on the bus headed for the infamous United States Marine Corps Recruit Depot on Parris Island, S.C. – the one seen in hardcore military movies.
Boot camp on Parris Island starts like this:* *
Your head is down. It's pitch black and you have no idea what's going on. The bus slows to a stop and drill instructors board. They yell and curse at the recruits from the first minute they lay eyes on them.
"Why did I ever sign up for this?" Foster recalls thinking. "They make you run off the bus, and from there on out, it's pretty much hell."
Foster is a Ravens safety trying to make a strong enough impression in Thursday's final preseason game in New Orleans to stay in the NFL. Considering the Ravens' defensive depth, the odds are against him.
But Foster hasn't let long odds deter him before, and they won't now. From the Marines to community college and Canada, Foster has taken the back roads to Baltimore.
Playing football is a dream – one the 28-year-old rookie is willing to go all out to continue. Heck, he's been through harder tests.
"Football is really tough," Foster said. "But Marine Corps boot camp was the hardest thing I've ever done by far."
Foster was an all-state player at Varnado High School in Angie, La., but he didn't get much fanfare. He enrolled at Southern University in Baton Rouge, two hours away from home. When classes weren't going well and he was redshirted that fall, Foster decided to leave school, and thus football.
"I just wanted a change in life, and I felt like joining the military would be the best thing for me," Foster says. "And since I was joining the military, I wanted to do the hardest and the best, so that's why I joined the United States Marines.
"I never thought I would be playing football again – especially in the NFL. It was a turning point in my life, but it was also another part of me dying because I loved football so much."
His childhood friend, Jovon McKinley (pictured below), remembers walking into Foster's living room one day as Foster was talking with a recruiter. Foster's mind was made up, and he asked McKinley if he wanted to join.
"He's always had a competitive edge to be more than the norm," McKinley said. "We're from a small town where people just wake up and lead a normal life. He wanted to take it up a notch."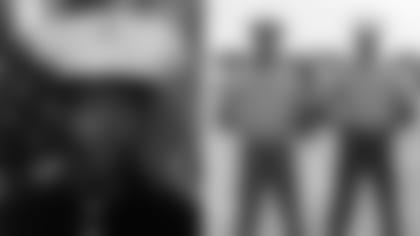 Boot camp definitely took things up a notch.
One time, the recruits were put into formation immediately after finishing chow. They couldn't move a muscle. This wouldn't be so bad, except Parris Island is crawling with biting sand flies.
"The sand fleas are just eating us up," Foster said. "Our drill instructor came out and said, 'Did ya'll just eat?' We say, "Yes, sir!' He says, 'Well, let them eat.' We just had to let them bite us and suck on us for probably 10 or 15 minutes. It was brutal."
The most difficult part of boot camp is not-so-affectionately called "The Crucible," which is essentially a survival mission. After three hours of sleep, recruits march through the woods for three days and are given just three meals, all while going through a gauntlet of physical tests.
Boot camp last 12 weeks. By comparison, Ravens training camp is about a month.
"Boot camp is intense, it's long, but it makes you a disciplined person and changes you for the good," Foster said.
After boot camp, Foster went to Camp Lejeune, N.C. for combat training, where he shot a rifle at an Expert level. After a month there, he went to Marine Corps Air Ground Combat Center in 29 Palms, Calif., where he was trained in communications. He was deployed once overseas on a tour in Africa, but otherwise spent his 3 ½ years stationed near New Orleans.
His mind never wandered too far from football. McKinley said Foster was always asking drill instructors whether they played football, and it was a frequent topic of conversation.
"Sitting in my bunk with my gun, I had plenty of nights thinking about playing football," Foster said.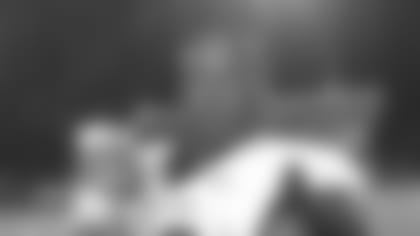 When Foster shifted into a reservist role, he searched for his avenue back into the game. One day, an opportunity was posted on a campus flyer.
In 2009, a cousin attending Pearl River Community College called and said the school's football team was holding tryouts. Foster left work at a warehouse, drove 20 miles, ripped off his cowhide boots, slapped on some sneakers from his trunk and ran the 40-yard dash in a blazing 4.5 seconds.
"Straight out of the car, he ran like that," his coach, Leroy Frederick, remembers. "After he ran, it was pretty much a done deal. We were like, 'You have time to do paperwork?' He had to go back to work."
Foster was a starter by the end of camp and soon became a team captain. The junior college games were played on Thursday nights, so Foster went to class afterwards on Friday, then drove to New Orleans to drill for the weekend. He drove back hoping to make it in time for Sunday practice.
When Foster's service ended in 2010, he dove headfirst into football with new weight on his shoulders. His daughter, Olavia, was born on April 16, 2010, three months after his father passed away.
Foster led the nation in pass breakups at Pearl River Community College, which led to an offer from Division I powerhouse Ole Miss. Foster signed, but later found out that he could only play for one year because his one semester at Southern University counted against his eligibility. Ole Miss pulled out.
Division-I Toledo still wanted Foster despite him only having one year, and so did Division II North Alabama, where the rules were different and he could play for two years.
Foster instead chose to go to tiny Division II West Alabama, in a two-stop light town in Livingston, Ala., solely because he wanted to be close to Olavia.
"I don't know if you've ever been to Poplarville, Mississippi. I don't know if you've ever been to Livingston," Frederick said. "But to push through those places and see the light at the end of the tunnel is a testament itself. He's a great father, and somebody I'm really proud of."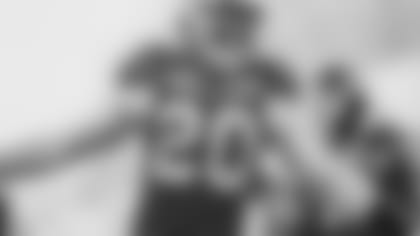 Foster was named to the Gulf South Conference's first team after a league-leading six interceptions as a senior in 2012. It was enough to get some NFL attention. He went undrafted the following spring, but caught the eye of the Kansas City Chiefs. Foster spent training camp and the preseason there, but didn't make the team.
With no other calls, Foster decided to keep the chase alive up north in the Canadian Football League (CFL). He played with the Edmonton Eskimos in 2014 and 2015, becoming a starter at linebacker in his second year and helping the team win the Grey Cup (their version of the Super Bowl).
He then bounced to the Saskatchewan Roughriders last season, where he was named the team's most outstanding defensive player after recording 71 tackles, three sacks and an interception.
The Ravens signed Foster not long after the 2016 season ended. It was four years between NFL snaps.
"It's been a very long, difficult route," Foster said. "I could have easily said football's over with, but I just never gave up. That's what I preach to the kids. If you really want to do something, just never give up."
Playing in a deep group of safeties, Foster has impressed his coaches. In the Ravens' second preseason game in Miami, Foster made a big hit on kickoff coverage and got a sack on defense. He blitzed off the edge and showed impressive closing speed to drag down the quarterback from behind.
"He's a disciplined, hard-working player," Defensive Coordinator Dean Pees said. "Which shouldn't come as a surprise."
Head Coach John Harbaugh said Foster had his best showing in the third preseason game against the Buffalo Bills.
"Quick as he's ever reacted to things," Harbaugh said. "It was very physical, ran to the ball really well, and he knew what to do. He's played well and was exceptional on special teams. He's done a good job."
Still, Foster's chanes of making the team are slim. The starting safeties are Eric Weddle and Tony Jefferson. Veterans Lardarius Webb and Anthony Levine are the top backups, and sixth-round rookie Chuck Clark has been impressive.
The Ravens are unlikely to keep more than five safeties on the 53-man roster, but stranger things have happened. The practice squad is another avenue, though that's generally used for younger developmental players. Baltimore has to make its final cuts by Saturday, Sept. 2, which just so happens to be Foster's 29th birthday.
Thursday night's fourth preseason game in New Orleans will be huge, and Foster will have dozens of friends and family members in the Mercedes-Benz Superdome stands cheering him on.
Foster will be easy to spot. He'll be the player standing at attention during the national anthem, legs stiff, heels touching. It's habit, he said.
"The Marines changed my life," Foster said. "It made me grateful for everything I do. Having this opportunity to play football, I'm forever grateful."