Chris Kopec slept for more than four hours for the first time in two months on Tuesday, and his body didn't know what to do about it.
"I almost feel like I'm in a fog this morning, like 'What the hell happened?'" he said Wednesday at just past 10 a.m.
Better known as DJ Kopec, he's become a viral sensation because of the virtual dance parties he hosts in his Ellicott City basement. His wife and three young kids are the only ones physically there, but millions of people stuck at home during the COVID-19 epidemic are watching and dancing along.
Best of all, Kopec has used his stage to give back in a massive way during this time of crisis. On Saturday night, he surpassed a staggering $1 million worth of donations.
Kopec, 42, is accustomed to being on a big stage. He was a Ravens Cheerleader from 2001-2003, doing his part to entertain fans on gamedays. He's DJ'd huge events for Under Armour and many more Baltimore clients, but never imagined going worldwide.
Kopec's first night going live was Saturday, March 21, a couple days after his kids' schools had closed. A bunch of his gigs had begun to cancel too.
"Everything that week was just not good," Kopec said. "I just felt a big ball of stress and so did everyone in the house."
Looking for something to entertain the kids and himself, he hauled his DJ equipment out of the garage and into his basement. He thought he'd share the fun with his friends and family by streaming it on Facebook Live, expecting to get maybe a few hundred people.
He picked up a streaming adaptor that would allow him to record with nothing but his cell phone, and off he went. Then it blew up. He reached 26,000 live viewers that night and the video reached 1.5 million views on Facebook.
"It just totally went viral. People kept sharing it and everybody was home that night because it was the first Saturday night of quarantine," Kopec said. "I didn't go to sleep that night. As soon as I ended the feed, I had 1,200 emails and a thousand Facebook messages."
Kopec had a virtual tip jar intended to cover the cost of his equipment (less than $400) and keep his wife, April, from hassling him about spending the money when the economy was going in the tank. The next morning, he had about $15,000.
"Immediately, I was like, 'All these people donated. We should donate it back. We should pay it forward,'" Kopec said.
After the first night, the Kopecs donated 500 pizzas and $20 gift cards for the entire Howard County emergency services. Kopec was a volunteer firefighter in high school and college.
In his second week, Holly Poultry pledged to donate one pound of chicken for each viewer, which ended up being 50,000 pounds of chicken, plus an extra 10,000 in honor of Kopec's wife's birthday, going to 14 Baltimore-area food banks.
Week three came with 12,400 Hershey bars. Week four delivered 30,000 breakfast sandwiches thanks to H&S Bakery (rolls), State Street Poultry (bacon and cheese) and Nature's Yolk (eggs) that went to four University of Maryland Hospitals, the Mercy Medical Center and Anne Arundel County Food Bank. There's been much more.
On Saturday night, the proceeds raised to top the $1 million mark ($64,766) went to the Baltimore Child Abuse Center. Plus, another 12,000 loaves of bread and 20,000 pounds of chicken were delivered to food banks.
In the middle of all that, Kopec also hosted the Ravens Post-Draft Party, which led to a donation of 3,120 Dunkin Donuts to four MedStar Hospitals.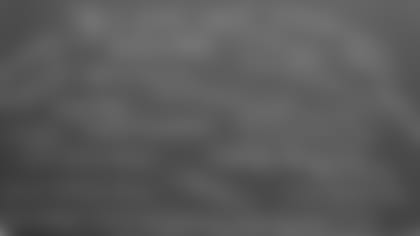 At this point, Kopec's Facebook streams have generated 11 million views and 190,000 hours watched. His largest live audience came in Week 2 with 33,600 people from around the world.
The "DJ Kopec Fam" watches Kopec spin music and dance with his kids – Declan (5), Madison (6) and Logan (8). He's added pop-up workout sessions with April, late-night sessions and happy hours along the way, but the Saturday night dance parties (from 7-9 p.m.) are still the big events.
Kopec started DJ'ing when he was in sixth grade, and spun records for his own middle school dance. He grew up listening to the radio and writing down the names of the songs, trying to guess the top-40 each week. He became a Ravens Cheerleader because he used to DJ the tryouts and thought it looked fun.
"I ran track at Virginia Tech and was missing that team atmosphere," Kopec said. "So I spent the next year trying to learn how to do a flip and tried out the following year. It was awesome, just to be on the field. It's no different than being on any other sports team."
Kopec credits his time as a Ravens Cheerleader for teaching him the importance of professionalism and sharpening his skills as an entertainer. After his time as a cheerleader was done, he wanted to stay involved with the Ravens so he DJ'd at the Mother's Grille Purple Patio on gamedays for a long time, entertaining fans who weren't at M&T Bank Stadium.
That's all been a fun side hustle for a full-time sales rep, but the experience of the past two months has blown Kopec's mind. He's finally taking a bit of a break after reaching the $1 million milestone to sleep, clean the house and wrap his mind around what's taken place.
"Sometimes I hesitate to say how fun it's been because we're in a pandemic. There's so many people having so many negative things going on. I feel bad," Kopec said.
"But I think the key for us is music always brings people together. We've truly built this family together with a lot of people. Everybody has helped each other in some way get through it together."