Purple and black vs. yellow and gold. It's still one of the NFL's most heated rivalries.
But some of the central characters in the rivalry these days – Steelers quarterback Ben Roethlisberger and Ravens safety Eric Weddle and linebacker Terrell Suggs – have an interesting relationship.
If you're not familiar with the term, it's defined as, "a person with whom one is friendly despite a fundamental dislike or rivalry."
Asked this week who his best friend is from around the league, excluding his teammates, Weddle pondered for a few seconds. The first name that came to mind was his former teammate in San Diego, quarterback Philip Rivers, but they don't talk as much anymore.
"Honestly, in terms of talking and texting … as bad as it sounds, Ben and I talk every couple of days," Weddle said. "He's a genuine friend."
The relationship started at the 2011 Pro Bowl. It was Weddle's first trip and Roethlisberger's second, and the two were on the same AFC team in Hawaii. Essentially, they ended up vacationing together.
"We just hit it off – on the bus rides, on the plane and practicing," Weddle said. "A couple years went by and we weren't as close as we are now, but throughout the season it was random texts, and a couple times in the offseason we would hang out."
The relationship took off in 2014 and 2015, during Weddle's last two years in San Diego. When Weddle became a free agent, Roethlisberger recruited him hard to come to Pittsburgh in free agency. Weddle seriously considered it, but ultimately chose Roethlisberger's rival.
That didn't ruin the friendship by any means. In fact, the two have only continued to get closer.
"He'll always text me before a game, 'Good luck and be safe,'" Weddle said. "Throughout the week, we'll talk about the previous games. We talk about the game, but it's never intruding in a biased way."
"Obviously, this week we don't really get into that stuff," Weddle said.
Weddle and Roethlisberger have kids around the same age. They're into some of the same things, including golf and hunting. It's just an "easy" friendship, Weddle said.
But what seems to mean the most from Weddle is that Roethlisberger is just always available.
"He's always been a guy that I've texted and he always texts right back," Weddle said. "If I go out of my way and they return the favor, it means a lot to me. There have been times when I've reached out to guys and they don't hit me back. He's just a real good, genuine guy."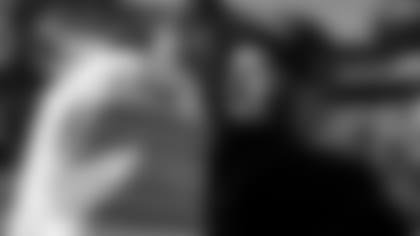 The relationship between Roethlisberger and Suggs is a little more complicated. It's not quite like the friendship like Weddle explains, but it's rooted in similar respect.
Suggs entered the league in 2003. Roethlisberger came in the year after. This will be the 15th year that they go toe to toe. No NFL player has sacked Roethlisberger more times than Suggs (17), but there's also probably no quarterback who has slipped out of Suggs' grasp more times too.
Asked this week about whether he enjoys the Ravens-Steelers rivalry, Roethlisberger pointed to Ray Lewis, Ed Reed, Haloti Ngata and "that guy, No. 55."
"The list goes on and on over there of guys that I just have the utmost respect for that are Hall of Fame players. You enjoy just playing football and going against these guys," he said. "It's not fun, because typically after this you feel like you've been in about five or six car wrecks."
Roethlisberger said he's been "blessed" to play against a Hall of Famer in Lewis and soon-to-be Hall of Famer in Reed. But the longevity of his tilt with Suggs is what makes it rise to the top of his personal rivalries, Roethlisberger said. And he's sure Suggs will be in Canton too someday – on the first ballot.
"I'm not just trying to pump him up because we're about to play him. I truly feel that way," Roethlisberger said.
"I know he does a lot of talking about me, too, but I think there's a lot of mutual respect there between each other. There's a little bit of talking on the field – I wouldn't call it trash talking – but there's some mutual respect trash talking, if you will, that goes on. It's a special rivalry he and I have."
Suggs vs. New England Patriots quarterback Tom Brady has also been a thing for a long time. But Suggs doesn't talk about Roethlisberger the same way he does Brady.
It might be the best one-one-one rivalry in the NFL. Try to name a better one.
"Man, two legendary competitors battling," Steelers Head Coach Mike Tomlin said. "It's been entertaining just from that standpoint, but it's been also fun to watch their mutual respect and competitive spirit even grow over the course of their careers. I'm sure their stories are a shared one involving each other, which is one of the unique things that a series such as this and careers such as theirs provide all of us."
All of us watching are the benefactors. Who knows how much longer Suggs and Roethlisberger will play for – probably not that much. Better enjoy the frenemies while they last.
"I liken it to Ali-Frazier, Bird-Magic," Ravens Defensive Coordinator Wink Martindale said. "I think if you're a sports fan, that's how you view it."