The football gods didn't want to cooperate with the Ravens' veterans returning for this weekend's mandatory minicamp, as a chilling rain fell upon Owings Mills, dampening the practice fields throughout Friday's session.
Such inclement weather would push most teams indoors - which the Ravens would have historically done - but head coach John Harbaugh decided to keep the festivities exposed to the elements.
The attitude of Harbaugh and his staff seemed to have all the players energized in spite of the slick conditions, which showed in a few dropped passes and lost footing from the receivers. One wideout that did make a few nice grabs was Yamon Figurs, who made one leaping catch that he hung onto even though he was popped by a defensive back.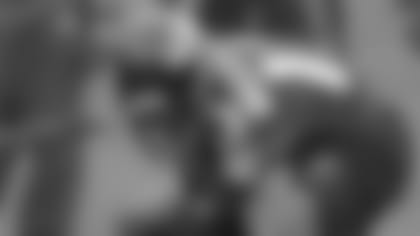 To emphasize ball control, offensive coordinator Cam Cameron brought out an interesting drill I've never seen before. He had the entire offense line up on the back goal line, and one-by-one carry a football attached to a thick rubber band at the base of the goal post. They would run forwards, and as the band got tighter, Cameron would point to one of three cones, which the player would have to touch while keeping the ball.
The 175-pound Figurs nearly was snapped back, but he held tight. Rookie free agent Joe Reitz, a former college basketball player at Western Michigan, was the only casualty. His attempt slipped out of his hands, causing the ball to rocket back towards the goal post and clear out his teammates. Reitz got it right on the second try.
"He's used to a different kind of ball," joked Harbaugh after practice.
Here are some other quick-hit notes from the session:
The Ravens are thin at tight end. Todd Heap was the only one in the regular rotation that practiced. Daniel Wilcox watched from the sideline while recovering from toe surgery, Quinn Sypniewski is confirmed to be out for the season and Lee Vickers did not participate.
That left Reitz and fellow undrafted free agent Scott Kuhn of Louisville as replacements.
The Ravens also got creative with the roster, plugging guard/tackle Marshal Yanda in at tight end for a few reps, and even defensive end Edgar Jones lined up at the position briefly during seven-on-seven drills.
Jones said that he played tight end in high school, so it's not much of a transition. But, he couldn't decide if scoring a touchdown was as exciting as a sack.
"I do love to get that quarterback," he said with a laugh.
The offensive line seems to be continuously rotating. Yanda also worked with the quarterbacks as a center at times, Jason Brown, last year's starter at left guard, was at right guard and center, and Ben Grubbs moved to left guard after starting last year on the right side.
Third-round draft pick Oniel Cousins saw action at left tackle.
Flacco's storied strong arm got many compliments in the post-practice locker room. He looked comfortable in the limited work he got under center.
"Oh, he can throw," said cornerback Samari Rolle. "He throws like Carson Palmer, seriously."
The only no-shows were tackle Jonathan Ogden and franchised linebacker Terrell Suggs.
Ogden, whose toe injury has hampered him for the past two seasons, is still considering retiring, while Suggs still hasn't signed his one-year contract as a linebacker with the franchise tag.
The six-year veteran did come to Harbaugh's initial minicamp in support for the first-time head coach.