PLEASE NOTE:The opinions, analysis and/or speculation expressed on BaltimoreRavens.com represent those of individual authors, and unless quoted or clearly labeled as such, do not represent the opinions or policies of the Baltimore Ravens' organization, front office staff, coaches and executives. Authors' views are formulated independently from any inside knowledge and/or conversations with Ravens officials, including the coaches and scouts, unless otherwise noted.
Just when Baltimore was in danger of collapsing in overtime for the second straight week, Ray Lewis literally ripped victory out of the Buffalo Bills' hands.
Like last Sunday, the Ravens surrendered a 10-point fourth quarter lead and couldn't manage an overtime drive when given first possession.
But this time, a timely turnover by the Ravens' captain and a 38-yard game-winning field goal by kicker Billy Cundiff gave the Ravens a much-needed 37-34 victory at M&T Bank Stadium.
"Everyone just rallied to the ball, and I was up under him and just saw the ball and snatched it out of his hands knowing he was trying to go forward and the whistle hadn't blown yet," Lewis said.
"It just so happened he and I locked arms, and I snatched it out."
The Ravens had only once lost to a team without a winning record in Head Coach John Harbaugh's three seasons (coming in Week 2 this year), and the Bills thoroughly challenged that distinction.
Buffalo held a 14-point lead twice in the second quarter and racked up 506 total yards, the most the Ravens have surrendered to any team since 2000, when they gave up 524 to the New York Jets.
Baltimore surrendered a season-high 373 passing yards and four touchdowns to Buffalo quarterback Ryan Fitzpatrick, who entered the game with the fourth-highest quarterback rating in the NFL.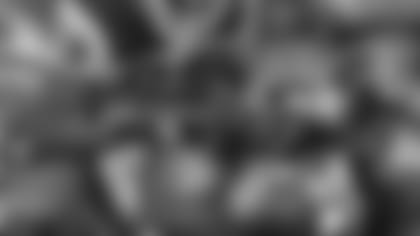 But by dodging the upset, Baltimore enters the bye week with a 5-2 record which is among the best in the NFL. At the end of the day, that's what mattered most to the Ravens.
"It's what we said in the locker room, 'a win's a win,'" Head Coach John Harbaugh said in his opening postgame remarks. "I'm not going to stand up here and say that we played well.
"I'm disappointed in the yards; I'm disappointed with the points; I'm disappointed with the coverage. I'm disappointed with the pressure in some ways. We have to play better than that to be the team we want to be, but I'm proud of the win."
While many plays of course added up to Sunday's final result, one play largely decided it.
On a short completion to Buffalo tight end Shawn Nelson, the Bills tried to push the pile forward for extra yardage. A host of Ravens defenders stood Nelson up and defensive end Cory Redding lifted him off his feet.
As Nelson was in the air, Lewis ripped the ball out of his hands, giving Baltimore possession on Buffalo's 29-yard line following a 15-yard unnecessary roughness penalty on the Bills.
The Ravens moved nine yards on the ground to set up Cundiff's field goal. It was Cundiff's sixth game-winner of his career and his third field goal of the day (41, 48 and 38 yards).
"I felt like I was in a good rhythm today," Cundiff said. "So when I got out there, I just did exactly what I did on the previous two times."
Drastic swings of momentum led up to Cundiff's kick.
After the Ravens notched a field goal to open the scoring, Buffalo scored 17 straight points to take a 14-point lead midway through the second quarter.
Wide receiver Lee Evans beat cornerback Fabian Washington for a 33-yard touchdown, Rian Lindell hit a 21-yard field goal after kick returner Josh Wilson fumbled the following kickoff and Steve Johnson jetted past cornerback Lardarius Webb for another 33-yard touchdown.
After Baltimore scored its first touchdown on a 26-yard strike from quarterback Joe Flacco to tight end Todd Heap, Buffalo again marched down the field and this time scored on a 20-yard pass to Evans, who sliced in front of Washington.
On a day when Baltimore honored its Super Bowl XXXV champions and perhaps the greatest defense of all time, its offense knew it was going to have to step up.
The Ravens put together a 50-yard drive that resulted in a field goal, then got a 14-yard touchdown on another catch by Heap after Buffalo's returner C.J. Spiller fumbled on a kickoff return.
That drew Baltimore to just four points heading into halftime and elicited some halftime words from the usually quiet Flacco.
"I just sat down and said, 'Hey, we've got to keep it going. Every time we get the ball we've got to keep this going,'" Flacco said. "'We got a little bit of momentum, and we can't let our foot off the pedal.'"
Safety Ed Reed, who notched two interceptions and a forced fumble in his first game back, kept the momentum going in the Ravens' favor by intercepting Fitzpatrick on the first play from scrimmage in the second half. Lewis deflected the pass.
Baltimore scored on the very next play on a perfectly-executed 34-yard flea-flicker sold by running back Willis McGahee and Flacco and caught by receiver Anquan Boldin. Harbaugh said he "cringed a little bit" when he heard the play call.
"But when you think about it, that's what you do in that situation," Harbaugh said. "That's just the kind of thing that you like to see. When it works, it's aggressive. When it doesn't work, it's something else."
After the Ravens defense held up on a fourth-down in their zone, Baltimore's offense responded with its best drive of the game. It went 12 plays for 65 yards and was capped off by a McGahee 2-yard plunge.
The Bills' offense continued to have its way, however, versus Baltimore's secondary, which entered the game ranked in the top three in the NFL.
Buffalo cut the Ravens' lead to three points on a 17-yard touchdown by Evans, his third of the game, in which he broke a Washington tackle.
The Ravens' offense stalled on the following drive, giving Buffalo the ball on its own 9-yard line with three minutes, 26 seconds remaining.
Buffalo drove to the Ravens' 32-yard line as Fitzpatrick completed seven passes for 60 yards. Lindell connected on a 50-yard field goal with four seconds remaining to tie the game at the end of regulation.
The Ravens won the coin toss for the second straight week, but the offense once again didn't manage a first down and had to punt the ball to the Bills. Buffalo marched 23 yards before Lewis ripped the ball free.
Baltimore's offense came to the aid of its defense on Sunday, but when it mattered most, that defense made the play to win the game.
"It's a disappointing game in the aspect of how many yards we gave up and the way we were playing the run and pass," linebacker Jarret Johnson said.
"But ultimately, this is the NFL and you're going to face some adversity. It's all about how you play and [whether] you can make the plays to get the win. The offense kept us in it and Ray made a huge play at the end. That guy's unbelievable."