Tyler Guzman anxiously stood by the door leading into the Under Armour Performance Center in Owings Mills, Md.
The 16-year-old Guzman, who is fighting his third bout with leukemia, had been an inspiration to the 2012 Super Bowl Champion Ravens. "Ty" was a guest at the Ravens' practice facility before their wild card playoff against the Colts, and Head Coach John Harbaugh promised to invite him back should they win. Baltimore won, Ty was invited back, and the process repeated itself each week until the team finally hoisted the Lombardi Trophy in February.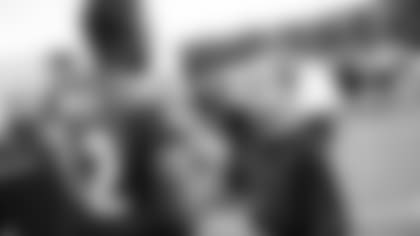 On the first day of this year's training camp, Ty was again at the facility to see his old friends and provide his positive presence to the 2013 Ravens. The team had just finished an exhausting late-July practice, and most players, including Torrey Smith, were looking forward to taking a cool shower before dinner and evening meetings. But Ty stopped Torrey in his tracks. The wide receiver's face lit up, and he went over and embraced Ty, chatting with him for a while before snapping a few pictures together.
Later that day, Smith tweeted to his 218,000-plus followers, "Shoutouts to @Ty_Strong … always nice to see him at practice … follow him … know his story #tystrong." Attached to the tweet was a link to an Instagram picture that Smith took with Ty after practice. What had been an inspirational story to a group of 100 was now shared with over 218,000 people around the world. On Twitter – a platform that can cultivate egoism and self-promotion – the tweet spoke volumes about Smith's personality.
"A lot of people don't know what Ty means to us as a team," Smith said. "He would come up and bring smiles to everyone's faces. We're glad to see him doing well and coming back out to practice."
Of course, the social Smith was happy he could find a way to use Twitter to share Ty's story.
"We're proud of him and the heart he has, so the fact that you can show it on social media, and now more people know what he's all about … I think he deserves it," Smith stated.
For those who know Smith, Twitter is the ideal outlet for his outgoing and engaging personality. As he puts it, "I'm a social guy. Whether it's out in public or on social media, I like to talk to other people."
And with Twitter, Smith can talk with hundreds of thousands of people, from all different backgrounds, all across the world. It gives fans an opportunity to get to know Torrey Smith the man, and not just Torrey Smith the football player.
"You get to reach so many people that you never could and have a great conversation," Smith said. "I actually meet up with a lot of people on Twitter, too, just randomly at different places. A lot of times, they would never expect you to spend time with them or even think about them. But you can talk with them, listen to their problems, communicate and hear other people's opinions on things. It's just another way to socialize."
When Smith is not tweeting, he stays connected with others through his community work. At 24, he is one of the NFL's youngest players to have his own foundation – the Torrey Smith Foundation, which provides support to at-risk youth and those affected by domestic violence. Creating a foundation was a no-brainer for Smith, who has been doing community work his entire life.
"I knew I wanted to have a foundation right away," Smith explained. "I've always been into doing community service since middle school, and I want to give back. I think us being in a position as athletes, a lot of people look up to you, and you have a lot of outlets. As an athlete, I think you should use your platform to help others, not just your team."
One of the many people at the Ravens' facility who admires Smith's passion for helping others is Offensive Coordinator Jim Caldwell. No stranger to community service, Caldwell has a deep appreciation for Smith's involvement.
"I think [compassion] is a unique trait because oftentimes, you find that individuals get self-centered – they think a little more about themselves than others," Caldwell opined. "It takes you all of about three seconds when you meet Torrey to realize he's a very, very compassionate person. He has a great desire and heart for people."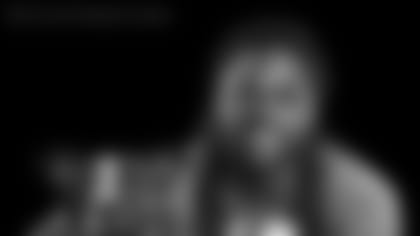 Even on a day that should have been all about Smith – his wedding day – he still found a way to make an impact on the lives of others. In lieu of wedding gifts from fans, he requested that donations be made to BARCS, the Baltimore Animal Care and Rescue Shelter. Smith developed a great relationship with BARCS after adopting one of his dogs, Mama, from there, and wanted to show how much he appreciated its work.
"We're going to get material things – that's one of the blessings of being in the situation I'm in now," Smith said. "Rather than have fans try to send us gifts, I want them to help out the shelter, because we support it as well."
While it's clear that his playmaking ability on the football field has made him a favorite of Caldwell and the rest of the organization, it is Smith's demeanor and personality off the field that have made him a leader for the Ravens.
"I don't think that there's any question that he's a true leader for us, and he leads by example," Caldwell affirmed. "Torrey epitomizes what you'd like a young man to be."
Asked about his goals 20 years from now, Smith responds, "Hopefully, I'll have a handful of rings and be a successful Raven – maybe even in the Ring of Honor."
"But as much as I love [football], I'm a human first. I want to be a better husband or father someday, and all of the other things in life besides a professional athlete."
The statement echoes Smith's Twitter bio, which reads, "Living life to be defined as something greater than a football player."
Sufficient to say Ravens Nation believes he's off to a pretty good start.