Thoughts of football often consume Greg Roman in his weekly quest to build an explosive game plan. The Ravens have the NFL's highest-scoring attack, a lethal and exciting juggernaut led by MVP candidate Lamar Jackson.
However, Roman isn't focused on how many kudos the Ravens' offense is receiving. Their 47-year-old offensive coordinator is wired to think about the next opponent, the next series, the next play.
Does Roman ever attempt to turn off his brain?
"I don't," Roman said. "You don't turn it off. Why? Just keep it on. I do better that way, a stream of consciousness. Drives my wife crazy."
The process might be stressful, but it works for Roman. He is the maestro of an offense that is averaging 35.1 points per game and leads the NFL in rushing. The Ravens are coming off a textbook offensive performance, scoring touchdowns on their first six possessions during a 45-6 wipeout of the Los Angeles Rams. A Monday Night Football audience saw Baltimore's offense working like clockwork against the Rams, and it was spectacular.
The Ravens don't have time to admire their success. They face a major test Sunday against the San Francisco 49ers, who have the league's No. 1-ranked defense and a 10-1 record.
However, the marriage between Jackson in his first full season as the starting quarterback and Roman in his first year as the team's OC is clearly working. In Jackson, Roman has a unique centerpiece who can attack any defense in a variety of ways. In Roman, Jackson has an offensive coordinator who shares the quarterback's aggressive mindset. Every week, Jackson is eager to see what Roman's game plan has in store.
"He's been about business," Jackson said of Roman. "We want to come smack the defenses in the mouth; that's what he's been telling us. Not just certain teams, but he's been saying that all year. That's what he wanted to do. He wanted to be aggressive this year. He's been showing it, and I love it right now. [We] just have to keep it going." 
Roman used to be the offensive coordinator for Baltimore's next two opponents – the 49ers and the Buffalo Bills. He was the coordinator in San Francisco in 2012, when the 49ers won the NFC Championship but lost to the Ravens, 34-31, in Super Bowl XLVII. Roman was also the coordinator in Buffalo in 2015 and part of 2016, before he was fired by former Bills head coach Rex Ryan just two games into the season.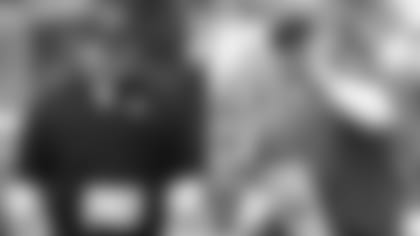 This won't be the Roman revenge tour over the next two weeks, attempting to get payback at his former employers. Football coaches go through ups and downs, and both the 49ers and Bills have undergone major changes since Roman departed. In fact, Roman enjoyed his time in San Francisco immensely, proving to himself that he could be an NFL play-caller and coordinator after being tight ends coach and running game coordinator at Stanford.
"San Francisco was an NFL laboratory for me," Roman said. "Stanford was a real laboratory for me as well. That's great, but now let's take that to the NFL. It was a little different. It was a big opportunity for me to test my theories at the NFL level. I was very fortunate to build a lot of friendships and relationships there."
The Ravens are happy Roman's career path took him to Baltimore. During his time in San Francisco, Roman was on the staff of Jim Harbaugh, the brother of Ravens Head Coach John Harbaugh. When the Ravens hired Roman in 2017, then promoted him from assistant head coach/tight ends to offensive coordinator during the offseason, Harbaugh knew what he was getting.
"Because Jim thought so highly of him," Harbaugh said. "And I've known Greg, also, over the years just through league circles and stuff, and respected him, and knew what kind of good guy he was. He was a huge part of that there with my brother. I always admired what they did, the physicality of it and the creativity of it were something that I always kind of felt good about probably because Jim and I were both kind of raised that way. That's my dad's (Jack Harbaugh) approach to the game, so we probably see it through the same lens."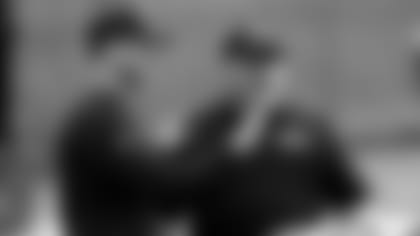 Baltimore's offense is setting a host of new franchise marks, including:
In Week 1 during a 59-10 victory over Miami, the Ravens set team records for most points in a game and most yards in a game (649).
The Ravens lead the NFL in time of possession (34.5 minutes per game).
Baltimore leads the league in third-down conversion percentage (50.4 percent).
The Ravens lead the NFL in touchdowns with 47, tying the franchise record for touchdowns in a season with five games still left to play.
It's not only the success of the Ravens' offense that is drawing attention, it's the uniqueness. The Ravens rebuilt their offense during the offseason to accentuate Jackson's skillset, in a run-heavy offense that goes against the NFL norm. Roman believes in a diverse attack featuring multiple formations and motions. The foundation is a physical running game that depends on tight ends, a fullback, and even wide receivers to throw blocks to complement the offensive line.
San Francisco Head Coach Kyle Shanahan is also regarded as one off the league's most innovative offensive minds, and he admires the work Roman is doing.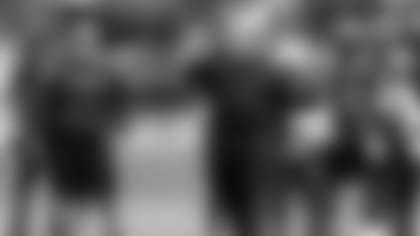 "It's similar to some of the stuff he had going when he was in San Francisco, just all the fronts and ways he has to attack every front that you have, all the personnel groupings," Shanahan said. "He doesn't just run plays to run them; he's got a rhyme and reason for each one. It's evolved even since then. He's got more to add to it and he's got some really good players to include in it."
In 2015, the Bills led the NFL in rushing when Roman was offensive coordinator. But what Baltimore's running game has become this year is next level. The Ravens average 210.5 rushing yards per game, almost 75 yards more than the next best team, the 49ers who average 145.6 rushing yards. Putting that in perspective, the last NFL team to average more than 200 yards rushing for an entire season was the 1977 Chicago Bears (200.8 rushing yards per game).
With Jackson and running back Mark Ingram II leading the way, Baltimore's running game has been relentless.
Ingram is the Mack truck.
And Roman is the maestro, dialing up calls that the players have total belief in.
"The weapons that he has here at his disposal, the way he's orchestrating the offense, he's keeping defenses off track," wide receiver Willie Snead IV said. "That's all that goes into it, is just him scheming up teams and seeing their weaknesses and then exposing it. The Rams didn't have a lot of weaknesses, but we just knew our mentality was to be physical. And he set that tone on Friday, like, 'These are going to be the three plays. We're going to run these plays. Whether it's third-and-12, we're going to run these plays.' And that's just the mentality of him having, 'We're going to beat the [crap] out of them, because that's how hard we work.' And that's the mentality we have."
Fans love to second-guess offensive coordinators when a play they call isn't successful. But the success of Baltimore's offense this season has virtually silenced second-guessing. Asked about the rhythm of his play-calling, Roman says it's a combination of preparation and instinct.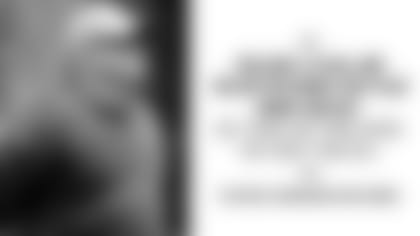 "You have a plan, and you better know that plan inside and out," Roman said. "But there are times when you trust your gut."
Roman's journey to his present position has been hard-earned. His first stint with the Ravens was as an offensive line assistant (2006-07) more than a decade ago under former Baltimore head coach Brian Billick. When Billick and his staff were let go following the 2007 season, Roman returned to his high school, Holy Spirit in Absecon, N.J. and spent one season as the offensive coordinator.
For Roman, it wasn't humbling to return to his high school after coaching in the NFL. It was enlightening. Roman believes working with teenagers after being in the NFL helped him as a teacher, finding different ways to simplify and present information to players.
"It was a great experience for me, after being in the NFL to do that," Roman said. "I really threw myself into it, and you get to help kids at such a different level. You've got to find different ways to teach things. They have limited attention span, time, and experience. It really helped round me out."
Ravens players regularly mention how much they enjoy working with Roman. What's not to enjoy during the current seven-game winning streak?
However, what lies ahead is most important. The 49ers are clearly one of the NFL's best teams, and Sunday's matchup is being billed as a potential Super Bowl preview. The talented 49ers defense will be stoked for the challenge trying to stop an offense that has enjoyed so much success.
But the Ravens aren't shy about their Super Bowl aspirations, and Roman still sees plenty of room for Baltimore's offense to keep evolving, keep improving. He's not about the accolades he's getting, or any records the Ravens are setting. He's thinking about the next game plan, and the business of helping the Ravens get where they want to go.
"Winning and having success is what leads to fun – period," Roman said. "I'll let everyone else theorize about how we're doing it. But football is the ultimate team sport, and it's a lot of fun when you're having success and playing well together. That's what we're all trying to do."